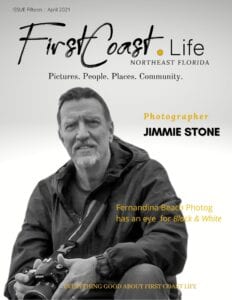 Jimmie Stone is a local Amelia Island photographer,  and has earned a stellar reputation is known for his many talents. He has photographed much of Amelia Island, Fernandina Beach, and the surrounding areas of Jacksonville, Florida. He is active in local photography organizations and is the current host and leader of the Fernandina Beach Photography Club. In addition, he teaches local classes for photographers and mentors other photographers.
In 2019 he was invited by the Nassau County Council on Aging (NCCOA) to teach photography which he continues to do today. His expertise, patience, and knowledge have helped make him an indispensable contributor to the NCCOA. His Class Course has helped many photographers in search of developing their craft and is supplemented by written material for online and hard-copy for students to follow.
​He is a retired veteran of 28 years of service in the Navy and US Marine Corps. In 2016 he fully retired after serving more than 25 years as a Physician Assistant, providing care around the world and afterward in the Nassau County Community in North Florida, serving Yulee and Fernandina Beach.
Having used SLR cameras since his teens he has gained experience using a number of film cameras before switching to Digital SLR's in 2004 while stationed in Guam. Although changing to digital cameras was something new it did not change the basic underpinnings of photography he had learned through the decades.
Today, as an Amelia Island photographer, he has displayed his artwork in various galleries and generously donated some of his work. See some of his work on Instagram at https://www.instagram.com/jestonephotography
​Most of his work as a photographer on Amelia Island and around Fernandina Beach is with landscapes and seascapes in both color and classic black and white. His fine artwork with liquid (splash) photography and his black and white landscapes are examples of his many talents.
---
About the Online Photography Classes
These are generously hosted by our local Council on Aging in Fernandina Beach, a nonprofit organization to improve the quality of life for our seniors. The classes are offered each Tuesday and Thursday from 3 pm to 4 pm via Zoom. This is a series of 11 lectures that progress the beginner or amateur photographer to shoot completely in Manual while having a full understanding of photography basics and techniques. These are free and open to the public.
For more information go to https://nccoaphotography.com
---
One on One Lessons
I have a very reasonable hourly rate of 25.00 per hour, or 100.00 per day for 6 hours. I will review your specific camera, help with the settings, and start a detailed discussion on the basic operations. From there we will progress to taking complete control of your camera for shooting in Aperture, Shutter Priority, and Manual Program Mode. Learn about exposure, exposure compensation, focusing, focus points, adjusting your ISO, and when and how, plus much more. I only offer this one on one session in the Fernandina Beach and Yulee, Florida area. Contact me for scheduling or more information.
904-556-2945 or jstone@digitalphotography101-learn.com