Reading Time:
2
minutes
Name
Dee Coleman
Location
East Africa
Brief Description
This is a brief excerpt from a manuscript of one of my travels
---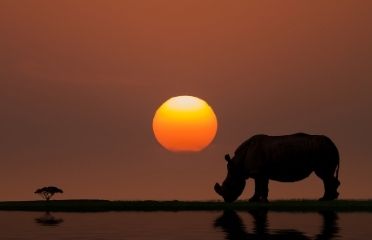 Excerpt from Bold in Africa
by Dee Coleman
I am up early, awakened by the staccato of barking baboons and the boisterous grunting of hippos.  After breakfast, I am prepared to meet Jackson, my Game Driver for the next four days.  Off we go!
The terrain is populated with Whistling Thorn Acacia, various other type of Acacia, Sausage Trees, Fig, Mahogany and Oak trees and the Savanna is springing with fresh brilliant green from a controlled burn.  We are met at once by the wildebeest and a dazzle of zebra, slowly moving together as a large family.  It is said, if you travel to Africa and do not see the wildebeest and zebra, then you will tell no one that you've been to Africa.  They are in front of the jeep, in back, and on both sides of the jeep, all migrating north. There are thousands of wildebeest and zebra together in a cooperative community.  The zebra have very good eyesight and the wildebeest do not.  The Wildebeest have a keen sense of smell and the zebra do not.  Together they migrate in harmony.
I asked Jackson more than once, what are the Swahili words for "wow" and "beautiful"?  He laughs quickly and loudly causing me to think he's been asked that before.  In all we see, Topi, Impala, Wildebeest, Hartebeest, zebra, elephants, giraffes, leopard, cheetah, warthogs, hyenas, vultures, fish eagles, crown crested cranes, hippos and many buffalo.  Having the luxury of a private Game Driver and Jeep, I ask often that we stop for photos and lingering as long as I desire.  Each sighting and photo shoot takes my breath away!
Observing the Migration of wildebeest and zebras cross the River, some seem to fly above the water to avoid being subjected to the crocodiles. It is exhilarating! I was able to capture photos of it all as well as more Topi, Waterbuck, Impalas and there…there…..beneath the shade of the tree.  What is it?  We see two regal lions who are brothers as one can tell by their facial family characteristics.  All in all, I take 38 photos of the brothers, resulting in 3 good shots suitable for framing.
Periodically, I see a lone Buffalo or a handful which are not with their families.  I ask Jackson why they are alone.  He tells me that they are called the Retired Generals.  They are old and tired of migrating, walking, running, eating, drinking, children, and females.  Hearing this saddens me.
#   #   #   #
Robert Frost is quoted as saying "Freedom lies in being Bold" and  bold I have been!  I shall never forget the African people, trekking the Silverbacks, the many safaris and game drives, the countryside, the native Masaai, the hospitality,  the laughter and I think to myself  –  "I'll see you again, I'll see you again!  Asante Africa and Kwaheri!"    © 2017
Dee Coleman is a pseudonym
She lives in Jacksonville Beach