The Princess and the Peanut – Two Peas in a Pod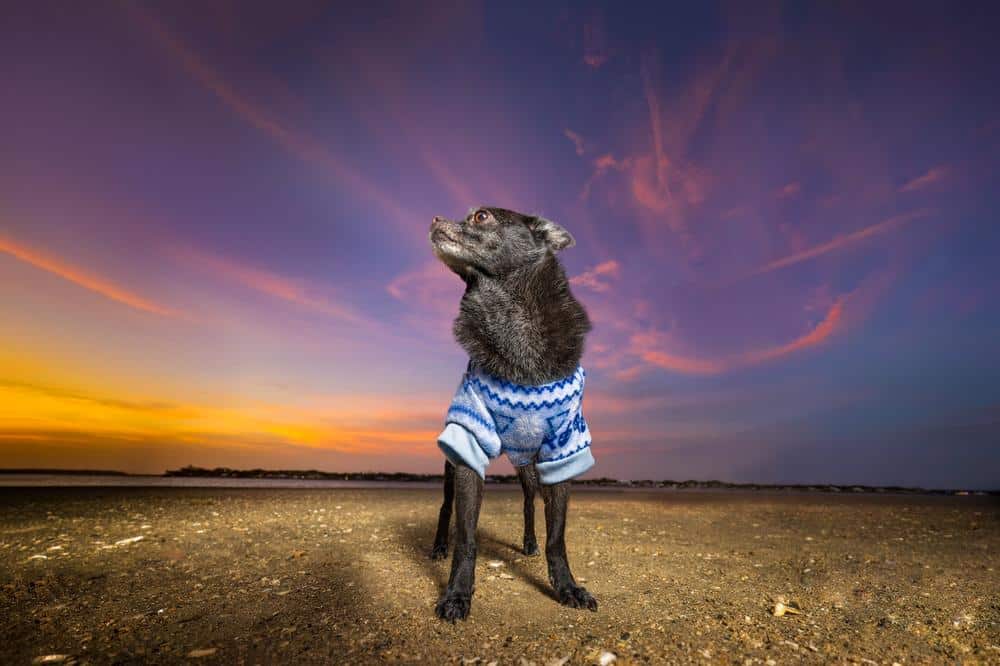 Thanks for your time Baxter and Brynlee. How old are you and where do you live on the First Coast?
Baxter – I think I'm 12 or 13.
Brynlee – I think I'm 2 or 3
What breed are you? Do you even know? Best Guess?
Baxter – my mommy just did a DNA test on me so I'm a Pom-a-Pug. I'm super soft and have a curly tail.
Brynlee – I'm pretty sure I'm a chihuahua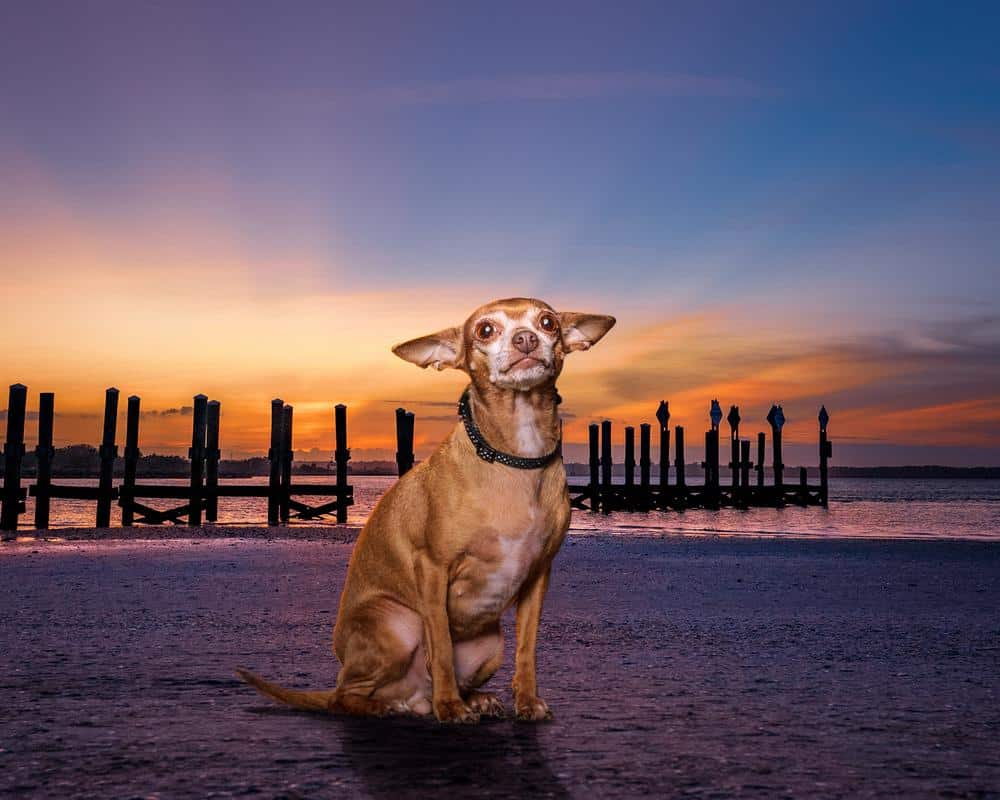 So how did you come to the Pollan family?
Baxter – Eleven years ago, I had just been hit by a car and was sitting on the side of the road trying to figure out how I was going to get home. My mommy drove up beside me and said hi to make sure I was ok. I licked her hand then hid under her car. It took five people to get me safely into her car that night because I wouldn't move. She nursed me back to health and she's been my mommy ever since.

Brynlee – someone found me tied up to a fence post and rescued me. After being fostered by an amazing family, they reached out to my mommy to see if she'd take me as her furever fur baby. She's been my mommy since August of last year.
Describe your pawfect day
Baxter – having my entire extended family around (Gama, Papa, aunt, uncle and cousins), getting to chase all the lizards I want, eating all the yummy snacks I want, watching tv on the couch in Mommy's lap with Daddy nearby, then ending in bed with Monmy, Daddy and Sissy looking up into Mommy's eyes before I drift to sleep.

Brynlee – being carried from the bed outside like the princess I am, sunning poolside while my brother runs around, dressed to the nines in my favorite hoodie, eating all the snacks I want, being held and carried and loved endlessly, then ending the day burrowed under the covers in bed with Mommy, Daddy and Brother
What things don't you like?
Baxter – I'm terrified of the pool and the ocean (I guess bodies of water in general), and extended time away from my Mommy.

Brynlee – other dogs make me low growl until I get to know them better, and I'm the first to bark at the mailman.
Are you ever naughty?
Baxter – if I miss my Mommy I'll help myself to tissues in the trash cans and make a mess. I used to run out the front door the second it was opened (probably why I got hit by a car), but now I'm not leaving the house without Mommy by my side.

Brynlee – if I miss Mommy too much I'll poop in the house out of spite, but I'm getting better about not doing that as much.
Favorite walk?
Baxter – my most favorite is to do rounds in the backyard and around the pool, but I'll tolerate walks in the neighborhood.
Brynlee – I prefer to be carried when I leave the house. My favorite walks are right along the edge of the pool so my Mommy thinks I'm about to fall in.
Any little pups?
Baxter – neither of us have been parents.
What do your Pawparents do?
Our mommy is an attorney and our daddy is a reporter
What's the best thing for you about living on the First Coast?
Baxter – I love the breezes and the plentiful lizards. I love circling the pool while my Mommy and Daddy swim.
Brynlee – I love the sunshine. I can sit in the sun for hours on end working on my tan.
What's your favorite toy?
Baxter – I have this little white lamb that I call my baby that I have to have wherever I go.
Brynlee – there is a plush donut that I'll occasionally play with but I prefer clothes to toys.
What was your favorite costume?
Baxter – my mom dressed me as a "pupkin" spice latte one Halloween and that was pretty fun
Brynlee – this past December my mom dressed me as a snowflake and I enjoyed being warm and snuggly
Aside from Mommy, who's your favorite family member?

Baxter – I love attention, so I love everyone equally! I make sure to rotate between Gama, Papa, Auntie and Uncle whenever I get to visit with them.

Brynlee – Daddy and I have a special bond. I'm kind of shy with newcomers, but I'll let anyone pet and hold me.
Anything else to tell the other dog families? Favorite charities? Favorite Veterinarians?
We both have benefited from the rescue community and can't say enough about how kind and wonderful all rescue facilities are.
About the Author
Latest Posts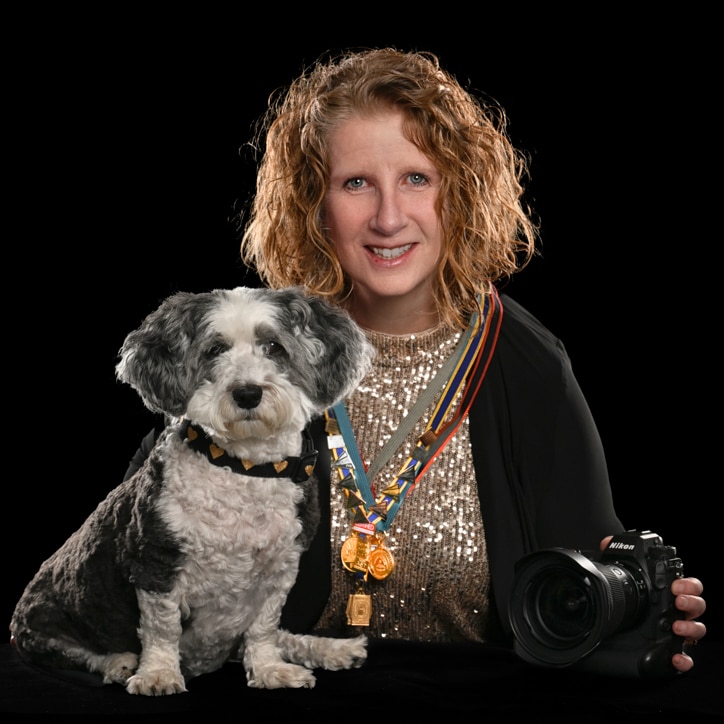 Author of more than 28 dog and dog training books, writer of hundreds of dogcentric magazine articles, and internationally awarded pet photographer of more than 1000 canines, Joan H. Walker relates that her life has literally gone to the dogs.
When she's not photographing or writing about dogs, she is, you guessed it, spending time with her dogs. Walker is currently owned by four Havanese and is the chief pawtographer at Jacksonville, Florida's Joan H. Walker PAWtography.