Reading Time:
4
minutes
Humpty Dumpty Part Deux & Trois.
Author Lucy Cortese
From the earliest age, I fought to remain in an upright position. I blame this handicap on unfortunate parenting. Mama never allowed me to crawl. As soon as I boosted my infant body to all fours, she would hoist me to standing. With a dishtowel supporting my baby arms, she forced premature ambulating. I begrudgingly learned to walk at a mere nine months and have been falling down ever since.
My life has more spins, tumbles and drops than a Wash O Rama. An old 8mm movie of my first birthday chronicles my earliest stumbles. The crackling black and white film shows a clumsy baby girl with a fluffy bow taped to her bald head. The family has taken me to Memorial Park for the first anniversary of my 1946 birth. Take a step, OK. Two steps, wobble. Three steps and I'm down for the count. Twenty minutes of this debacle repeated again and again. Last frame pans frilly white socks and patent leather Mary Janes painted by bloody knees.
Riding a bike, roller skating and basic childhood activities spawned a multitude of plummets. In adulthood my clumsiness continues with tripping on curbs, stairs and uneven (sometimes flat) surfaces. Three of my most memorable drops are stellar.
La Boheme finale and I join five thousand students exiting the Florida gym. I am weeping over Mimi's sad death. It is my first live opera and I am distraught over the lovely heroine's untimely demise. Mother Nature is also crying and the stairs are wet with Gainesville downpour. This clumsy coed takes one step. My five inch beige stilettos slip out from beneath me. I roll, flip and tumble down the steep staircase…100 steps. Dress ruined, stockings ripped, buttocks bruised. I am carted to the college infirmary singing a howling aria. Puccini never wrote a tragic end like this.
My second great fall was in Washington, D.C. It is the grand opening of the new Mormon Tabernacle and I am enjoying the facility tour. Seven months pregnant and stupid, I happily waddle wearing backless platform shoes. At the top of a winding staircase, I slip. Hundreds of folks below scream "Catch her!" as I cascade downward. I slide face down with my legs and dignity left behind. Dozens of hands go up to grab me and my future son. I am a pizza crust tossed and pinched by kneading fingers. They seize this quivering prego just before I crash onto the shiny marble floor. Thanks Joseph Smith for smiling down on this Catholic gal!
Now for the Piece de Resistance, the Magnum Opus. I jog back to my office to retrieve the black jacket, matching part to my business suit. This new young principal wants to look professional on the elementary school stage. It is the day of the annual spelling bee and I am the designated judge. Twenty frowning teachers herd in the student body like lambs to the slaughter. The students are wild and fidgety, pushing, shoving, ecstatic to be missing math class.
Our diminutive English teacher aka Miss Scarlet commands, "Y'all be quiet; the Bee now commences!" I join the nervous spelling finalists who squirm in a semi-circle on the stage. I glance down at the spelling manual in my lap as does a bratty 8th grader. She leers and brags, "I can see all the words from here!" Au contraire, I muse, pushing my chair back out of her range of vision.
The crash was the shot heard 'round the world. 249 gasps filled the auditorium. A single moan from a screaming 8th grader in the front row. Instead of running to my aid, my daughter howls an embarrassed, "Mo-ther, seriously?!?"
The amazing landing surpassed Neil Armstrong's touchdown. I magically remain in my chair, now inverted on the floor beneath the stage. My feet are wriggling arrows pointed to the ceiling. The crumbling acoustic tiles fail to muffle voices from my startled audience. Not a laugh or chuckle, not even from delinquents who make frequent trips to my principal den. A prayer lies on my mortified lips, "Please let me have a broken leg!"
The only adult males in the building rush to my rescue. The PE teacher at my head; the janitor at my alligator pumps. I am carted away like a whacked body in a mafia flick. My only consolation: my suit looks fabulous!
A week later I totter down the school hallway. My recovering sprains (no broken bones) and bruises needle like an acupuncture visit. A vivacious 1st grader runs up to me. I brace for the bear hug that always follows. I Wobble like a Weeble but don't fall down. Two round blue eyes widen beneath blond pigtails. She blurts, "You are the coolest principal, ever!"
I laugh when she adds, "Our old principal never fell off the stage." I stagger to the inner sanctum of my office. Her final comment echoes down the hall, "I got pink polka dot panties just like yours!"
With my history of lifetime tumbles, I offer a checklist for fellow senior citizens. #1. Never run unless a bear is chasing you. #2. When you hear "snap, crackle and pop," it's your knees not Rice Krispies. #3. Find a good hip replacement doctor. 4. Avoid the nosebleed section at NFL games. 5. Delete climbing Mount Everest from your Bucket List. Lastly and most important: When falling down in public, make sure there are no witnesses to post the event on Facebook.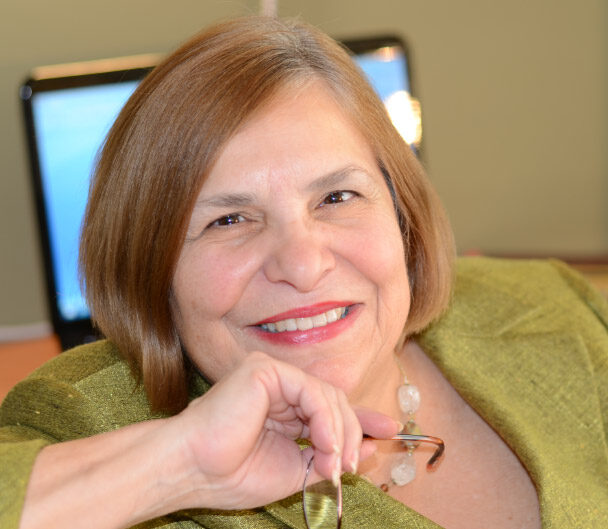 Living my personal mission statement, "Each One, Teach One," my greatest blessing is being the mother of two, grandmother of three and a lifelong educator. A graduate of UF and UNF, I am the former principal of St. Paul's Catholic School in Jacksonville Beach, Florida and executive director of Tree Hill Nature Center in Jacksonville.
Since retirement my avocation is now my vocation – freelance writing. The technical writing of past professional life evolved into more creative genres of poetry, short fiction and memoir. My goal is to invoke the entire spectrum of human emotions in my reader: longing to laughter, pain to promise, despair to discernment.