Reading Time:
3
minutes
Lucy Giardino Cortese
MANE MANIA
My hair
I want it long, straight, curly, fuzzy
Snaggy, shaggy, ratty, matty
Oily, greasy, fleecy
Shining, gleaming, streaming
Flaxen, waxen
Knotted, polka-dotted
Twisted, beaded, braided
Powdered, flowered, and confettied
Bangled, tangled, spangled, and spaghettied!
(HAIR! The American Love-Rock Musical)
Those lyrics from 1967 are my mantra. My hair is a huge glacier melted and transformed through the decades. Long, wavy tresses of youth. Bouffants of the 1960s. 70s feathery shags. Vidal Sassoon's 80s funk. 90's curly perms. 21st century styles to defy old age. Locks twisted and untwisted, clipped, colored and chopped.
The unfortunate stories of hairdos and hair don'ts punctuate my life like an English teacher's red marker. Horrific haircuts. Coloring catastrophes. Pathetic perms. This perpetual optimist relinquishes all authority to beauticians with my disastrous, "Surprise me!" Result: A lifetime assortment of wigs, hats and even lace mantillas to camouflage pitiful hair styles.
Bad enough that I surrender my hair to the so-called professionals. I am foolish enough to trust my tresses to well-meaning albeit incompetent amateurs.
It is a few days prior to the most amazing feat in history…man walks on the moon. Another stifling hot day in Nashville and I take refuge from the daily downpour at Rexall Drugstore. Dripping mini skirt and tie-dyed t-shirt form a puddle around my plaid sneakers. The captivating Sirens' song beckons from a nearby shelf: Summer Blond.
My anxious roommate confesses that she never dyed hair. "How hard could it be?" I reason. "Two graduate students like us should be able to figure it out." We peer over the simple directions: Pour Bottle #1 into Bottle #2. Mix well and apply to dry hair. Wait 20 minutes and wash out.
When I wrestle the mirror from the clutched hands of my horrified roomie, I see the new me. My virgin brunette crown gone. Think: comedian Carrot Top! Gingers worldwide never saw red hair like this. A comical blond joke.
The next day I go to class wrapped in a paisley scarf wishing for a Burka to hide my entire body. I confess my tresses troubles to Sister Mary, a nun also attending the institute at Peabody College.  She consoles and offers to fix my hair– she was the designated hairdresser at her convent afterall. Her reassuring, "Come my child," triggers  my Catechism days. Sister's command always a direct authority from above.
Much too late I recall the biblical warning: Samson's demise following Delilah's tonsorial. Back in the dormitory Sister Mary begins shearing the trapped sheep. With the evil deed complete, I get it…the real reason those ladies wear habits. My long luscious locks whisked away. In their place bright orange spikes springing from a Chia Pet. One small step for woman. A giant misstep for mankind.
Fast forward to the millennium. Another epiphany: Never ever let your best friend add highlights to permed locks. "I color hair all the time," Mary assures me with a beer in one hand and a box of Summer Blond in the other. That same dye color; that same name. Déjà Vu all over again.
The Disney movie Song of the South has a memorable scene when old Uncle Remus belts out an Oscar-winning song. His frizzy white hair is the exact replica of my head, the climax of my friend's work. Christmastime and I don my gay apparel–a Santa Claus cap to match both gentlemen's colorless fuzz. When my students ask why their school principal wears this hat all December, I reply, "Zip-a-Dee-Do-Dah!"
I often wonder why cannot I be like some women, content with hair God gave them. They let their hair turn grey, then white the way Mother Nature intended. They model the exact same hair style smiling from high school graduation photos. Not me. I have a short attention span and embrace change. With a new (sometimes) improved hair do I channel admired celebrities. I'm a blond Marilyn Monroe, a brunette Audrey Hepburn, a strawberry Nichole Kidman. Sinead O'Conner not so much.
I live by the motto: What's the difference between a bad hair do and a good hair do? Three weeks!
One day my grandson and I are thumbing through old photo albums. "Wow, the eight-year old exclaims, "you've had every kind of hair!" He marvels at the evolving rainbow: mousy brown, sassy auburn, sexy blond, sultry ebony and all hues sans grey…praise Ms Clairol! Then a picture circa 1979 appears–Grandma sporting a giant coiled Afro. His eyes widen as he blurts, "Mimi, why did you have Disco hair?" I consider this a moment and say, "Nick, there's just no good answer."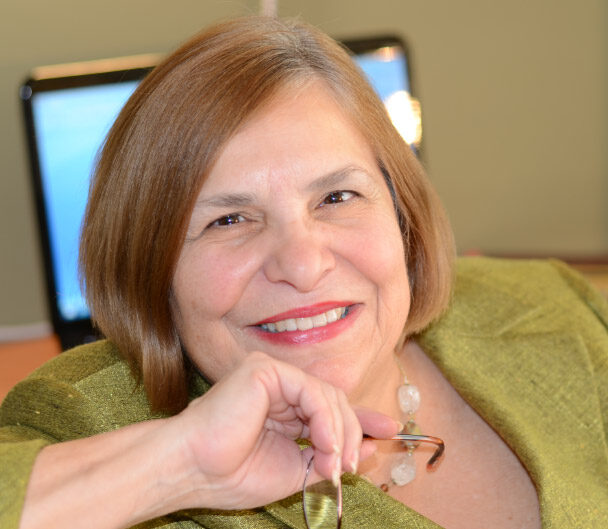 Living my personal mission statement, "Each One, Teach One," my greatest blessing is being the mother of two, grandmother of three and a lifelong educator. A graduate of UF and UNF, I am the former principal of St. Paul's Catholic School in Jacksonville Beach, Florida and executive director of Tree Hill Nature Center in Jacksonville.
Since retirement my avocation is now my vocation – freelance writing. The technical writing of past professional life evolved into more creative genres of poetry, short fiction and memoir. My goal is to invoke the entire spectrum of human emotions in my reader: longing to laughter, pain to promise, despair to discernment.