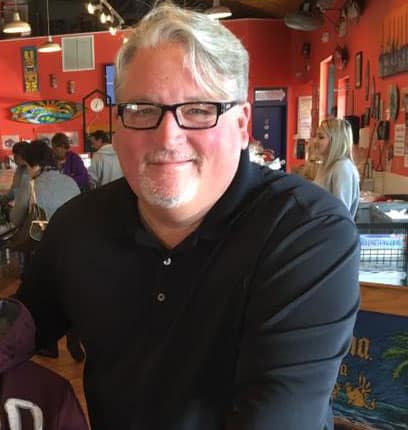 When it comes to being local Chris Wooten has broken the mold. Shattered it in fact. After moving with his family from Ponte Vedra to Neptune Beach before entering first grade at Atlantic Beach Elementary, Wooten has never lived outside the city lines again. Growing up on Oak Street, the youngest boy in a family of nine siblings, Chris fell in love with surfing and the ocean, but never planned to live within the Neptune Beach boundaries his entire life, it just sort of happened that way. Learning to surf at the end of Oak Street, Chris was a natural in the water right from the start. His first surfing contest was held in Hanna Park and too young to drive, his best friend, Dino McCauslin rode him on his handlebars down Seminole Road where they slipped through the fence then continued the journey to the contest site. It was the V97 Stricklands Pro Am in 1979 when he was eleven years old. To hear Chris tell it, he said, "Dino picked me up on his handlebars and we cut through the fence. I was carrying a 6'2" double stringer swallow tail Catri. It was beat up with holes in it, delaminated and waterlogged. Everyone was laughing at me when we got to the event, but I ended up advancing to the next day. It was a three day event, and I remember running up to Dolphin Plaza and calling my parents and telling them I had won my first heat and get to come back tomorrow!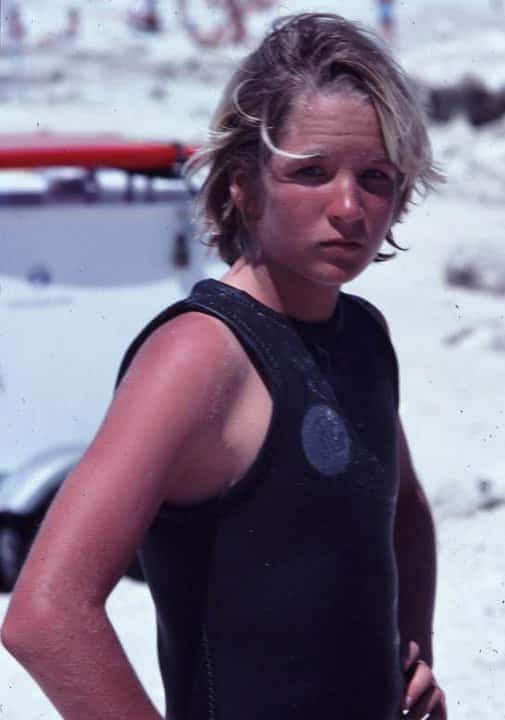 I ended up winning my division and it was the first contest I had ever been in!" But it wasn't the last. In his young competitive surfing life Wooten won his first ten events, including the V97 Stricklands Pro Am again the next year and qualified not only for the East Coast Championships, but the United States Championships as well. His success led to a spot on the Hixon's Surf Shop team, something that was very coveted back in those days. "When I finally got put on the team I remember Bill Hixon telling me to go back and pick any board I wanted," Wooten said. "It was life changing. Until then I had been mowing lawns, collecting bottles, borrowing any board I could just to be able to surf, and finally I had my own board!"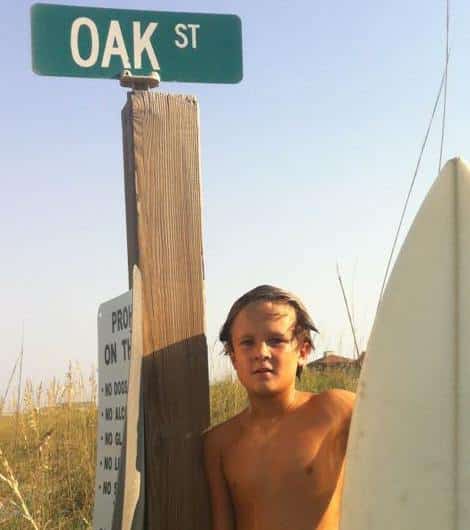 Growing up in the 70's on the First Coast was a very special time and for kids around the Jacksonville Beaches Fletcher High School provided some great memories. For Wooten, walking to and from Fletcher everyday was the norm. And after the first few weeks of his tenth grade year, Chris noticed that on the walk home everyday there was a big black guy who took the same route as him. "Mike Tyson hadn't been around yet, but this guy was huge and never said a word, just seemed to be following me until we got to around Jarboe Park and then I would turn towards my house and he would keep going. To be honest it was a little nerve racking but then one day I looked over and asked him if he wanted to come up to my house, and it was like BOOM, he just turned and caught up with me and walked home with me." And that is how Chris developed a friendship with Larry Hobbs that would last for many, many years, until Hobbs succumbed to cancer in 2019. Wooten recalls that first day, "We got to my house and he started checking out my record collection and when my dad got home he took a liking to Larry right off and said he looked hungry, and my dad loved to feed all of us so Larry sat down and started eating and he ate so much that he sat down on the sofa and fell asleep. We got up the next day and I found some clothes for him, there were nine of us kids, clothes were not a problem and we went to school. After that he came over everyday and eventually my dad got a bed for him and Larry became the tenth child!"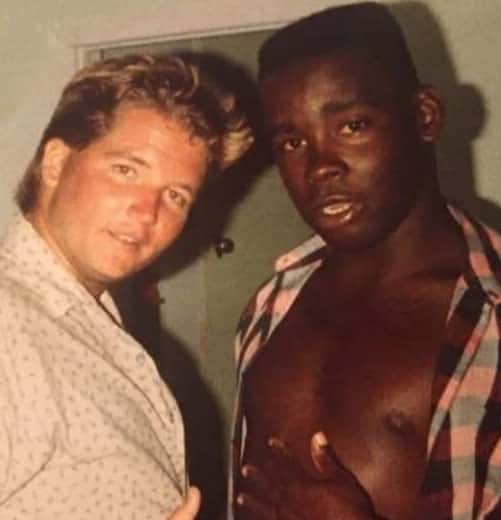 During those years Chris continued surfing, although competing faded away, and his love of the ocean made it natural for him to want to become a lifeguard. He got on at Neptune Beach and ultimately rose to the top. He hired Hobbs as the first black lifeguard in Neptune Beach and when summer ended each year, he and Hobbs had made a deal with the city to read meters, making them the only two full time employees on the lifeguard squad. "We had it wired man," he added. "We had insurance, year round paychecks. I mean we had a killer childhood in an awesome community. It was unreal." Then after we graduated from high school my parents decided to sell the house and me and Larry had to go. "It wasn't like we had to leave that day," Wooten told First Coast Life. "We both had Earth Cruisers so we went riding our bikes just hoping we might find something close and we turned up Florida Blvd to Strand saw Thomas Watson and Lilman Barkman moving out of an apartment right on the beach. The landlord was on the property and we had a place to move into within like five minutes of going out looking!"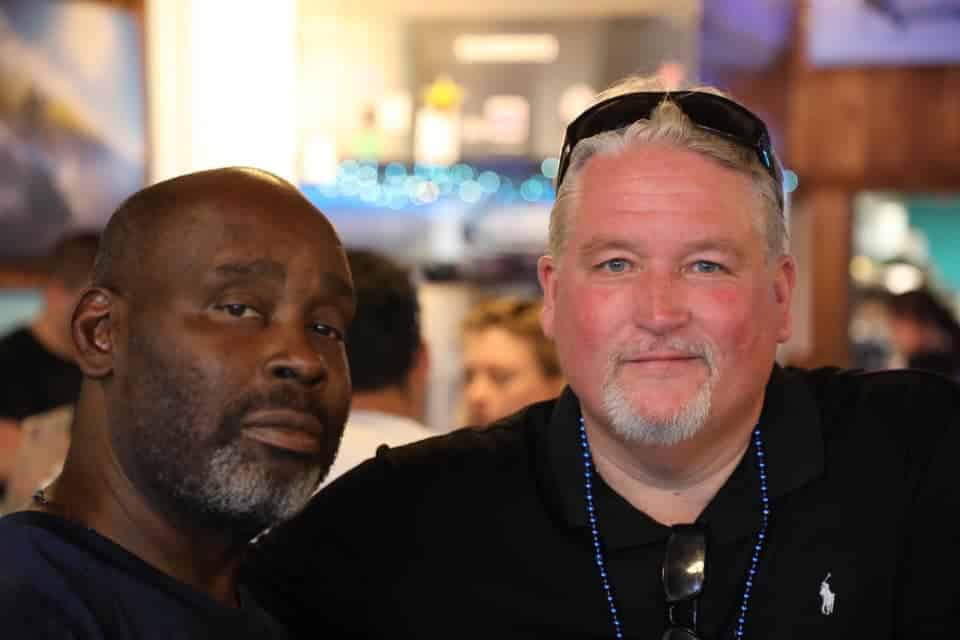 Wooten never returned to living with his parents and after meeting his now wife, Deanna Pack, who also lived in Neptune Beach, Chris fell in love and got married in 1993. His first house was behind Neptune Beach Elementary and that is where he started his family. Upon outgrowing that house he moved to Davis Street and has now purchased the property where he and Hobbs moved into upon leaving home. "I never planned it, but I've never lived outside of Neptune Beach!" Marrying Deanna may have been predestined because her family was in the seafood business and Chris wasn't shy about going to her father for a job. "I went to work at Safe Harbor driving a delivery route after we got married and have never looked back. I did that for some years and as I learned the business I saw some opportunities that might increase my income and I went to Gerald Pack and explained what I was thinking. The daily deliveries included what the restaurants and markets were used to, but I saw an opening to add items to their inventories and eventually I was writing orders above and beyond what they had been used to receiving."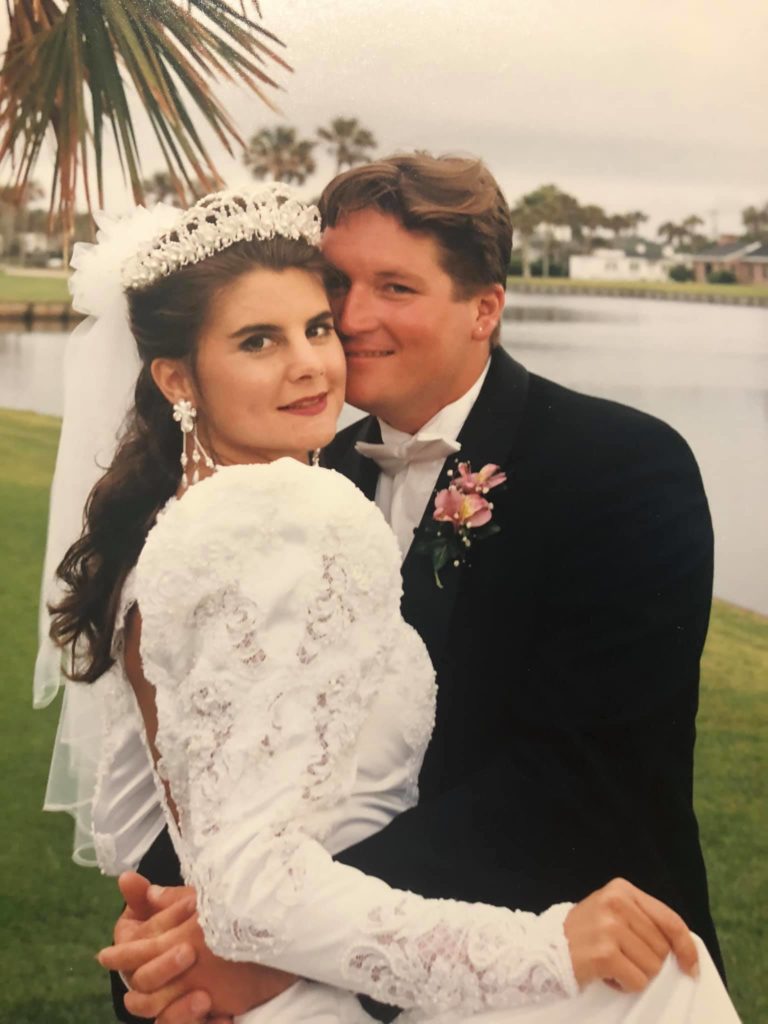 Pack was the owner of Safe Harbor Seafood and was focused on the larger picture, the big accounts that bought truckloads of merchandise and he didn't have the time nor the inclination to deal with the daily orders, a few pounds of shrimp, two pounds of this fish, three pounds of that fish and so on. So Chris began pitching the daily customers on his plan to add items to their orders and soon he had increased the sales to all new levels. Upon closing an account with a franchised restaurant Chris soon had his own distribution network covering multiple states. This was extremely successful and as his family grew so did his responsibility at Safe Harbor. Chris and Deanna have five children and whether or not any or all of them will live their entire lives within the Neptune Beach city limits has yet to be seen! It was really a Cinderella story and one that was a direct result of Wooten's ingenuity, drive and work ethic. A rise in fuel prices and corporate interference led to the end of his network of multi state deliveries but seafood distribution had risen to an all time high and Chris returned to daily duties at the family business. Eventually he shifted his focus to the Seafood Market in Mayport located across the street from the warehouse and after several years of that he saw an opportunity to actually prepare some of his inventory for consumption and moved forward with offering fried shrimp baskets right there at the market. "It was crazy from day one," he said. "We let people know we were going to offer cooked food and on the very first day there was a line around the building wanting to eat! I mean, I thought customers at the market might enjoy a shrimp basket as they shopped but it totally blew up on that first day. I didn't exactly realize it right then but I had just gone into the restaurant business!" Wooten consulted with a popular restaurateur who he had been delivering to and soon he had the first Safe Harbor Seafood Restaurant attached to the market in Mayport. "For me, I had never thought out an effort to go into the restaurant business. I just wanted to enjoy my job, have fun working and provide a fun experience for my customers," he added.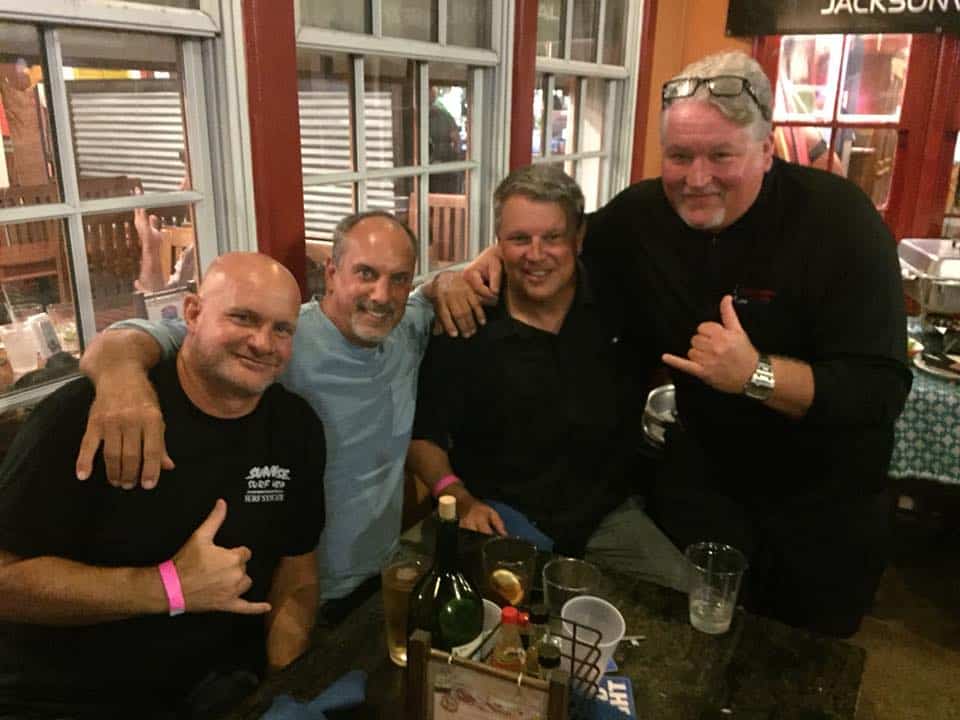 Business was good and Chris saw a need for expansion and opened his second Safe Harbor restaurant in Jacksonville Beach down by the public boat ramp in what used to be the Marine Patrol building. Unable to purchase the location, government red tape and rising rent allowed the opportunity to sell that business and Wooten set his sites on the Sliders Oyster Bar in Neptune Beach that had been the brainchild of the Pickett family over thirty years earlier. The Picketts had owned and operated Sliders in Neptune Beach and when they finally decided to sell the business Wooten was the obvious choice. Valerie Pickett told First Coast Life, "Chris came to us years before we had even decided to sell and said, 'If you ever decide to sell, call me first'. When we decided the time was right for us, I called him first. Since we were all on the same page, from beginning to end it was about 4 weeks. We knew Sliders was in great hands and Chris wanted to continue the legacy." Chris reiterated that his desire was to have fun in life and provide a fun environment for his staff and his patrons. "I didn't come on board and want to make a bunch of changes. I wanted the people who had been doing the daily work to continue what they did best and keep the ambiance that the Picketts had worked so hard to achieve," he said. But after several years of operating Sliders it became obvious that some upgrades in the building were imminent.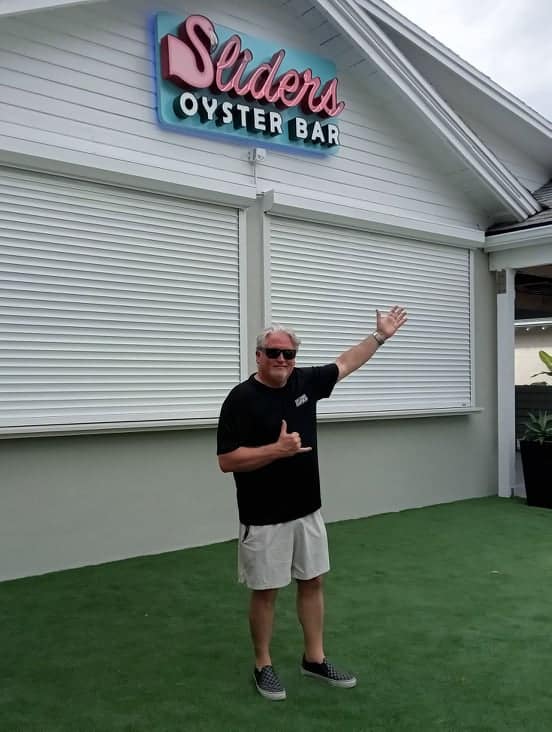 "This location was the old Howards Garage next door to Ed Smith Lumber that had been built in the 30's or 40's. The electric wiring was old and outdated and simply had to be upgraded." So Wooten began planning the process of closing for renovations and hiring a contractor to make the necessary changes. Now after months of construction Sliders is ready to open back up this month.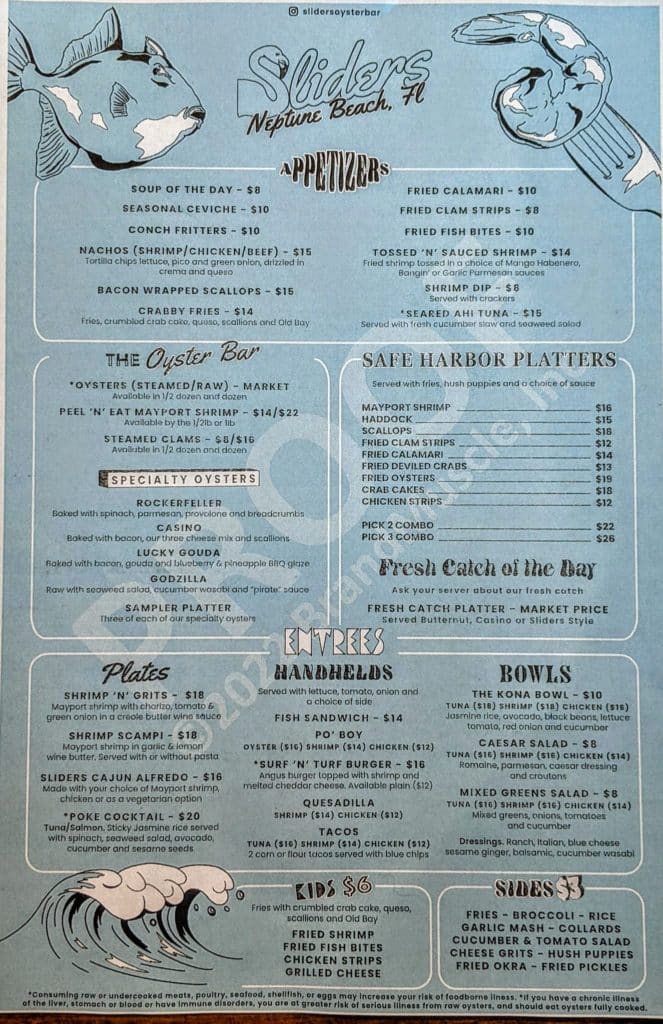 While being interviewed on the patio outside of Sliders, passersby waved politely, exchanged greetings that included their anticipation of returning and one woman, Laura Cook was taking a few photos with her phone. Cook, from Ponte Vedra said, "Sliders is just one of the coolest places ever! I've been coming here since 1985 with my friend and back in those days I wasn't of the highest means so we enjoyed the Red Zinfandel, the delicious bread and the awesome vibe! Now we love coming for dinner as often as possible." Then local artist, Gary Mack, who painted the big Flamingo under the front gable showed up and was thrilled with the renovations. Gary said, "I've eaten here thousands of times! Sliders always serves a really delicious meal and it's affordable! This is just one of the greatest places I've ever been to!"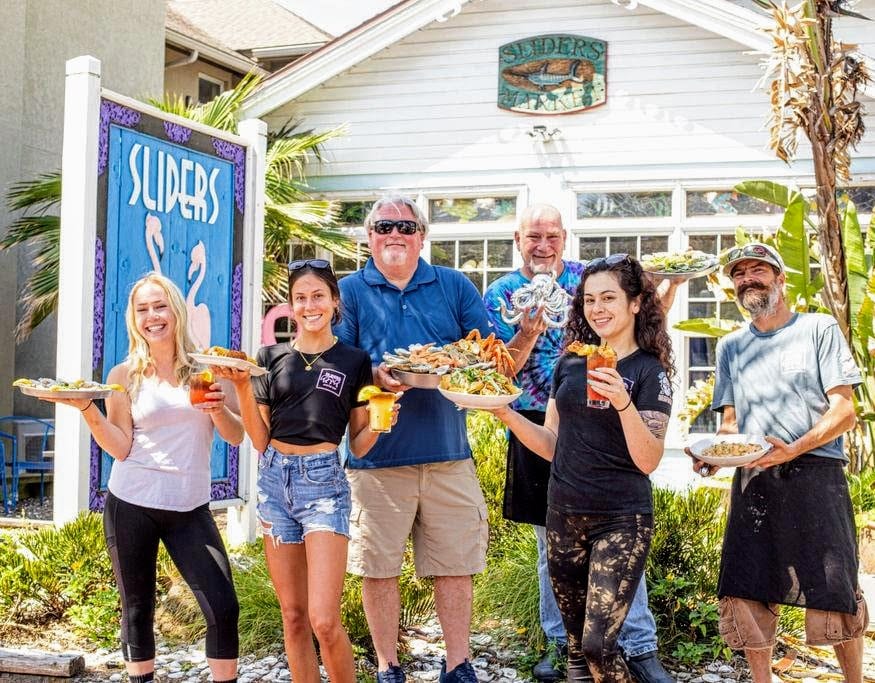 With renovations almost complete, Wooten is able to focus more of his time on his newest venture, Safe Harbor Seafood in Crescent Beach just south of St. Augustine. "I saw a location that was perfect for a local beach seafood diner," Chris said, "and I jumped on it. The owner wanted to sell the location and was involved in a bidding war with two corporate giants the day I walked in the door. After telling him what I wanted to do he thanked me for saving him. He lives very near the location and had he sold to a corporate chain he may have faced the wrath of his friends and neighbors, but with Safe Harbor he was leaving the community with a down to earth, family friendly business in his stead and was extremely relieved to know we brought a great vibe to the area." Wooten certainly has his hands full but he knows that if he stays true to his virtues, doesn't let success go to his head and ALWAYS creates a fun atmosphere for his staff and his patrons that things will work out for the best. We don't know what lies in store next for Chris Wooten and family, but when the possibility of a Sliders in St.Augustine got brought up a wry smile crossed his face and he said, "I never say never, but that will be a decision for the Mrs!" The one thing that is for sure is that if Chris Wooten is behind it, it will be good for the community, the staff and the patrons.