Reading Time:
2
minutes
INTRODUCING A NEW COMMUNITY WEBSITE – FIRSTCOAST.LIFE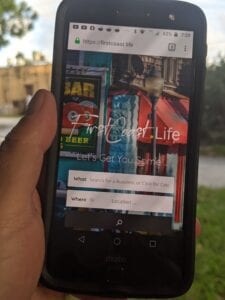 2020 has been, well, interesting. Covid sucks and it has impacted every part of our lives. No one is going to argue that. Few have suffered more so than local businesses. The old ways of doing things are quickly falling away and we are all learning new ways to live our lives. But we're going to keep it positive.
With all of these changes, it's more important than ever to stay connected. First Coast Life will help you stay connected while discovering wonderful things about this place we call home. Rediscover what made you fall in love with the First Coast. It's time for something uplifting. There will be nothing snarky or mean-spirited. We're all about the positive at First Coast Life.
This is where you can get to know your neighbors and the business owners in our area. And the ones you already know – get to know them a little bit better.
Together, we can build and share the beauty of our community. And that is the key word – community. We want you to be part of this. Share your pictures and submit your stories to remind us about all that is good in the First Coast.
For those who are coming to peruse the site – just sit back and enjoy. We hope you learn a little, maybe laugh a little bit. If you like it share with others. Come back and see what's new. Create your own account so you can save favorites and provide comments. And if you have that story you've always wanted to tell or know someone that needs a shout out, let us know. We always love to hear great stories.
For the business … Please claim your listing (or add one) and share your basic information for all to see. It's simple and kind of fun to do. We provide the tools to update and manage your profile yourself, with real time pictures and offers. And you can directly answer questions from your customers or people who just want to know a little more about you.
Talk about a great way to connect!
Let's Get started …

Please be advised that disrespectful, rude or unkind posts are not welcomed here and will be removed. And the people who post such notes will, without hesitation, be blocked. FirstCoast.Life is a page of powerful, kind, respectful folks who are here for the light, the positive energy and the community.
The older I get… the closer the moment comes. It takes the perspective of age to really settle on the idea that time is an arrow, shot straight and true and unyielding to the armor of youth.
This is the kind of calculus that cannot be solved without the accuracy of experience.
The trick, I suppose, is to realize the equation while there's still enough gas in the tank to make the most of the moments left at hand.
Quote: The Braided Beard