It all started with a box of crayons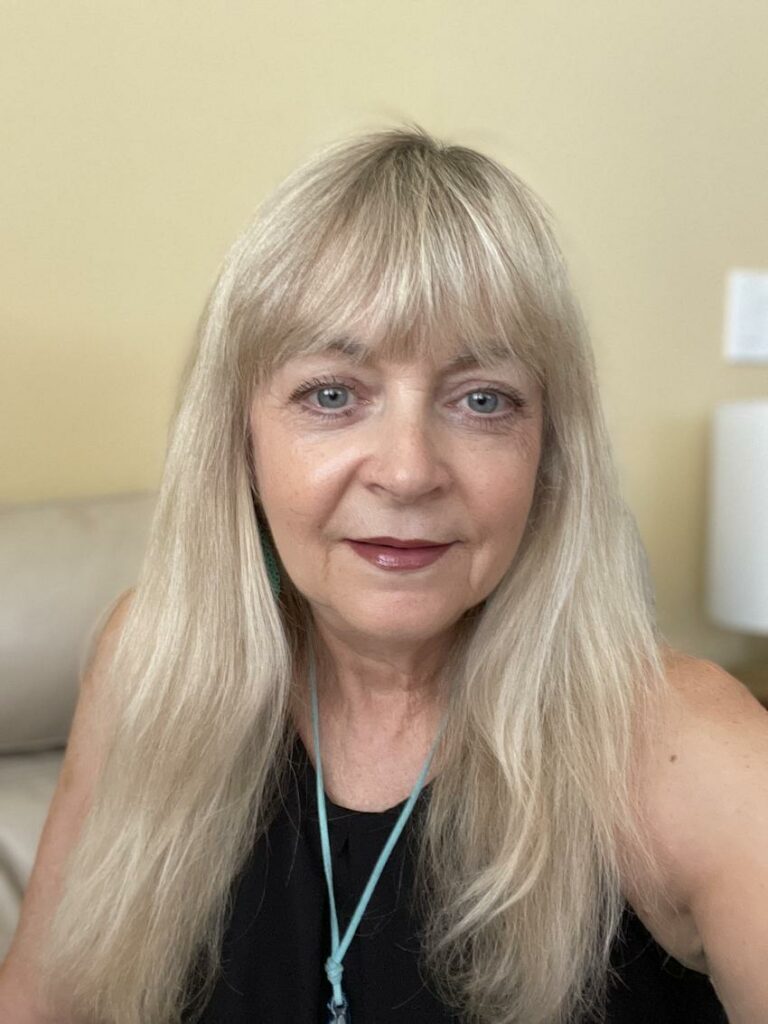 So nice to meet you Linda! So getting started, tell us in what part of the First Coast do you reside now and how long have you lived there? 
I've lived in St. Johns (Fruit Cove) for the past 3 years. Prior to that, we lived on the Arlington River for about 16 years. I moved to the First Coast from the Atlanta area in 1996.
How long have you been doing your craft or trade?
All my life! I can't remember a time when I wasn't doing something creative. I started making art with the first box of crayons my dad gave me and then when he gave me a Jon Nagy Art Kit there was no turning back.
What brings out your creativity?
Spending time in nature, spending time with my granddaughters, spending time with my artist tribe and traveling, especially cruising.
What does your work aim to say? Are you trying to bring a smile to someone's face or add to someone's home decor?
I don't make art to convey some subliminal message but rather as a self-expression of my impression of things that caught my eye as a thing of beauty, whether it is just the bright red and yellow tips on a Cedar Waxwing wings or the peaceful calm of a pond filled with waterlilies. It's also about the joy of the process for me. I hope that others feel the same about the work when they see it.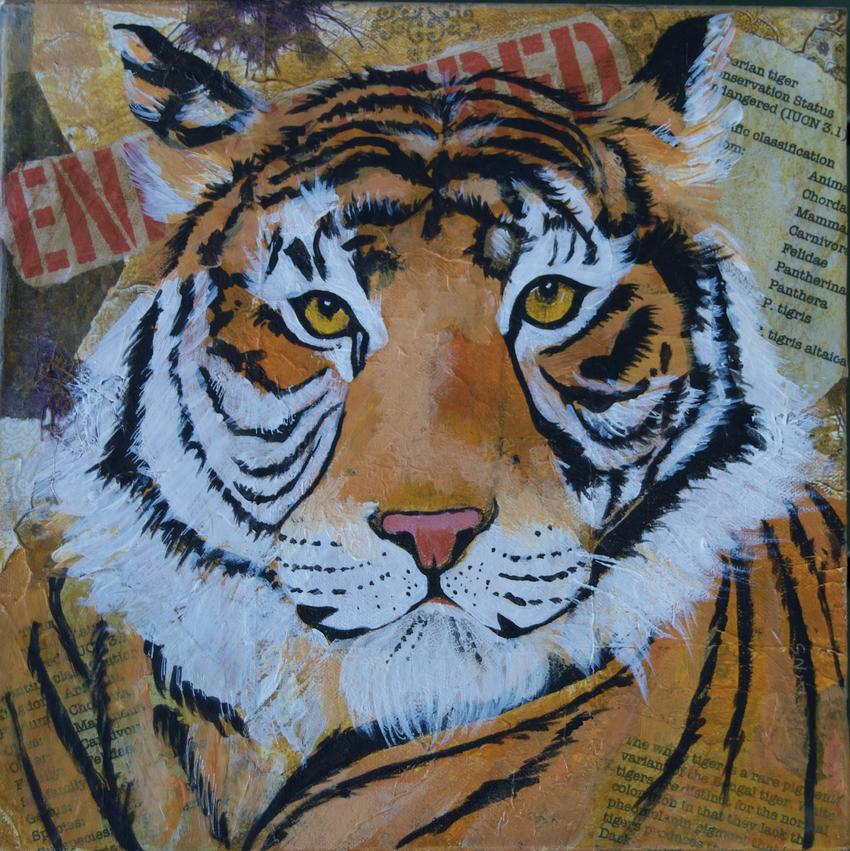 Are there any spaces or designers that have influenced you?
I wish I could remember the name of the very first art gallery I ever visited. I was about 13 when my school took a field trip to Hershey, PA. I became obsessed with becoming a professional artist from that point on. Here locally, I am greatly impressed by the fabulous Art Market of Atlantic Beach. Chelsea and Jeff Leonard, along with Gloria Moore have really created something special and I am thrilled to be a vendor there. I lost my mentor, Kathryn Hannon Milkey a few years ago and I struggled to remain active without her pushing me. Fortunately, I am blessed with a great close-knit group of artist friends who are so encouraging and helpful. They are both cheerleaders and critics and help keep me on track. I admire the work of watercolor portrait artist, Mary Whyte and the great storytelling art of watercolorist Dean Mitchell.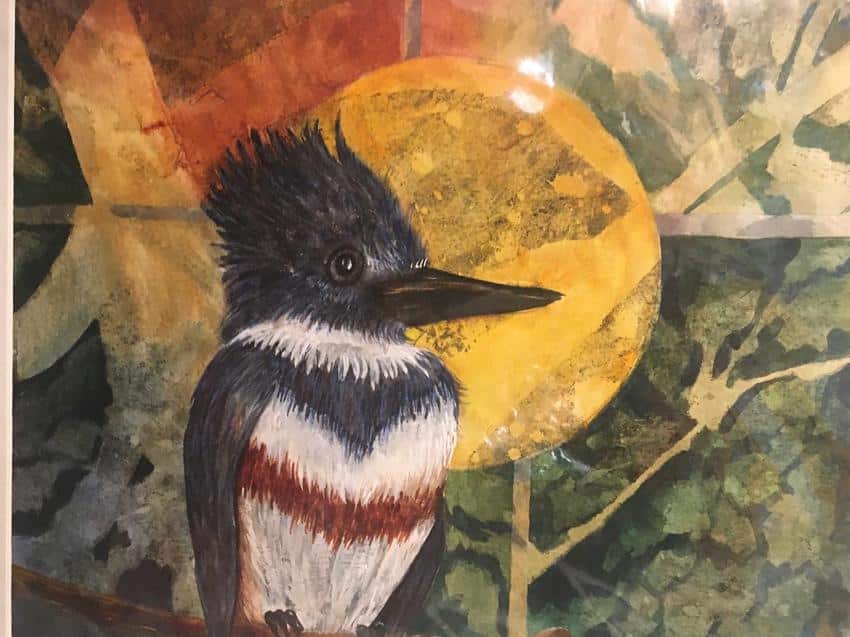 What is your favorite artistic accomplishment?
They all are! Actually, I'd have to count getting into the Florida Watercolor Society Exhibit twice along with one time in their online exhibit. I just need to be accepted once more to obtain my signature membership, a goal I've been working on for many years. It is quite a prestigious honor as there are over 1,000 members who enter and only 100 entries are accepted into the show each year.
Do you have a specific piece you would love to talk about or promote?
Yes. It is a large watercolor of a hawk in flight titled "The Wild Hawk to the Windswept Sky" after a line in the poem "The Gipsy Trail" by Rudyard Kipling. He and Mary Oliver are favorite poets of mine.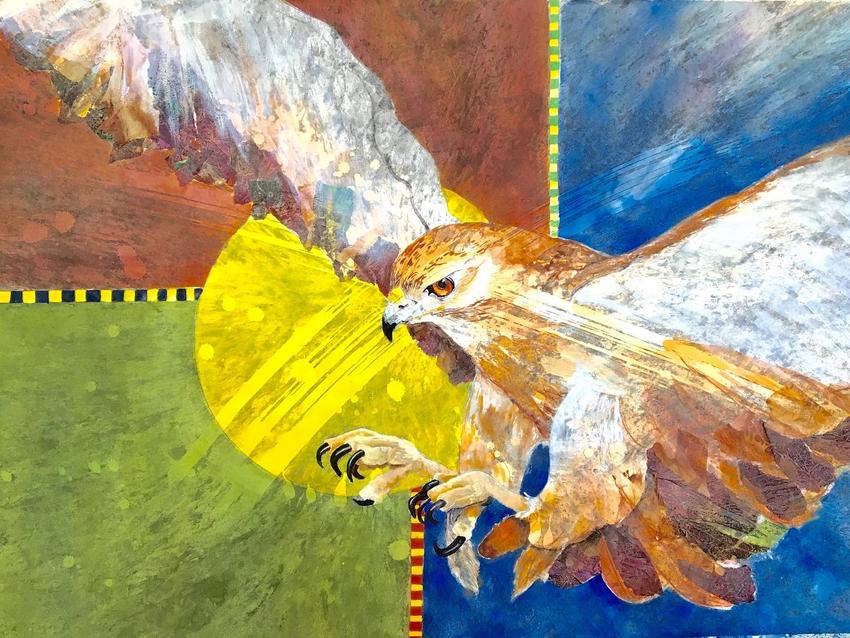 What is the best way for artists to network?
Join artist groups! At one time or another, I have belonged to every artist group on the First Coast. Get on the boards so you not only meet members but get to know guest artists and workshop instructors. And don't just join local groups. I have memberships in state, regional and national associations and have met people from all over the world through their conventions, exhibits and workshops.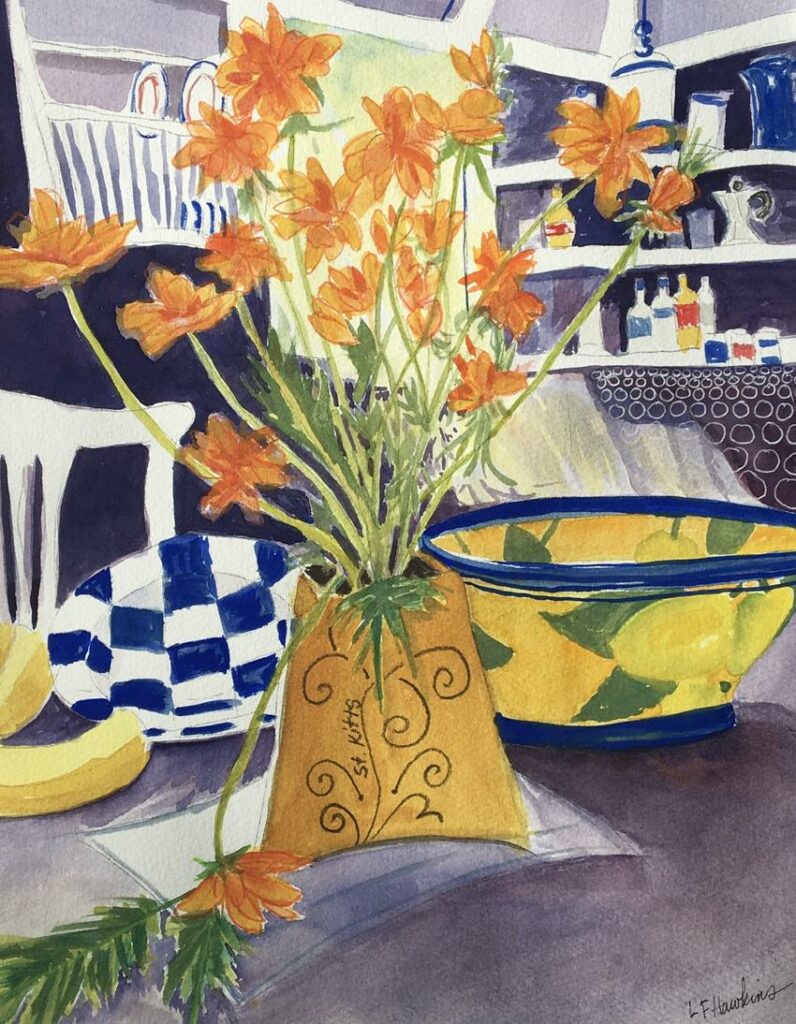 If you had a question you would like to ask another artist what would it be?
How did you do that!!??? I'm always curious about others' work, thought processes and techniques.
What's the best thing for you about living on the First Coast?
The weather! The beaches! The people! And it's close to Port Canaveral so I can hop on my favorite cruise line without having to fly!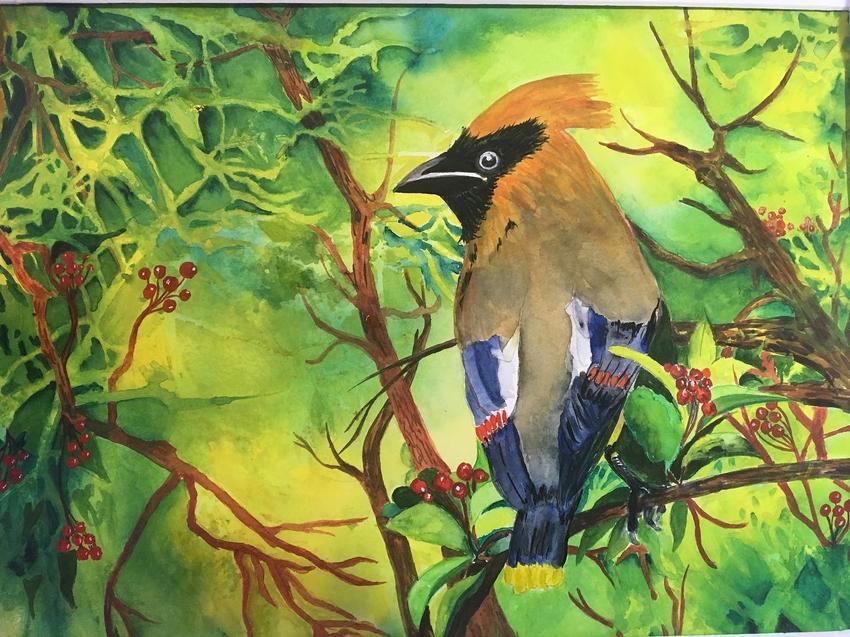 How can we see your work?
On my website at www.lindafhawkins.com, on my social media – Facebook at https://www.facebook.com/ltlhawkstudios, on Instagram @ltlhawkstudios. And at Atlantic Beach Arts Market in Mayport as well as at P.A.St.A Art Gallery in St. Augustine.
Is there anything else that you want to tell everyone?
Take time to enjoy the simple things in life. Be good to one another. This life is short and we should all live like there is no tomorrow. Don't wait to do the things you dream of. Start today.
About the Author
Latest Posts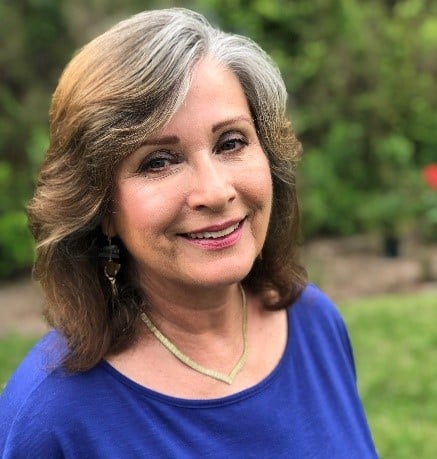 I did not connect with clay as an artistic outlet until mid-life. During a hectic and demanding career, while juggling family, job and my MBA, I needed a healthy outlet to release my frustrations while appealing to my sorely under-utilized creative needs. One summer class gave me the impetus to redirect what little down-time I had into punching, pulling, coiling, pinching, slapping, and throwing this amazing and malleable material into anything my imagination desired. I found therapy through clay.
In the years since, I have received an Associate's Degree from the New Hampshire Institute of Art in Manchester, New Hampshire, and set up my first studio in a basement of our house. Currently, my studio has moved above ground – to my garage, but includes a wheel, large Skutt kiln, slab roller and an array of clay and glazes that would make a chameleon dizzy. I am a proud member of the Professional Artists of St. Augustine Fine Art Gallery since October of 2021.
I work with a variety of clays and glazes – from mid-temp stoneware and shiny glazes to low-fire and matte underglazes. I find inspiration in nature, children's stories and fables, and my own untamed imagination!