A sit down with Paulo …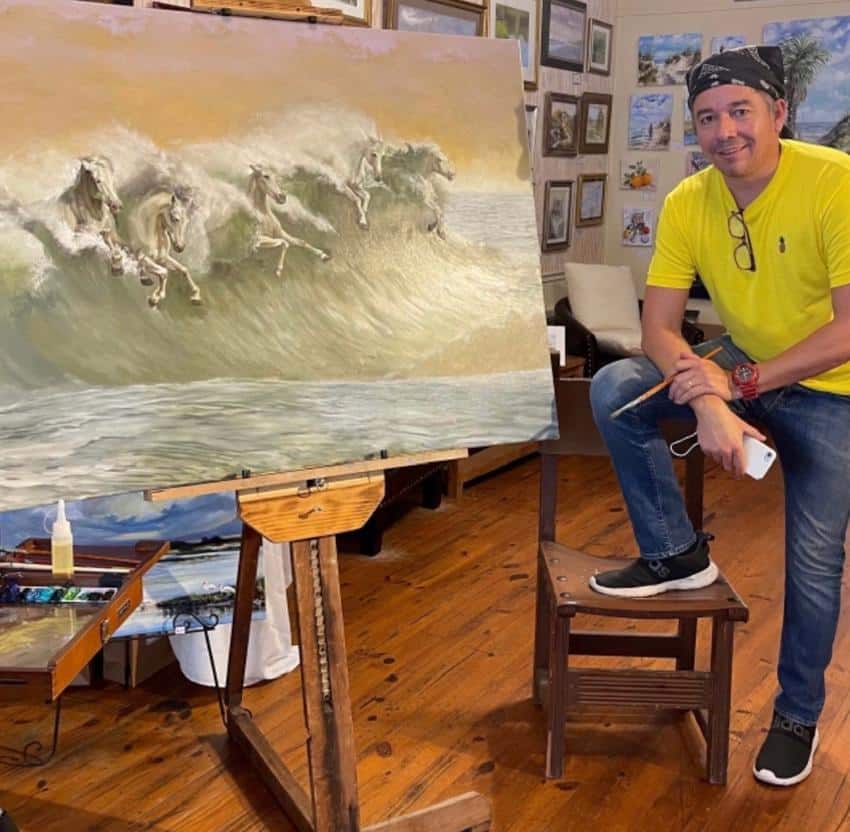 So cool to meet you Paulo. Getting started, tell us in what part of the First Coast do you reside now and how long have you lived there?
Deland since 2018
How long have you been doing your craft or trade?
Over 30 years
What brings out your creativity?
The unique charm and character of the streetscapes in Saint Augustine, as well as the city's rich cultural heritage and scenic beauty, inspires my creativity.
What does your work aim to say? Are you trying to bring a smile to someone's face or add to someone's home decor?
I aim to showcase the beauty and uniqueness of Saint Augustine's streetscapes, as well as tell stories through the intricate details and vibrant colors in each painting.
Are there any spaces or designers that have influenced you?
Plein air artists have likely influenced me by encouraging me to paint outside, en plein air, to capture the natural light and atmosphere of Saint Augustine's streetscapes. The emphasis on painting outdoors and quickly capturing the essence of a scene, rather than creating a highly finished and polished work in a studio, led me to develop a more spontaneous and expressive style. Additionally, observing other plein air artists exposed me to new techniques and perspectives, encouraging me to experiment and push the boundaries of my own style.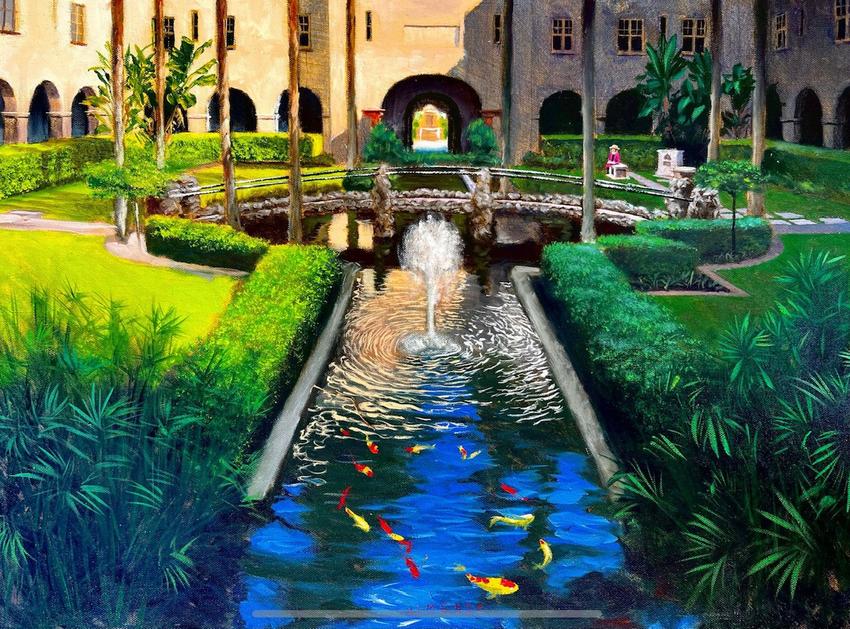 What is your favorite artistic accomplishment?
As an artist, it's hard to choose just one favorite accomplishment because every painting I create is special to me in its own way. However, if I had to choose, I would say that my favorite accomplishment is the way my paintings have resonated with people and allowed them to connect with the beauty of Saint Augustine.

I'm always humbled when someone tells me that my painting captures the spirit of the city or reminds them of a particular moment or place that is special to them. It's rewarding to know that my art can bring joy and inspiration to others and make them feel a deeper connection to the world around them.

Ultimately, I feel that my greatest accomplishment is the journey I've taken as an artist, constantly learning and growing with each painting I create. I'm excited to see where this journey takes me next and what new discoveries I will make along the way.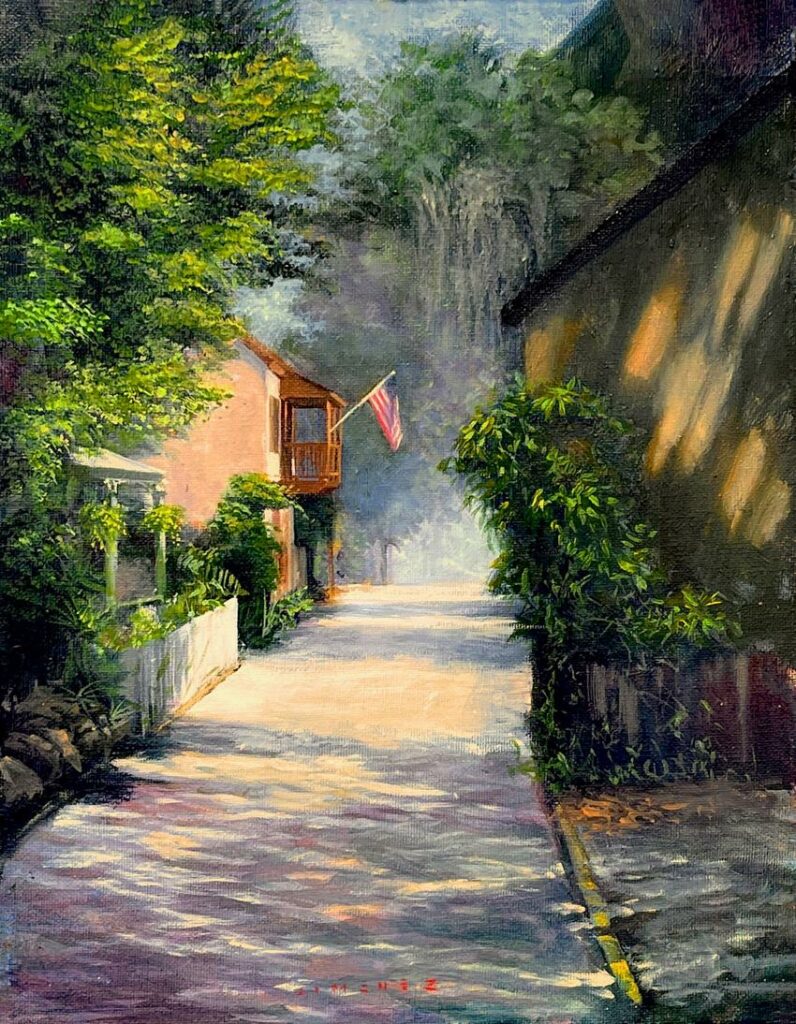 Do you have a specific piece you would love to talk about or promote?
As an artist who specializes in painting Saint Augustine's streetscapes, I believe that it is incredibly important to remember the city through art. Saint Augustine is a place with a rich history and cultural heritage that has been shaped by a diverse range of people and events over the centuries. Through my paintings, I try to capture the essence of this unique city and celebrate its beauty and complexity.

Art has a powerful ability to evoke emotion and create a sense of connection between people and places. By painting the streetscapes of Saint Augustine, I hope to help people connect with the city in a deeper way and develop a greater appreciation for its beauty and significance. Art can serve as a reminder of the importance of preserving and protecting the places that we hold dear and can help us to understand and appreciate the history and cultural heritage of a place.

Through my art, I hope to inspire others to see Saint Augustine in a new light and to develop a deeper connection with this special city. Art has the power to bring people together and to create a sense of community, and I believe that by remembering Saint Augustine through art, we can help to ensure that its unique character and charm are preserved for generations to come.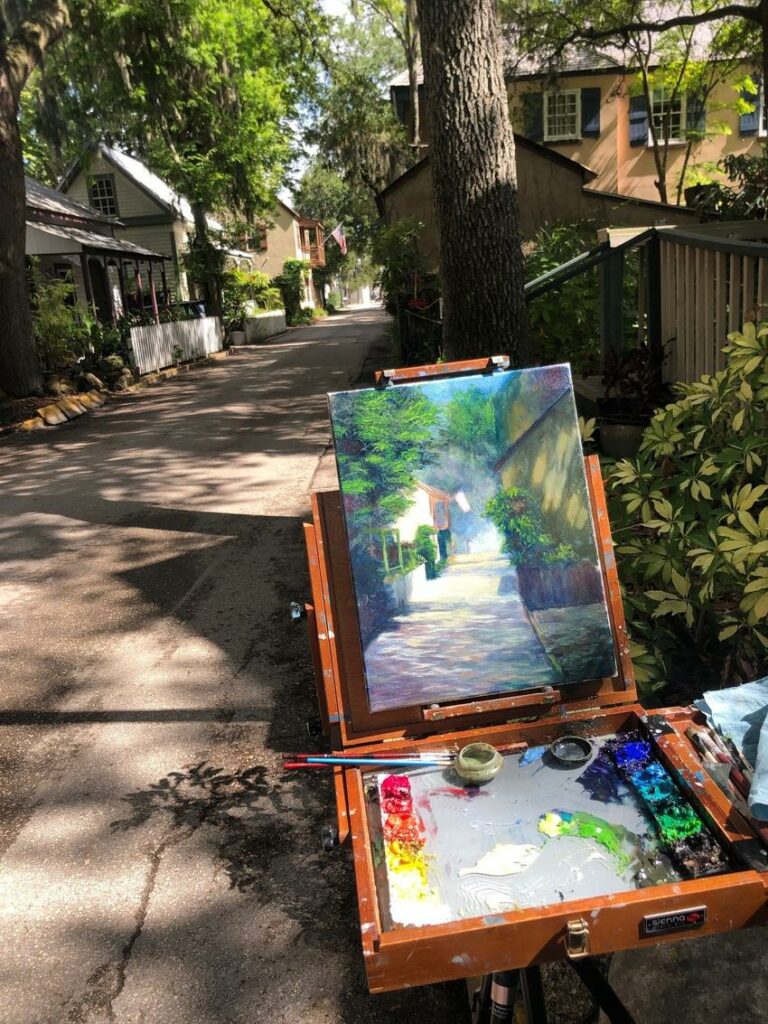 What is the best way for artists to network?
As a painter who has spent many years in Saint Augustine, I have found that the best way for artists to network in the city is to participate in community events and engage with other artists and art lovers. One great way to do this is by attending the First Friday Art Walks, which take place on the first Friday of every month and offer a chance to meet other artists, show your work, and connect with potential buyers.

Another great networking opportunity is to take part in art classes or workshops, which can provide valuable opportunities to learn new techniques, connect with other artists, and even exhibit your work in student shows or exhibitions. There are many excellent art classes and workshops available in Saint Augustine, covering a wide range of mediums and skill levels.

In addition to these options, there are many other ideas for artists to network in Saint Augustine, including joining a local art organization, volunteering at art events and exhibitions, participating in art festivals and shows, and even hosting your own exhibitions or open studio events. By actively engaging with the local arts community and seeking out opportunities to connect with others, artists in Saint Augustine can build meaningful connections and take their careers to the next level.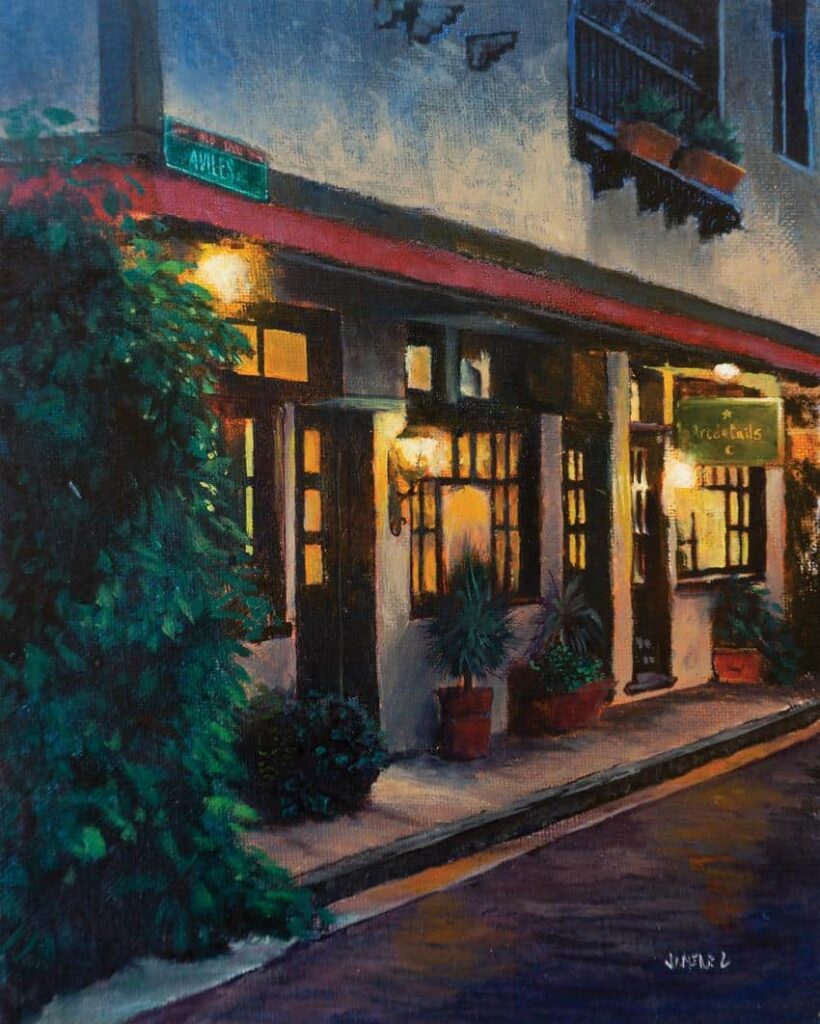 If you had a question you would like to ask another artist what would it be?
What do you draw inspiration from, and how do you approach capturing the essence of a place or moment in your paintings?
What's the best thing for you about living on the First Coast?
One of the best things about this city is the abundance of natural beauty and historical charm that surrounds us. The city's cobblestone streets, old architecture, and stunning beaches provide endless inspiration for my art, and the local arts community is vibrant and supportive. There are many opportunities to showcase and sell my work, and I feel fortunate to be a part of such a dynamic and creative community. Plus, the warm weather and laid-back lifestyle make it a wonderful place to call home.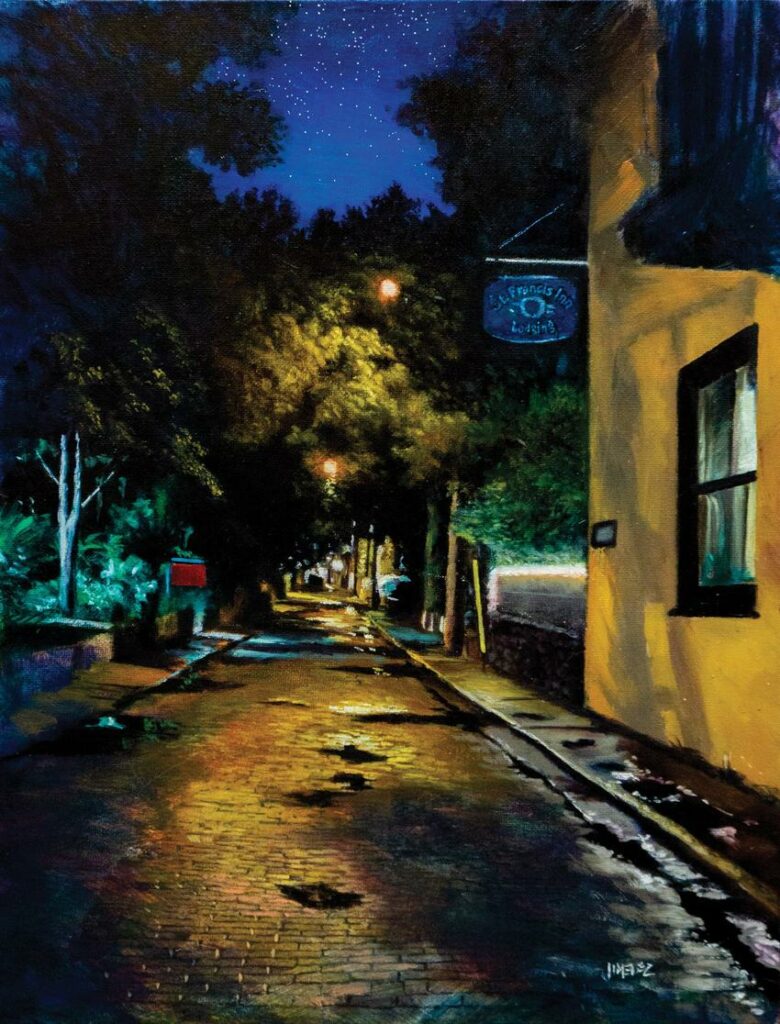 How can we see your work?
Www.artdetails.com @paulojimenezart on Instagram and @paulojimenezart on Facebook
Is there anything else that you want to tell everyone?
I just want to say that being an artist in Saint Augustine is truly a joy and a privilege. This city has so much to offer, from its rich history and stunning natural beauty to its lively arts scene and friendly, welcoming community.

Whether you're a seasoned artist or just starting out, there are so many opportunities to grow and thrive here, and I would encourage anyone with a passion for art to explore all that Saint Augustine has to offer. And if you're interested in taking art classes or workshops, be sure to check out my website for more information!

Thank you for your time and your support, and I look forward to continuing to share my art and my love for this wonderful city with all of you. Cheers!
About the Author
Latest Posts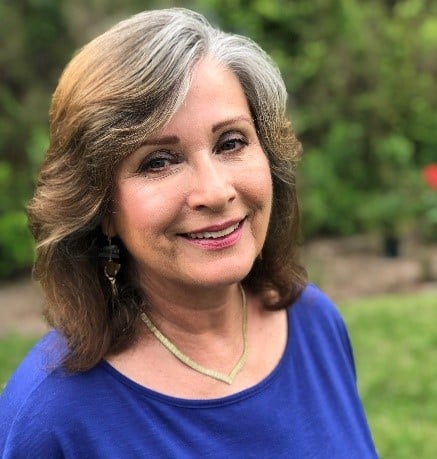 I did not connect with clay as an artistic outlet until mid-life. During a hectic and demanding career, while juggling family, job and my MBA, I needed a healthy outlet to release my frustrations while appealing to my sorely under-utilized creative needs.
One summer class gave me the impetus to redirect what little down-time I had into punching, pulling, coiling, pinching, slapping, and throwing this amazing and malleable material into anything my imagination desired. I found therapy through clay.
In the years since, I have received an Associate's Degree from the New Hampshire Institute of Art in Manchester, New Hampshire, and set up my first studio in a basement of our house. Currently, my studio has moved above ground – to my garage, but includes a wheel, large Skutt kiln, slab roller and an array of clay and glazes that would make a chameleon dizzy. I am a proud member of the Professional Artists of St. Augustine Fine Art Gallery since October of 2021.
I work with a variety of clays and glazes – from mid-temp stoneware and shiny glazes to low-fire and matte underglazes. I find inspiration in nature, children's stories and fables, and my own untamed imagination!