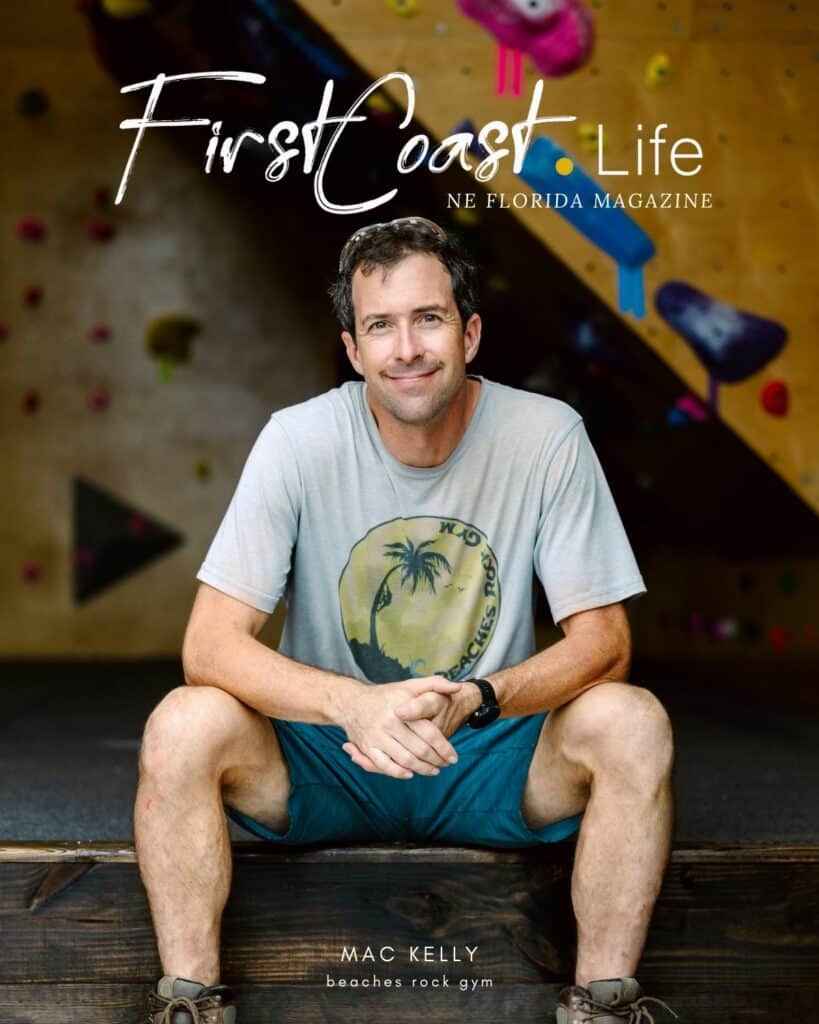 All roads do not lead to Atlantic Beach, but when you consider that Mayport Road is one of AB's main thoroughfares, it only takes you out of AB at both ends. Weird huh?! Sort of like why do we park on the driveway and drive on the parkway? But I digress.
The reason Mayport Road is so in the forefront of my mind is because I was at The Rock Gym a few days ago and I was so impressed with the entire operation over there that I have to tell the story! Kim and Mac Kelly started the Rock Gym in 2017 with basically one climbing wall and have watched its popularity grow and seen the facility expand over the past five years.
Located just a couple of blocks from Atlantic Blvd at 14 W 3rd Street, whenever the gym is open and you're traveling south on Mayport Road you can see the rock walls and usually you can see people in there climbing as you are passing the location.
If you've ever seen the vision I am describing you might recall that it's a very colorful image because the many rocks leading up to the top are painted in a variety of colors. To rock climbers, the colors present specific paths to the top. To commuters on Mayport Road, it's just a cool sight to see. But the Rock Gym is open to anyone so there's no reason not to stop by and check it out.
Mac Kelly has an interest in many fitness-related activities. From mountain biking, to hiking to surfing to rock climbing and more it's not unusual to find him working out in one form or another. "It wasn't like I had been super into rock climbing my whole life," Mac said. "When I was younger I was into running, trail riding on my bike and I was also into surfing and it just led me to want to stay in shape by exercising in as many different ways as I could."
Rock climbing is definitely a rigorous workout. Kim Kelly pointed out, "Rock climbing is a strenuous workout too! In many instances, you are hanging on just with your fingers while your entire body is stretched out causing so many muscles in your body to play a part in the success of you reaching the top."
The Rock Gym isn't just for fitness buffs though. With a wide range of programs and special offerings, virtually everyone can reap the benefits of what Kim and Mac offer. "We have after-school programs during the school year and camps for kids in the summer," Mac told us. "But we have specials like a ten-dollar day pass as well," Kim added, "that allow beginners to come to check it out without having to invest in much just to see what it's all about."
One of the best things about the Rock Gym is that it provides an outdoor activity that gives kids something cool to do instead of sitting inside in front of the television or playing video games.
That is something the City of Atlantic Beach seems to be behind in full throttle. With places like Dutton Island Preserve and the continuance of the Greenway Project, which includes new bike lanes in parts of AB, it's obvious the city is very proactive in wanting to provide opportunities for everyone to get out and do something healthy.
One thing is for sure, the Rock Gym is not only fun, but it's a cool place for both kids and adults to go have fun and get a decent little workout in as well.
Contact Beaches Rock Gym