Reading Time:
2
minutes
Say Hey to Diana …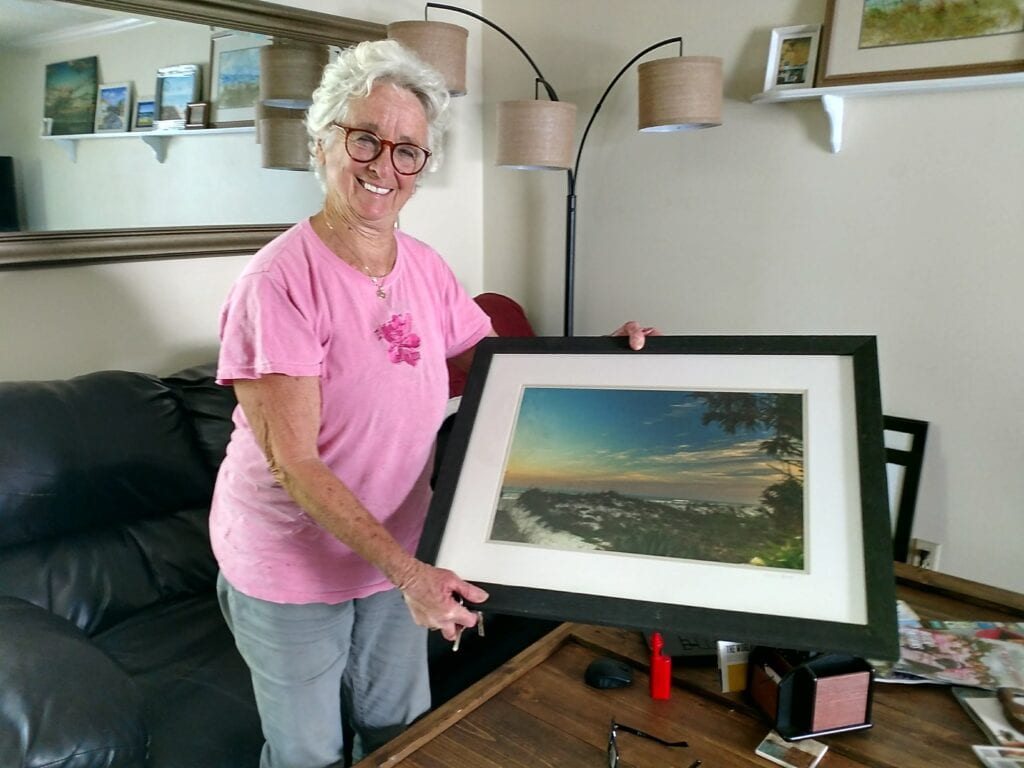 How long have you lived at the First Coast?
I have lived (as a retired adult) in Atlantic Beach for 17 years. As a child, teen and young woman, 11 years.
Where do you live now?
I live in Atlantic Beach.
What was your first job?
I worked as a secretary in the Public Relations Department at Southern Bell telephone company in Jacksonville.
Have you ever met anyone famous?
Yes, I even danced with Joe Namath when I was attending the University of Alabama. Also nearly ran into Ed Sullivan on Park Avenue in NYCity…he was exiting his apartment building sporting pink hair (the doorman said he had attempted to die his hair blonde) and I wasn't looking where I was going.
What are you reading right now?
The Florida Times Union and a novel by Sandra Cisneros, "Caramelo." Both great reads.
If you could pick up a new skill in an instant what would it be?
Bike riding.
Who's someone you really admire?
Joe Biden, Donna Deegan, Joshua Hicks
Seen any good movies lately you'd recommend?
Two best movies–Clint Eastwood directed–Gran Torino and The Mule.
Got any favorite quotes?
"It does not take a majority to prevail, but rather an irate, tireless minority, keen on setting brushfires of freedom in the minds of men. Samuel Adams (1722-1803)
Been pleasantly surprised by anything lately?
beautiful, calm, swimmable Atlantic Ocean
What was your favorite band 10 years ago?
Still the Beatles
What's your earliest memory?
playing in the sandbox in my grandmother's back yard,,,baking "pies" from sand with my little sister
Been anywhere recently for the first time?
South Jacksonville Beach
What's your favorite family tradition?
Always keeping our bonds strong by "being there" for each other
Who had the most influence on you growing up?
my mother
What was the first thing you bought with your own money?
don't remember for sure, but probably a bra
What's something you want to do in the next year that you've never done before?
re-learn how to ride a two-wheel bicycle
Seen anything lately that made you smile?
butterflies in my yard
What's your favorite place you've ever visited?
Two–Jamaica and Cuba
Have you had your 15 minutes of fame yet?
Nope
What's the best advice you've ever heard?
Love who you are
How do you like your eggs?
poached
Do you have a favorite charity you wish more people knew about?
Family Promise (here in Jacksonville)
Got any phobias you'd like to break?
fear of heights
Have you returned anything you've purchased recently? Why?
no
Do you collect anything?
shells and shark's teeth
What's your favorite breakfast cereal?
Post's "Great Grains"
Locals Sharing Uplifting and Inspirational Stories & Images
FirstCoast.Life is a regionally-focused digital magazine for locals and newcomers alike. We are super passionate about bringing arts to our region, buying local, and spreading community love.
We want to see your photos and stories too. Click to Submit