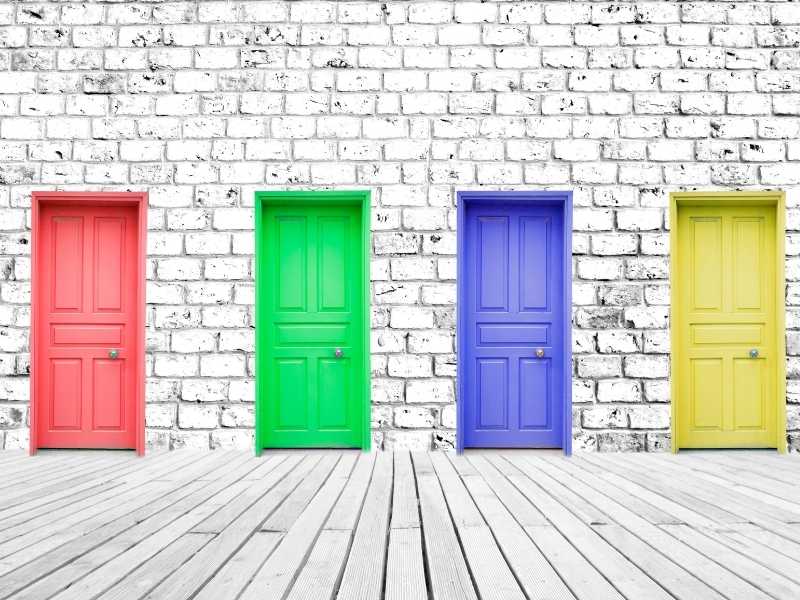 As the old saying goes, "When one door closes, another door opens." Life then, in my mind, is a story of various doors opening and closing. Some as big as a castle's gates; some as small as a dollhouse's front door. Sometimes many doors may close at once, and it seems like there's no other door to walk through; other times too many futures will open up to you and then you have to choose which room to enter. No matter how important a relationship was or how significant a decision felt, the fact stands that any choice you make with it shuts out or opens up different paths to walk through. That is the essence of living life – Choices and choosing them. Opening a door or closing one behind you.
I started thinking about this a lot lately. Mostly because I'm (hopefully) going to graduate college by Christmas, and the thought of such a constant in my life coming to an end is…Strange. Being able to face the closing of the door head on. Finish my internship and last bit of classes, getting my diploma and all the prestige a communications bachelor has attached to it, and then…The unknown presents itself. A big chunk of my time – of my life – is gone. Wondering what doors have opened for me after that diploma is framed on my wall, or what doors I can try and unlock through putting myself out there. The feeling of infinite possibilities, but also the fear of nothing being open at all. Becoming the first college graduate in my immediate family is exciting, and it fills me with pride and joy knowing that I'm going to complete such a long task. Yet that unknown factor of the future still lurks beyond it.
I'm sure it's a feeling many of us have had about so many choices in our lives, and the unknown can make us feel so weak, or everything around us that much more confusing and frustrating. Like the doors are made of steel so dense that they can't move an inch, or that the future is locked behind a series of passcodes that takes you years to figure out, or just a climb where you're unsure how many more steps you have to take until you reach the top. It's a struggle some can't deal with, giving up halfway through or deciding not to try at all.
But the conclusion that I came to over the summer was that it's a struggle I want to overcome. That, no matter how scary or complicated the future may seem, I still want to walk towards it with the hope in my heart that there's the door of opportunity waiting for me. Maybe it'll be a door towards skills I've been honing my whole life, or towards passions I never knew I had. Maybe it's even a door I recognize, with wear and tear signifying that time that's passed since I last opened it, but it brings me new happiness. These are paths that I don't walk alone, knowing that I have family and friends by my side to support me no matter what, and that there are similar people struggling with these same kinds of decisions. But it is my choice alone that truly decides where I go. That, when the door to my college life finally closes, I have to be the one to choose whatever open door is waiting for me. I just have to believe it's there for me, and try my luck at turning the handle…
About the Author
Latest Posts
A bachelor's student (soon-to-be graduate!) of Communications & Media, with a passion for writing whatever words come to her mind. Taking inspiration from the most complicated feelings to the simplest things like cute clouds; you can transform anything you can imagine into a feast for the eyes and mind, in my opinion. I also like to take pictures of those cute clouds, among other things, whenever a sight strikes me with happiness or intrigue.
I've been writing among friends for several years, but my published works right now are my summer internship blogs with Connecting Thru Music (https://connectingthrumusic.org/blog)! I can't wait to write more blogs here for First Coast Life, whether that be inspirational rambles or about my visits to all the amazing events and sights the first coast has to offer!