A Love Story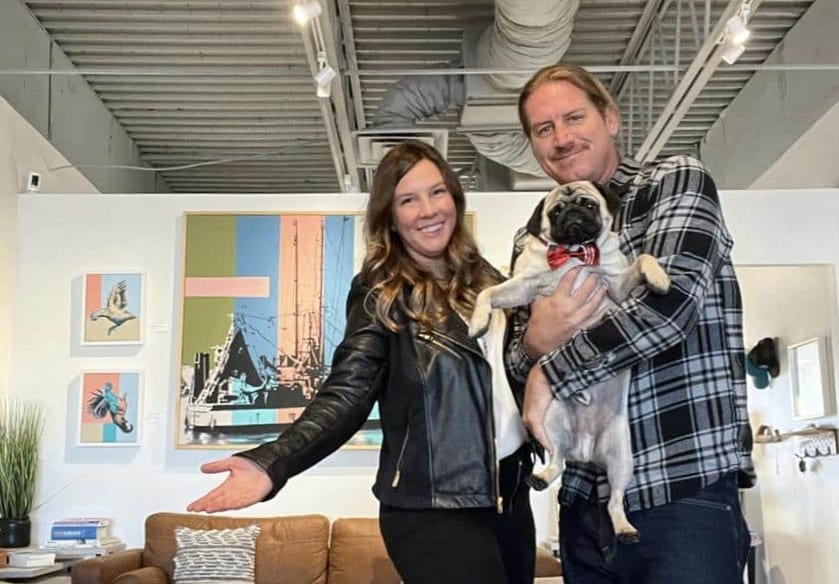 It is February and love is in the air….and I couldn't think of a better love story to tell than Philip and Elizabeth Walker's. "It's a long story, it's a long journey. We've been doing it for 22 years together" Elizabeth Walker says with a smile. Chances are – you either already know Philip and Elizabeth Walker or are familiar with their work. But you may not know about the tenacity and grit it took to get them to where they are and is sure to take them to all the great places they will go.
Philip creates contemporary paintings and murals. His vibrant murals can be seen all over the city. Elizabeth's chic jewelry is sophisticated, fun, and feminine. Their gallery space, Elizabeth Sarah Collections, boasts both Philip's energetic paintings and Elizabeth's beautiful jewelry. You are likely to be greeted by their 1 year old pug pup, Bo, the second you walk in. Bo is always dressed to impress. He prances around the gallery space with pride, and rightfully so. Their gallery is a gem and he knows it.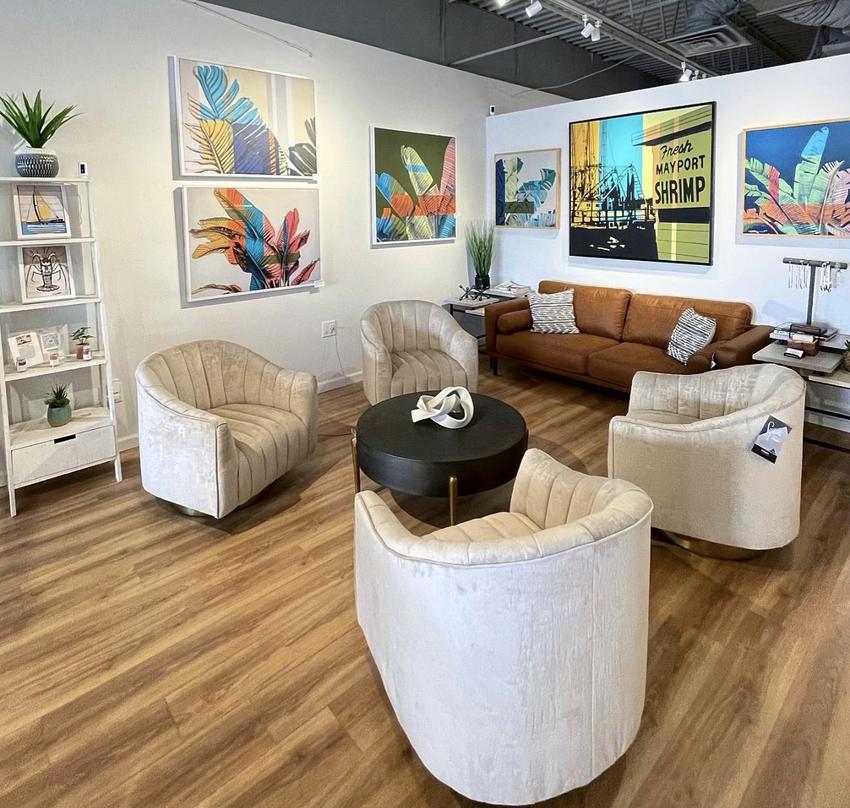 Philip and Elizabeth met on Valentine's Day in 2001 in Aspen, CO. Elizabeth was apprenticing with a jeweler and learning the business side of the industry while Philip was, as he puts it, "a ski bum." Philip was skiing, but he was also working. He was driving a shuttle and doing maintenance for hotels. He said he used to paint on big cardboard boxes he would find in the Hotel from deliveries. Eventually, when he started working for a high-end furniture store in Aspen he met several gallery owners. He would help the gallerists haul art in exchange for art critiques. The hard work and thick skin paid off: Philip's style has evolved over the years to be distinctly his own. "I just want to be a better artist every time I make a painting. I love the murals because they are like a huge billboard for us. I'm pouring my heart and soul into it for our community," Philip says.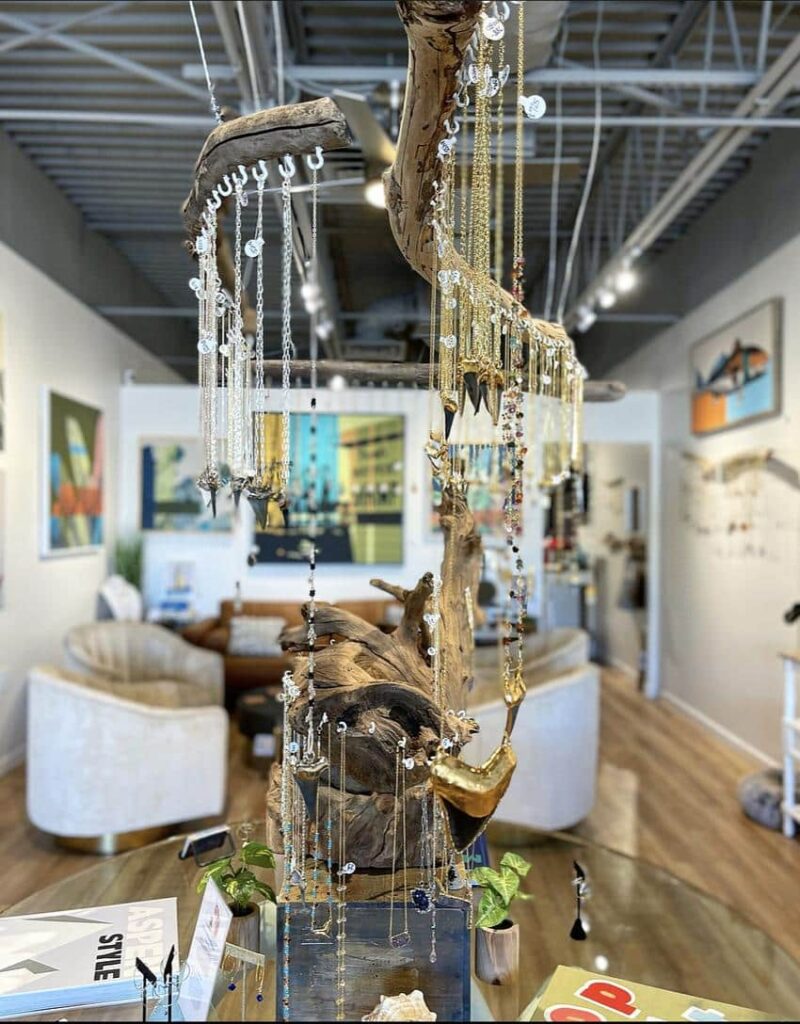 Both Elizabeth and Philip explain that art was always a part of their lives. It is only natural to think that it would grow to what it is today.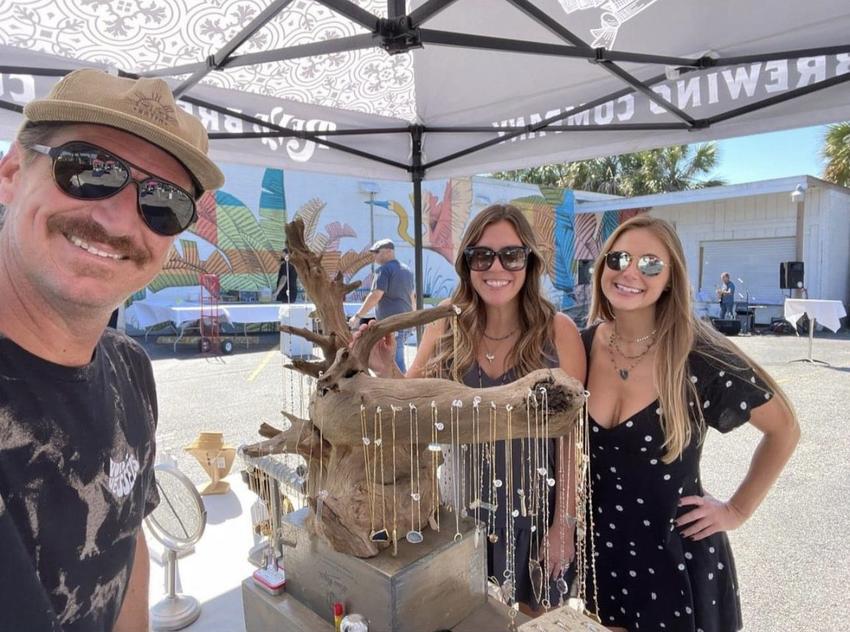 Elizabeth grew up in both Chicago and Wisconsin. Philip is from New Smyrna Beach. Philip knew he always wanted to return to Florida, and Elizabeth welcomed a change. After they married in 2004 they moved to New Smyrna. Elizabeth shrugs as she explains, "The struggle was real. It seemed like failure after failure when we came here. But I was able to sell my jewelry outside of a friend's restaurant and we built a scene. It grew slowly."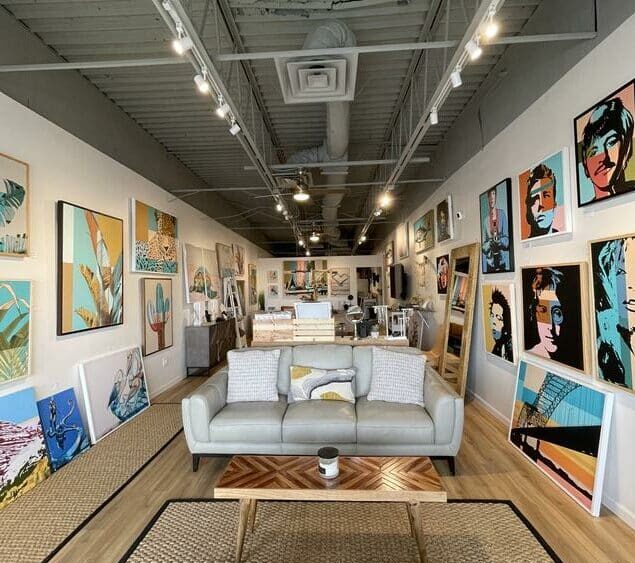 In 2007 Philip got a job that brought them to Jacksonville. They moved to the beach and fell in love. Elizabeth says, "It was all about the timing." When they moved here things came together organically; Philip was selling his paintings regularly and taking on more mural projects and Elizabeth hit the ground running with her collection. Eight years ago they were both able to stop doing side jobs and commit to their art full-time.  Seven years ago they were able to hire Ally Giudice. Both Philip and Elizabeth admit none of what they have would be possible without her dedication and help. Ally helps in the gallery, but also plays an integral role in helping with the murals and any behind-the-scenes work on production and social media.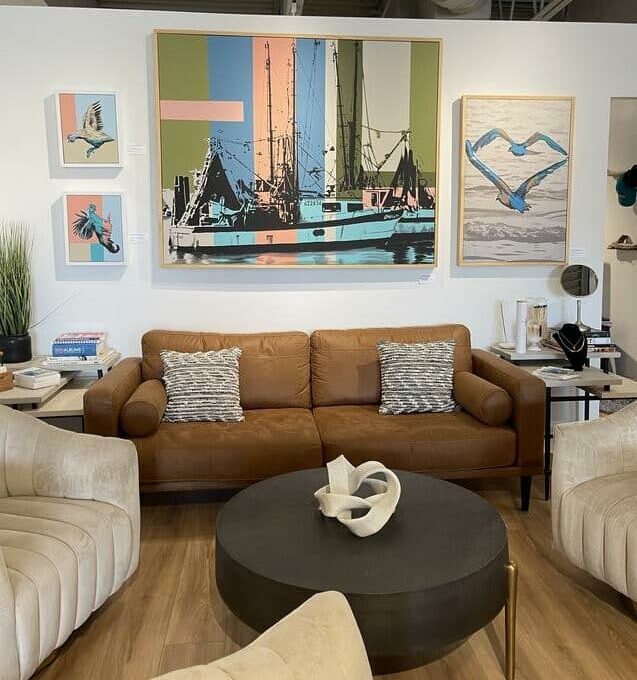 With the risk of being cliché- a little blood sweat and tears went into the beautiful gallery space you see today. The couple opened a boutique space in Jax Beach, but it was 500 sq. ft. Elizabeth and Philp knew they needed more space. Philip says, "our clients deserve top-notch." When they discovered the storefront next to Reve Brewing was open and was triple the square footage- they jumped on it. Philip looks around at the space he and Elizabeth dreamed and built with pride as he says, "This is just a stepping stone to the next space."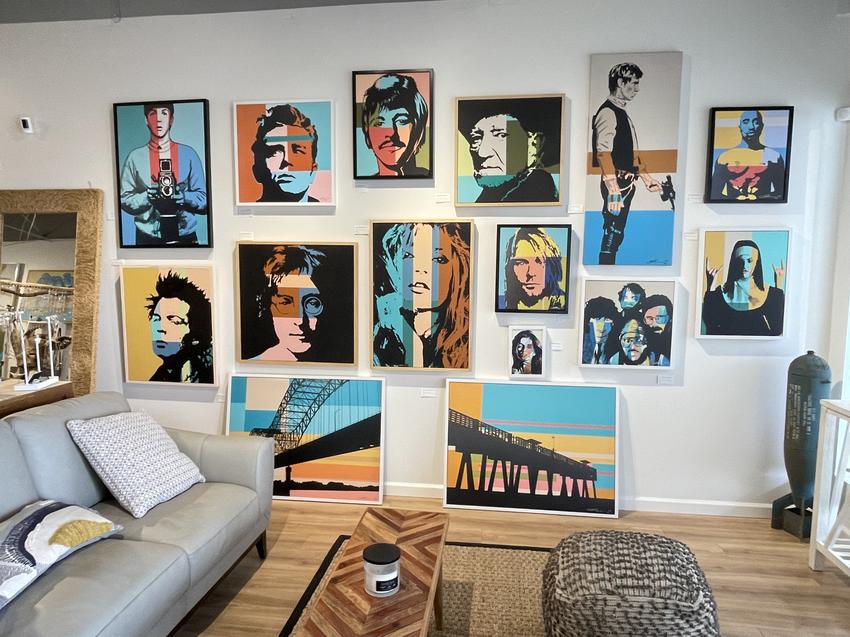 It is as much a testament to the talent behind this vivacious couple as it is to the support the community has given them throughout the years- that Philip and Elizabeth have built and stand by such high quality products. They are in their charming gallery space 6 days a week. Stop in, say hi, relax and support local artists. Keep Jax rad.
Gallery:
Elizabeth Sarah Collections
1249 Mayport Rd
Atlantic Beach, FL 32233
Tues- Thurs 12-7
Friday and Saturday 12-8
Sunday 1-5
Links:
https://elizabethsarahcollections.com/
@elizabethsarahcollections
https://philipbennettwalker.com/
@philipbennetwalker