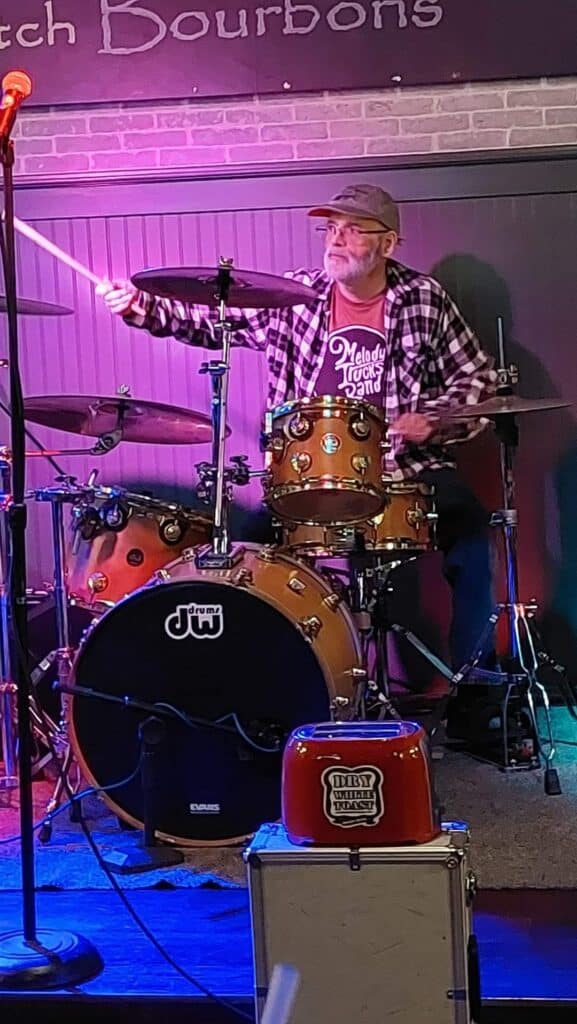 Where are you originally from and how long have you lived in the Jacksonville area?
Originally, I'm from a small town in northern New York State called Harrisville.
It's a rural town located in the foothills of the Adirondack mountains. I also lived and worked in the Syracuse, New York area for 20+ years in the office equipment industry. 22 years ago, my wife Cathy and I moved to Jacksonville. When we got to Jacksonville, I started working at AOL doing tech support, I also worked at a restaurant on the Northside called Fast Boys Wings. As for music, the first band I saw locally at a birthday party was a band called Big Engine. I just knew I made the right move when I sat down at the party for some BBQ and happened to meet Banner Thomas, Molly Hatchet fame, who was playing bass with Big Engine. From that point on, I knew we had made the right decision.
When did you first start playing the drums and why?
I started when I was about 10 years old. I was inspired by my extended family, all of whom are very musical. I remember riding my bike to their garage jam sessions. I was so excited to get started playing the drums, but reality set in. In school when you start there is no drums at all until you've mastered that rubber pad. Any drummer usually knows what this is. It's something you play over and over to lean stick control. Once this is learned you get elevated to playing the snare drum. So it wasn't until high school that I got behind a drum kit. I also played drums in the marching band from JR High through high school.
You have a drumstick endorsement, how did that come about?
I was contacted by Collision Drumsticks in Liverpool England. I went through 3 different interviews before getting the endorsement. I really enjoy their sticks, very sold, but still light enough to have good control
Tell me about the drum set you use.
Years ago, I was visiting my High School and noticed that their drum set was not in the greatest of condition. So, I raised money for them to purchase a new kit and I purchased the old kit. I then refurbished the old Pearl Export kit and I still use it today. I do also have a Roland electronic kit and a vintage Taiwan-made kit as well that has a character of its own.
What are some of your favorite recording or live performance memories?
I have played with many and recorded with a few musicians that live in the Jacksonville area. My most memorable recording was the first album I recorded with Clint Anglin. I also recorded with Eric Goldstein and JB Frank, the bass player of Kingdom Come. I never dreamed I would record a track with a band that I loved listening to in the late 80s. It was such a different experience recording than playing live. My most memorable performance was playing at the world-famous Juke Joint, Gip's Place in Bessemer, AL. It opened in a backyard in 1952. I was so nervous backstage looking at the hundreds of signatures of so many famous people that graced that tiny stage, I almost lost my dinner. I mean wow! Muddy Waters, BB King, Jimmy Reed, and even Elvis! Not only did I play, but I also talked to Gip into the wee hours after the show. Man, the stories.
Have you ever seen someone play that left you in awe?
One of the best local performers I enjoyed watching was Steve Wheeler. Boy, when Steve brought out that 12-string guitar I was just blown away. As for drummers, my favorite is Gavin Harrison. I love his drumming philosophy. "You can do whatever you want in between, as long as you get back to the one count."
You have recently started sharing recipes and pictures of your cooking, what inspired this?
I've always loved to cook so I started making cooking videos. I hope it may lead to new opportunities.
How do you compare cooking to music or can you?
Playing in a band live is a lot like cooking with a good team. Each of us has to anticipate what the other person is doing. It's so great when the flow is there. Everyone knows their part.
Please go into detail about restaurants you have worked in and some of your most memorable experiences.
I've worked as a line cook at Ruby Tuesdays, operated a food truck, and was a chef at The Capital Grille. Capital Grill was the most intense and memorable place to work. We would seat 350+ people and plate custom orders all within about 3-4 hours.
What would you be doing if you were not playing the drums or cooking?
I would be working in the IT or Computer Programming field. I have an electrical engineering degree and worked in the office equipment industry for years.
What do you think has been your biggest inspiration in life?
My biggest inspiration in life was Scouting. As an Eagle Scout, I learned so many things that I still use today.
Where do you think music is going to take you at this point?
I'm hoping I can get back into recording with musicians. I love playing and creating music.
What are your hopes for Jacksonville's music scene?
I've played classic rock, metal, punk, country, funk, and folk, but my favorite is the blues.
Jacksonville does have a pretty diverse music scene. My hope is for more venues to respect talented local musicians and pay them appropriately. Even though we love playing music, it's still a lot of work to gig and no one likes to work for peanuts.