Sciatica Beach is an Atlantic Beach, Florida-based band that plays throughout Northeast Florida. Our laid-back sound – "indie folk/rock" – is unique and our set list diverse.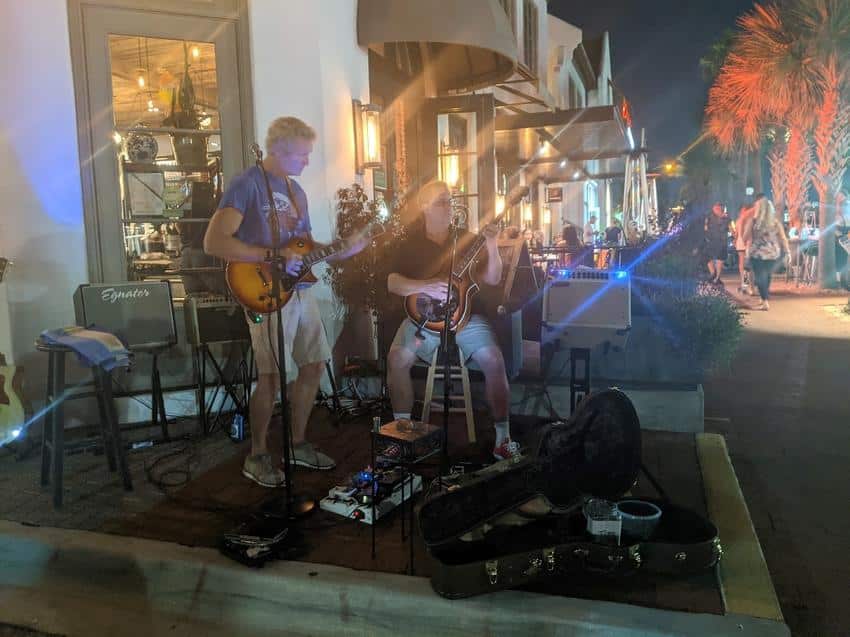 Great to meet you guys. So what part of First Coast do you reside in now and how long have you lived there?
Brian lives in Atlantic Beach just a short walk from the ocean. He and his wife, Meganne, settled there after his military retirement in 2013. Brian was a Colonel in the Air Force having served 26 years of active duty as an Intelligence Officer in various locations across the country and around the world. Rick and his wife Isabel moved to Jacksonville in 1996 to escape Chicago winters and pursue new careers and opportunities, which they've both done successfully.
When did you know you had an interest in music?
There's something uniquely human about enjoying music. That said, Brian's true appreciation for art and culture came later in life. He didn't pick up the guitar until well into his thirties. That experience, however, opened a whole new realm of artistic discovery. Previously a bit stage shy, in his mid-forties, Brian auditioned for a local community theater along with his wife, Meganne. They were cast as Sir Dinidan and Morgan Le Fey in a community theatre performance of Camelot. Brian has performed in dozens of musicals since playing such iconic roles as Jesus in Godspell, Captain Von Trapp in The Sound of Music, and King Triton in The Little Mermaid. By far, his favorite performances are shows such as Once the Musical, Cotton Patch Gospel, and Smoke on the Mountain in which his stage character would also sing and play guitar and harmonica.
Did you start with any specific instrument and migrate to other instruments?
Both Brian and Rick picked up their instruments relatively later in life. Brian started taking guitar lessons in 1998, driving his family crazy by playing She'll Be Comin' 'Round the Mountain again and again in an effort to teach his fingers how to move. Rick picked up the banjo as an adult, learning traditional bluegrass. But with musical influences including '70s rock and '80s new wave, Rick likes finding ways to make the 5-string pop in Sciatica Beach's decidedly non-bluegrass spectrum of covers and originals – like Foo Fighters and Snow Patrol.
Are you currently in a band (or bands)?
There were a few line-ups and formations before the current Sciatica Beach emerged as a duo in 2018.
Who is your favorite musician or what musician influenced you the most?
Sciatica Beach is a big fan of the singer-songwriter genre, which we call "Indie Folk/Rock." Our favorites within those genres include Neil Young, Paul Simon, Carol King, James Taylor, and Amos Lee as well as the Decemberists, The Lumineers, and Jason Isbell. When writing his own songs, Brian finds himself blending the two styles of music for his own personal sound.
Are there any specific memories or highlights of your career that you would like to tell us about?
We played the 65th wedding anniversary party for a couple in their mid-80s. It was so fun and rewarding playing soft music during cocktail hour and over dinner. But, the real joy came after dinner when the couple got up and danced to some of our upbeat originals and cover songs. They were wonderful and we really appreciated being a part of their big celebration.
What area bands or musicians are at the top of your list to go out to hear?
Patrick Rose, Skip Flat, Bear and Robert, Al Monte, Michael Lagasse, Kim Zielinski, Jake Schuman…all friends…all incredibly talented musicians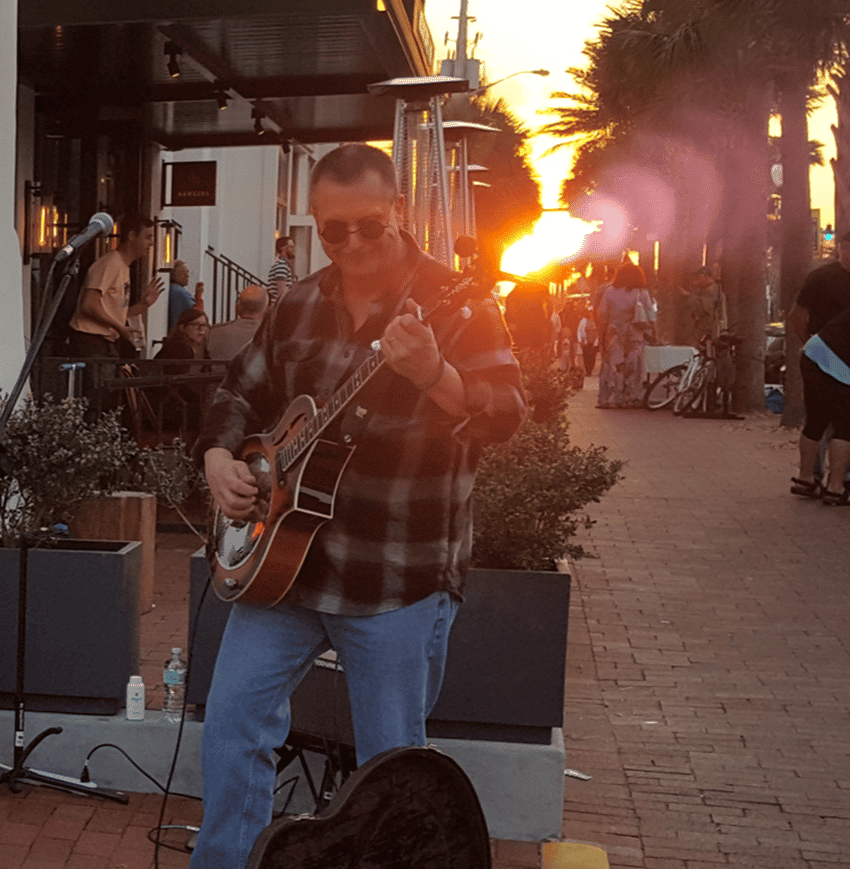 Do you have a favorite venue where you enjoy playing locally?
A few of our past favorite venues include St Augustine's Limelight Theatre – Music in the Box, Mudville Music Room, Southern Kitchen, the Jacksonville Zoo, the Sing Out Loud Festival, and the Jacksonville Veggie Fest. Sciatica Beach has a regular gig at the Jacksonville Golf and Country Club (JGCC). Our niche specialty is performing at private functions. We've played birthday parties, anniversary gatherings, special grand openings, fundraisers, and events to raise awareness for causes like autism and food equity. We play an eclectic set list of covers and original songs that appeals to a broad audience, both in age and musical taste. If you want to dance, we've got you covered. If you want to sing, be our guest. If you want to talk, we're great at adding to the conversational ambiance without drowning out the party.
Do you have any gigs coming up to tell our readers about?
In addition to our scheduled gigs at JGCC and the North Beaches Art Walk, Brian and Rick are about to hit the stage playing in the pit orchestra for All Beaches Experimental Theatre's performance of Bright Star the Musical. Story, music, and lyrics by Steve Martin and Edie Brickell. It will be performed at Players by the Sea from Sep 16th through Oct 3rd. https://www.facebook.com/ABETtheatre
What is the best way for musicians to network?
Word of mouth through people who've experienced our music seems to have been our most successful form of networking. We always have business cards, stickers, refrigerator magnets, and hats available for people to take and share. We really appreciate our super-fans who've gone above and beyond advocating for us at various venues. Additionally, our website http://www.sciaticabeach.com, Facebook, YouTube, and streaming services give us the opportunity to reach a wide audience of new listeners.
If you had a question you would like to ask another musician what would it be?
Within this uniquely human endeavor of making music, it's not necessarily questions for other musicians as much as meeting, sharing, and talking music with them.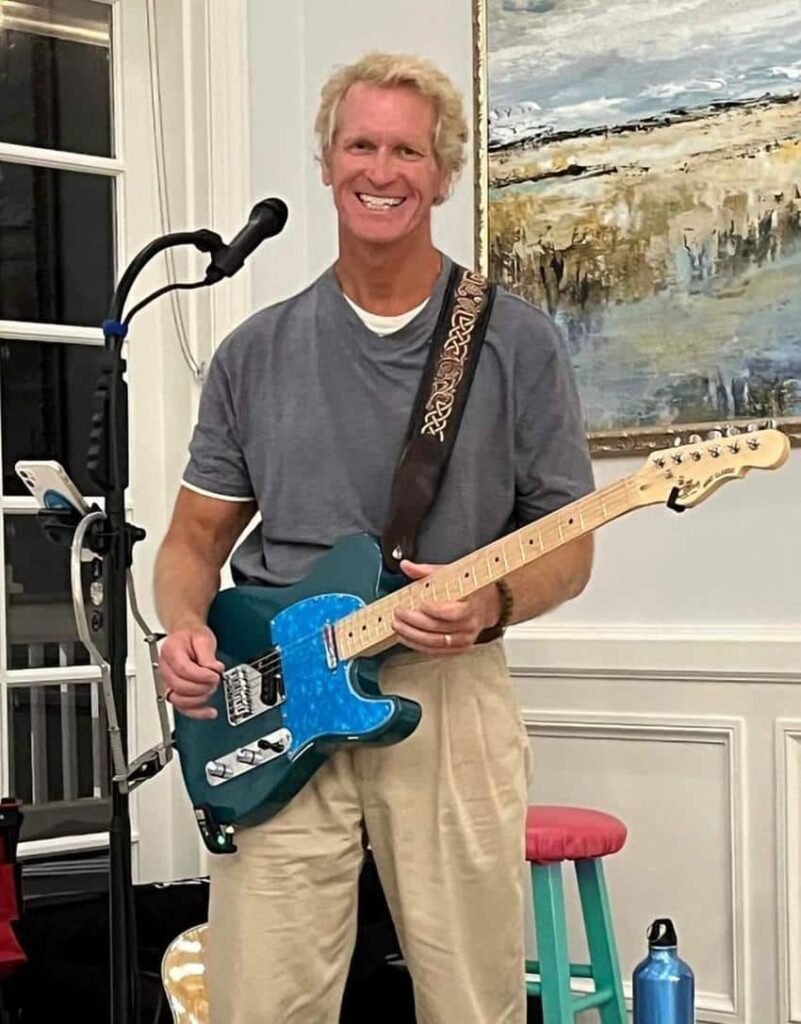 What's the best thing for you about living on the First Coast?
The area is very friendly and supportive of artists and the art community. The laidback and diverse nature of the lifestyle at the Beaches makes for an awesome living and performing environment. We couldn't ask for more supportive and enthusiastic audiences at our various performances.
What are the challenges and rewards associated with songwriting?
Brian and Rick have written dozens of songs, both individually and together. Many have been professionally recorded, are available for download, and are copyrighted in the Library of Congress. For Brian, the biggest challenge to composition is the intensely personal nature of songwriting. What do I have to share why would anyone want to listen? But, once he got past the initial feeling of being exposed, creativity took over and lyrics started to flow.
We are often asked, where did the name "Sciatica Beach" come from?
We debuted as a trio at an Atlantic Beach Acoustic Night and they needed a band name to introduce us. Somebody said, "I always liked the band name Sciatica." So, without any real thought or discussion, that was it. It didn't take long to realize, however, that anyone searching for us on social media would have to wade through hundreds of articles and advertisements about sciatica nerve pain before finding us. We added Beach to the name and never looked back. Brian's wife, Meganne, designed the Sciatica Beach logo which graphic artists and professional logo designers have complimented for its distinctive design.
Is there anything else that you want to tell everyone?
Please consider supporting the arts and our local artists. There are so many ways to make a difference. Brian serves on the Board of Directors for the Atlantic Beach Experimental Theatre. Rick is a long-time board member and treasurer for the Jacksonville Dance Theatre. Any form of support for the arts benefits our community.