Reading Time:
< 1
minute
Name
Cathy Curtis
Submitting Today
Locals Traveling
Your Status
FCL Contributor
Title
It Never Snows in Sedona…
Location
Sedona, Arizona
Brief Description
The day after my official retirement I am on a plane to a place, state, and adventure I'd never experienced. Sedona does live up to it's billing to be sure. But snow? Never, hardly ever. But it does on occasion, and it was wonderous.
Happily, my travel buddies and I were ready to hike in any elements mother nature had in mind. The air does smell sweeter, you are in a sense of wonder regardless of where you look on a trail, mesa, bridge, or from a wine bar window Everyday, waking up with the eyes of a child, "it's an adventure" I would say, even before my friends had their coffee. We hiked in snow, marveled at how much can accumulate on a tree branch, leaf, railing, and car.
I laughed as I was pelted with grand, wet flakes, Florida girl that I am, it was marvelous. Snow angel – check, snowman with a carrot nose – check. ( this was eventually eaten by javelina in the back yard), but heck, when does that ever happen either?
I took this oyster inlaid with a Jacksonville map with me – so now – wherever I travel – my attitude is: "the world is my oyster – but Jacksonville is my home".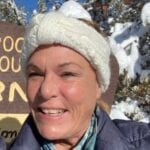 Work & Life balance with good cheer and good will. Still play golf, fish, dance in the rain and laugh as much as possible. Grateful for great friends, amazing family, time to travel, my health and my Great Dane.