Reading Time:
2
minutes
Meet Walt Bunso
Contributing Writer Cathy Curtis
He's "the guy" in surfing and paddle-board circles. For those that ride the waves and spend hours with their boards, things are personal.
So who do you go to? Who do you trust with "your baby"? That would be the beach's own Walt Bunso.
At 64 he is lean and laid back in his shop off 3rd street off Mayport Road. He's lived in Jacksonville on and off for 50 years, but for several years has lived on a sailboat, so his shop is way bigger than his home. Plus that "home" will be moving soon to a slip in St. Augustine.
Walt fixes all the dings, breaks, gashes, tragedies that can befall a board and has heard every story that comes with them.
At the time of my visit there were 6 in the many stages of repair. Boards get run over, fly off the tops of cars or worse. Most customers bring in more than one board at a time. He can handle 10 at a time and right now, sees many surfboards from the 60's and 70's whose owners may not ride them anymore, but want "their babies" to become hanging artwork to remind them of back when.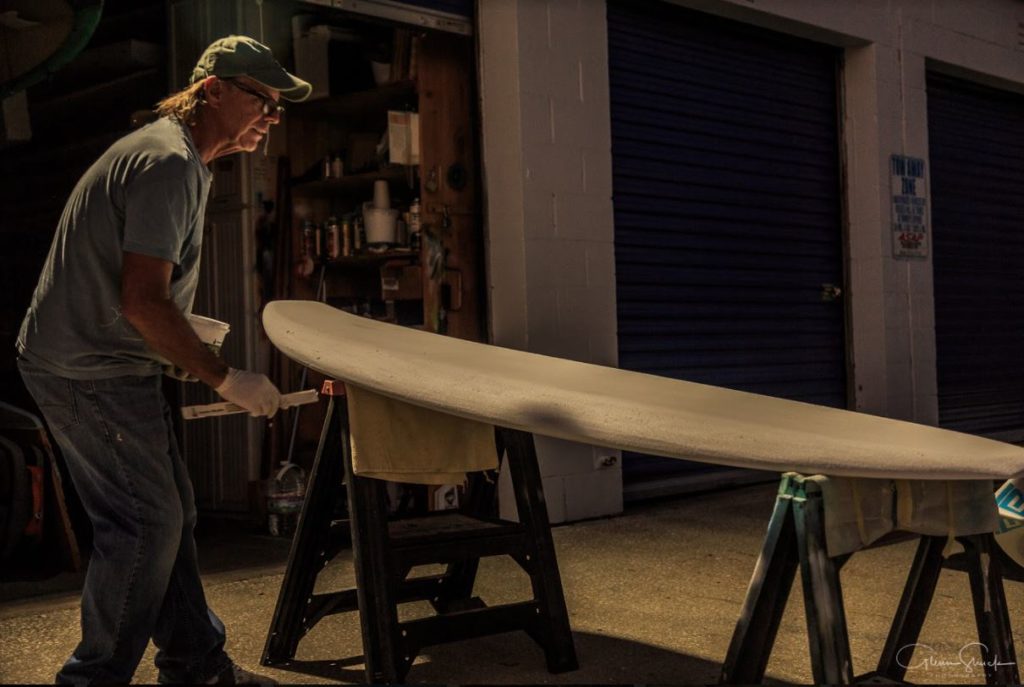 Because he's "the guy" people come from places like Atlanta, Tallahassee and Ft. Lauderdale to get their board back to shape.
It takes several steps and several hours to repair a board, get the paint or wood grain just right, fix a logo or artwork, in most cases 16 or more hours. Walt is also "the foil guy". You have seen those cool flying surfboards that rise up at speed and float over the water, he fixes those too.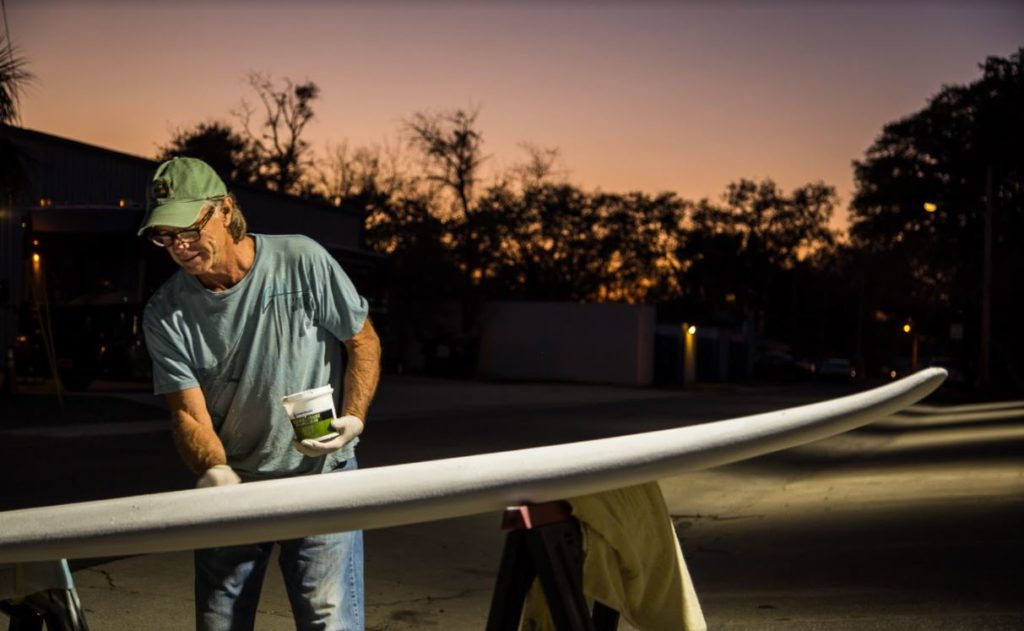 At 64 he is also a competitive paddle-board champion and over the years has won his his various age brackets. Walt said; "Covid has been a huge wake up call for me and so many friends."
So for now, Walt's life motto is: "It's water time and a little bit of work."
Work & Life balance with good cheer and good will. Still play golf, fish, dance in the rain and laugh as much as possible. Grateful for great friends, amazing family, time to travel, my health and my Great Dane.