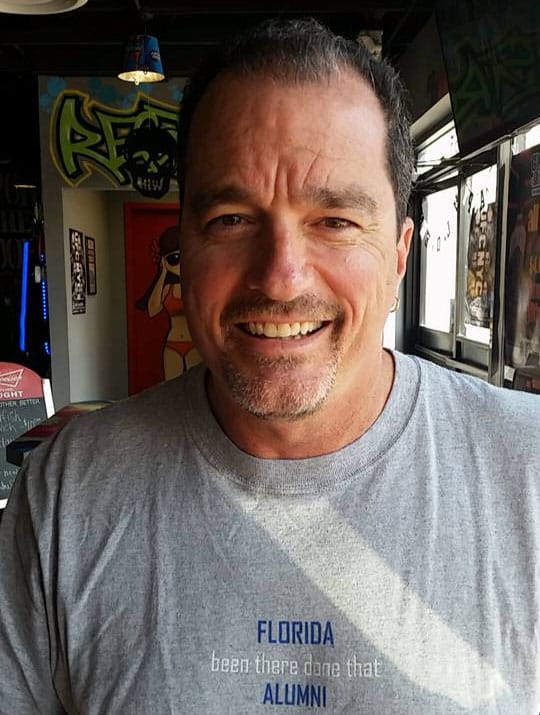 Living on the First Coast affords many opportunities to live a varied lifestyle and local entrepreneur, Kirk Farber, has taken advantage of all that North Florida has to offer.
Growing up in San Jose, Farber was happy to have the chance to become a beach local when his parents bought a house at the beach in the summer of 1964, right after Hurricane Dora made landfall at Vilano, and a whole new world opened itself up to Farber and his family.
Spending summers in Neptune Beach introduced Kirk to surfing and soon he and his twin brother, Rhett, were loving the lifestyle of living at the beach. Farber mentioned, "It's funny because the house Dad bought was on Twin Place in Neptune Beach so Rhett and I got a lot of mileage out of that!"
After finishing high school in town, Kirk went off to college at the University of Florida and again, he knew where he wanted to be and so he returned home to live in the beach house during summer breaks.
Brother Rhett took a different route, heading off to Florida State University, but being "mirror twins" the college rivalry never compared to the closeness of being twins. Ironically though, after both brothers graduated from college, Kirk returned to Jacksonville and bought a home in Atlantic Beach while Rhett headed halfway around the world to live in Taiwan for seventeen years. "I only learned this about ten years ago," Kirk said, "that mirror twins are not only identical, but one is right-handed, that's me, and the other is left-handed. And besides that, it's crazy because we can be apart for a week, or a month or many, many years, and as soon as we are back together it's like we were never separated.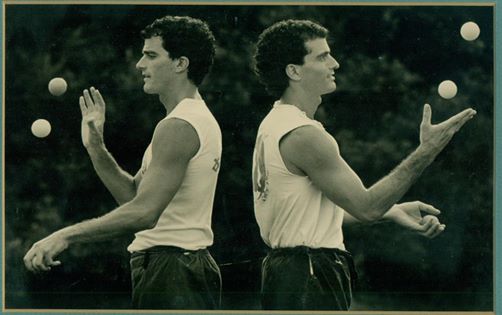 I mean we would drive our wives crazy when during any conversation, we always knew exactly what the other was thinking or was going to say!" Rhett recalled his decision to take a different route when he decided to attend Florida State and told us, "Being identical twins certainly had its advantages, but at the same time, there was the potential for a little bit of 'loss of identity' as well. So I went to FSU and after graduating, I moved to Taiwan and followed certain dreams of my own.
After seventeen years, I returned home and by force of nature or coincidence or DNA override, I found myself buying a house on the same street Kirk lived on, and just like that, we were right back where we had left off!"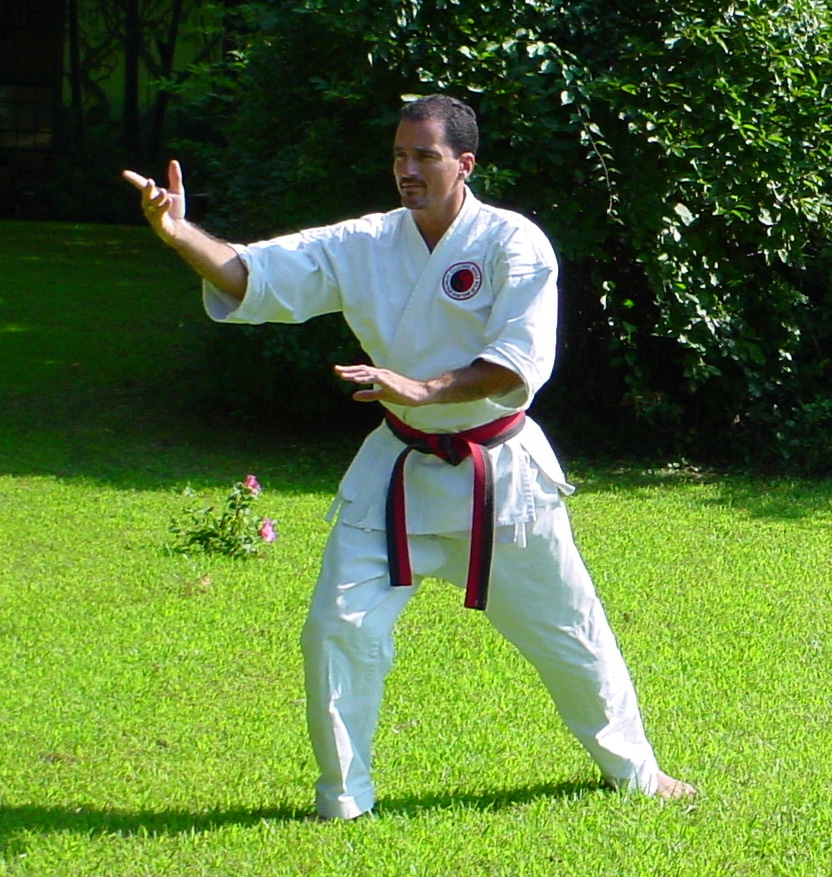 Besides Rhett, Kirk has an older brother and a younger sister. To say the Farbers are overachievers might be a bit of an understatement, but when you consider older brother Scott excelled at the University of Florida, ultimately obtaining his Ph.D., and younger sister Pam was headed for a life of ballet dancing before an injury derailed those hopes, all of the siblings are remarkable in their own right.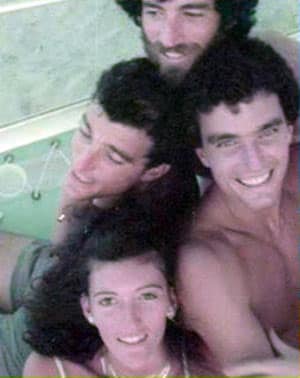 As a career, Kirk went to work for Prudential in the IT department, but a cubicle on the tenth floor of a highrise was way too limiting for his true personality.
Being totally in tune with his body and studying martial arts from an early age, Kirk had other goals in life and was destined to own and operate his own studio that covered way more than just martial arts. After a humble beginning teaching Cuong Nhu in the old Radio Shack location at Sherry Drive and Atlantic Blvd in Atlantic Beach, it didn't take long for Farber to see a need for more space.
Healthy eating, dance and martial arts were just a part of what Kirk wanted to offer and before he knew it Kirk secured space at the corner of East Coast Drive and Atlantic Blvd in Atlantic Beach and opened Body Arts. Life-long friend and fellow Cuong Nhu enthusiast John DiPietro told FCL, "I had trained with Kirk and worked out with him at the first location at Sherry Drive, but we really saw a need to include aspects like yoga, aerobics, dance and whatever included a healthy way of living and Kirk decided to call the new studio Body Arts."
Body Arts didn't end when he moved out of the East Coast Drive location though. "I had to continue to find bigger spaces as time went by because there was always some aspect of training that I was able to include and that led to more students wanting to come train at our studio," Kirk said. "Besides the Sherry Drive and East Coast Drive locations, I had a studio on Penman Road as well as dojos around town that emphasized our Cuong Nhu background as well. So from 1981 through 1997, I had brick and mortar buildings and then I realized that by going out and taking my training to the people I could really make more of a difference and be more effective."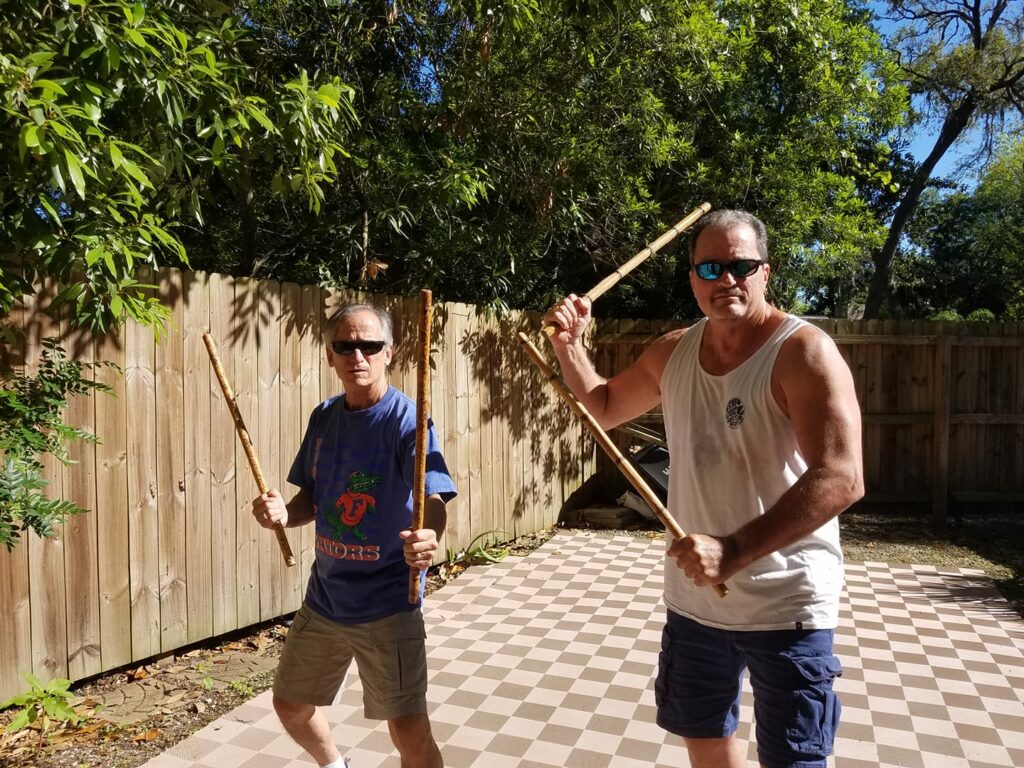 Growing up in a family of, well, super achievers, if you will, instilled a sense of responsibility in all of the Farbers, and Kirk had a strength of character that kept him very grounded, but throw in the training and the philosophies behind his learning Cuong Nhu and the First Coast gained someone who was destined to serve the community in ways very different from the average politicians and first responders who are more commonly called community servants.
Kirk had a sense of self-worth that was not based on conceit or ego, but more on a natural instinct to go out and set an example of what humankind should strive for. And from that confidence, he decided to help others who somehow grew up lacking in such positive reinforcement. One of the first areas he noticed that he could have a positive impact on was talking to kids who were incarcerated in the juvenile detention facility of the Duval County Jail.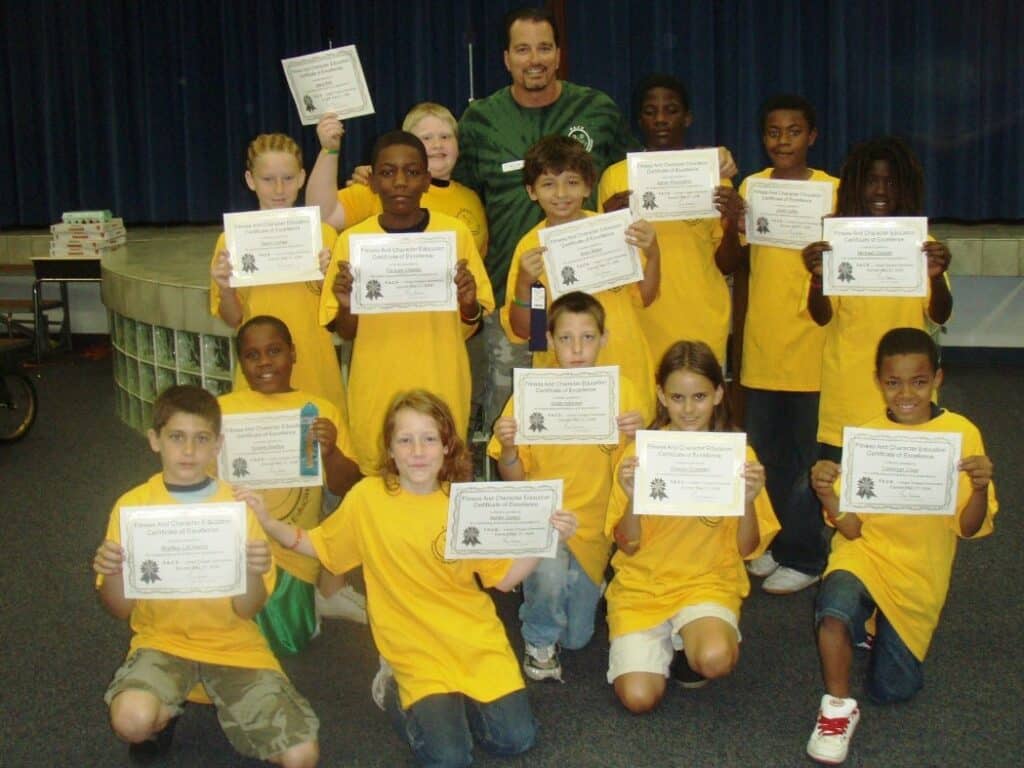 "I did volunteer work at the county jail for ten years in the beginning," Farber said. "I focused on fourteen to seventeen-year-olds who were maybe missing a father figure or a mentor. I thought that by focusing on respect and leadership I could share cool techniques that would instill self-respect in these kids, whether their problems started from being bullied, or being bullies themselves, or being exposed to drugs or whatever it might be, I just wanted to have an impact and I believed I could change their lives for the better."
Farber's wife, Linda Bevilacqua Farber, a teacher herself, was one of Kirk's most ardent supporters. "Although Kirk's initial focus began with kids already facing some kind of trouble in their lives," Linda told us, "it didn't end there. With the successes he was having in the beginning, Kirk identified a need in the community where he could have a positive influence on kids who were not necessarily headed down a troubled path. His approach was so unique, and he implemented a method where he included public speaking training, martial arts and self-defense, he got the kids to discuss what was fun in their lives, but then he threw juggling into the mix, which made the classes happy and effective for the kids. Nobody was doing anything like what Kirk was doing."
As Farber became more involved with working with the kids he created a nonprofit called FACE4KIDS or FACE (Fitness And Character Education) and proposed it to the public school system. The first meeting resulted in rejection and Farber recalls leaving feeling a bit dejected. "I was definitely disappointed after that first meeting in 2005, but as I was leaving, I was thinking about my martial arts training, where it's totally common to get knocked down and get back up repeatedly!
Ultimately we were accepted and I always remember the biggest lesson I learned that day was never to take no for an answer." The FACE program is now in schools all over the First Coast, including both private and public schools, and boasts graduating numbers that reach into the thousands.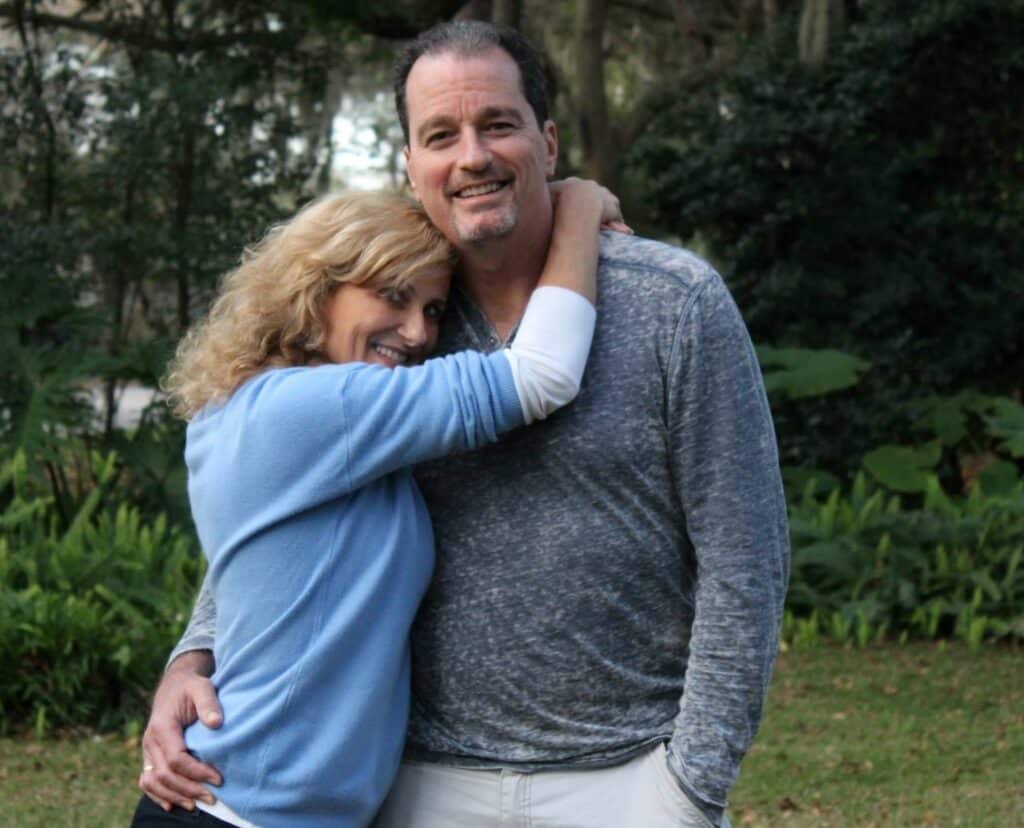 Having an entrepreneurial nature, Farber constantly seeks new ways to introduce innovative business concepts into the community, most frequently focused on helping others. As FACE took a solid foothold in the school system, a new idea presented itself and The Working Warrior was brought to life. Although his working attire consists primarily of shorts, flip flops and a casual shirt, one thing for sure is that Kirk Farber seems to always be working. And while the term warrior does have the ability to conjure up thoughts of someone who is always fighting, Farber is a true warrior who is constantly fighting to see the good in mankind rise to the top.
"With The Working Warrior," Kirk started out, "we have the ability to reach way more than just kids. I mean you see companies doing team building retreats, but one of the most successful ways to create cohesion, productivity and unity amongst fellow employees in any given work environment is to train them to be on the same page in the ultimate goals of the company. When you teach people to put their egos aside and focus on how to use their abilities to work together for the good of the company, you find a workforce that works well together without the personal gain being a primary factor in the work they do. That's one of the things we do at The Working Warrior."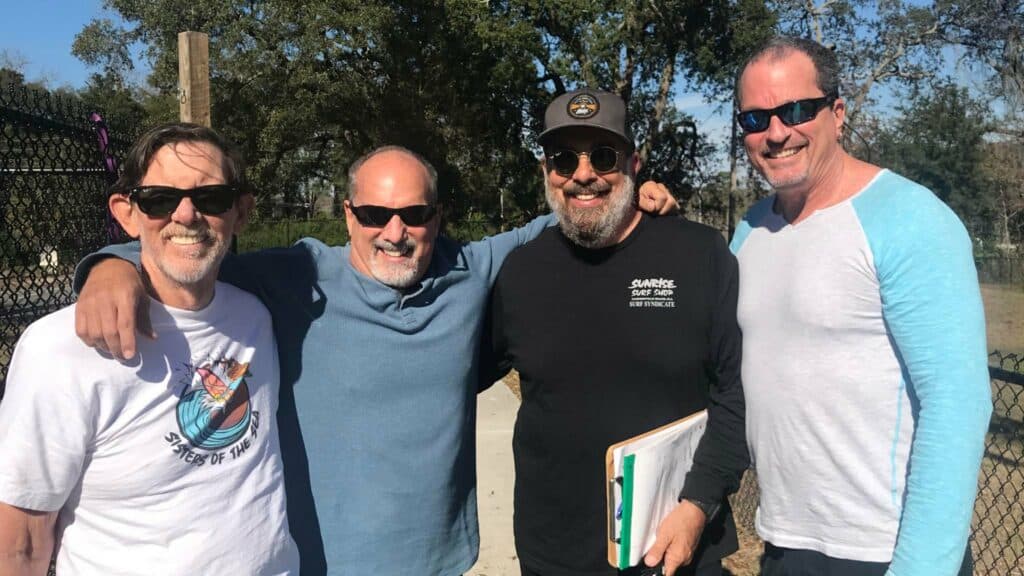 With so much focus on helping people overcome obstacles in life to become the best self they can be, it goes without saying that the Farbers enjoy a great home life. Having met his wife in 2007, Kirk was the father of one son and Linda the mother of two. After getting married in 2008 Kirk and Linda found a house in Neptune Beach and immediately began building their future together. "We were sort of a Brady Bunch," Kirk said.
"When we got married, my son was eight years old and her kids were older. Now her son is a professional surfer and we love spending time on the beach and in the water." Linda agreed, "I am a part of the Sisters Of The Sea organization and we conduct an all-girls surfing contest every year, as well as teaching cancer survivors how to surf and I am active with the beach clean-ups held by Go Green.
Anything that helps make our community better and has to do with the beach or surfing is a big part of our lives." One thing for sure is that no matter how high or low a profile the Farbers have, their commitment to the community is unmatched by anyone. With people like Kirk Farber in the world, there is still hope that humankind can still overcome the obstacles that are faced on a daily basis.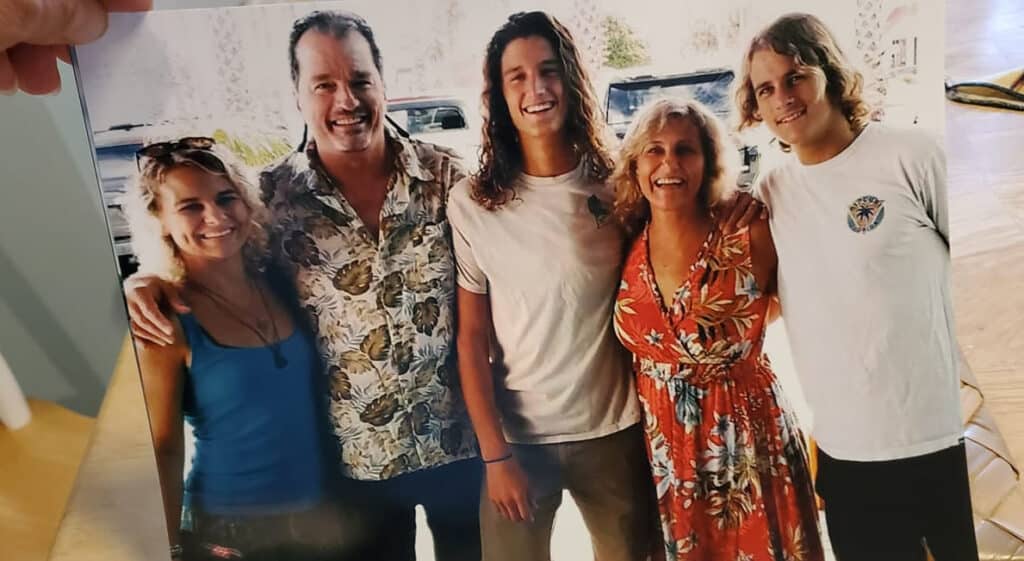 For more information, you can visit www.face4kids.org and www.theworkingwarrior.com

---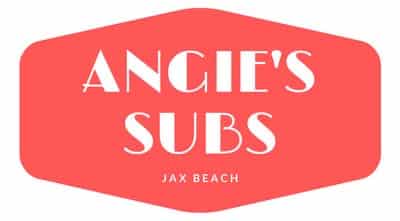 This story is brought to you by Angie's Subs