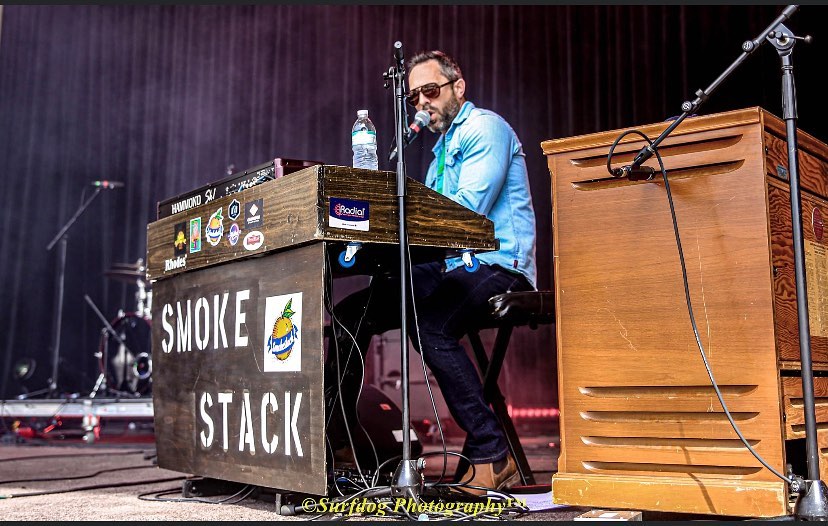 Thanks for your time Derek; tell us in what part of the First Coast do you reside now and how long have you lived there?
I live in the heart of Jacksonville and have been here for about 14 years now. City of dreams.
When did you know you had an interest in music?
I'd say when I first heard the guitar riff in Ritchie Valens' "La Bamba" at my Cuban grandparents' house around the age of 5 or so.  As a kid, I spent a lot of time over there after school every day and I can remember the green cassette tape it was on. I wore that thing out.
My interest in playing music didn't start then, but that's really the first memory of a song or melody that I was hooked on. I would dance and sing it into a cheap little karaoke machine. It is still my go-to karaoke song to this day (along with Frank Sinatra's "That's Life"). I actually performed it on top of a black Jack table in Las Vegas at the Flamingo for the whole casino and got a standing ovation. No payout though.
As a kid, music was always so joyous. One of my fondest memories of childhood was dancing in a circle with the family to Paul Simon's "You Can Call Me Al" and giggling nonstop. Still to this day if that song comes on, the coffee table gets moved and we dance in a circle like kids. Music has a way of making you a time traveler in that sense. But, other than singing in the church choir and dabbling in guitar sporadically throughout childhood, I'd say my interest in actually playing music peaked when I first saw the Allman Brothers Band at the Wanee Music Festival in 2006.
It was a life-changing experience to say the least and I became an addict. I had to figure out how to be a part of that and so the journey began. Now I sit behind a Hammond organ and belt those tunes out on a weekly basis so it's been a pretty fun and fulfilling ride so far.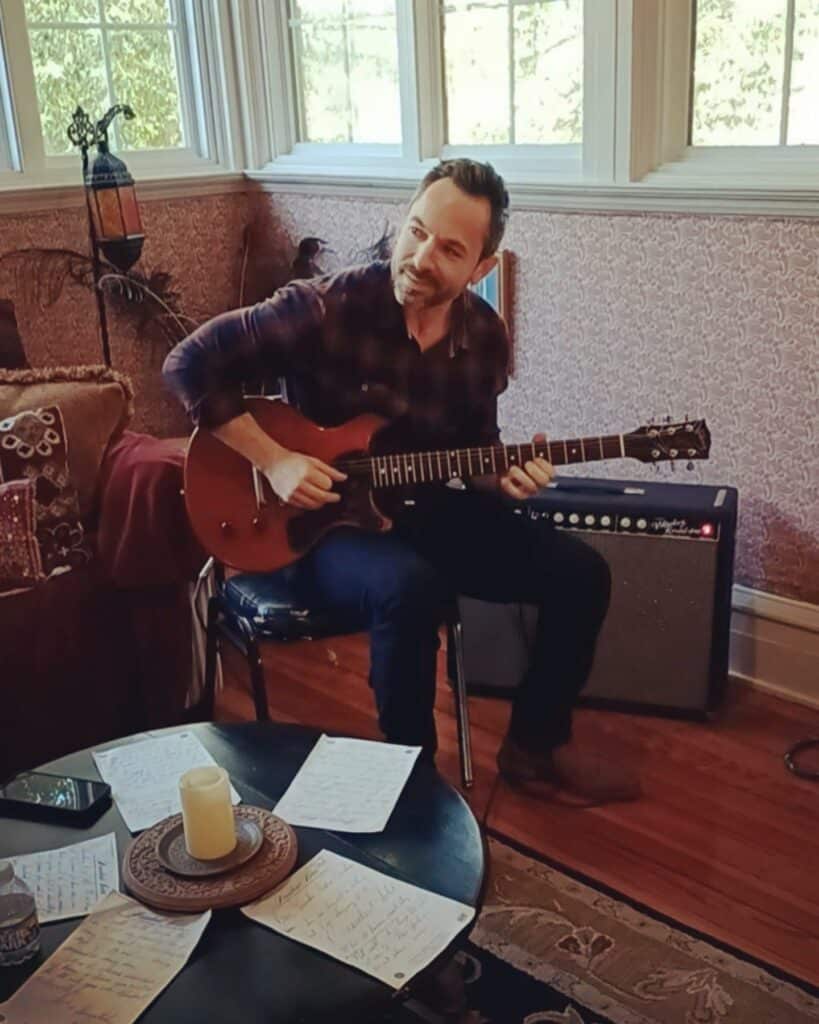 Did you start with any specific instrument and migrate to other instruments?
I started with an acoustic guitar. I would drag my dad's Yamaha from the 80s to Osceola middle school for lessons. That guitar case was bigger than I was and that guitar was very difficult and painful to play at the time so it didn't exactly take. I gave it another go in college and stuck with it this time. Bought a slightly better acoustic and then a Gibson Les Paul (that I'll be buried with). I then migrated to the keys, specifically a Hammond organ and Fender Rhodes electric piano, which is what I'm playing mostly these days.
I'd like to get my hands on a vintage Wurlitzer to complete the trifecta in my home, but they ain't cheap and are hard to find. I still play a lot of guitar though and can't seem to stop buying more of them. Always another itch to scratch when it comes to guitars. 
Are you currently in a band (or bands)?
Yes, I play keys and sing in the band Smokestack. I've always played solo acoustic gigs as well, but that's taken a back seat to the band for the time being. We stay pretty busy.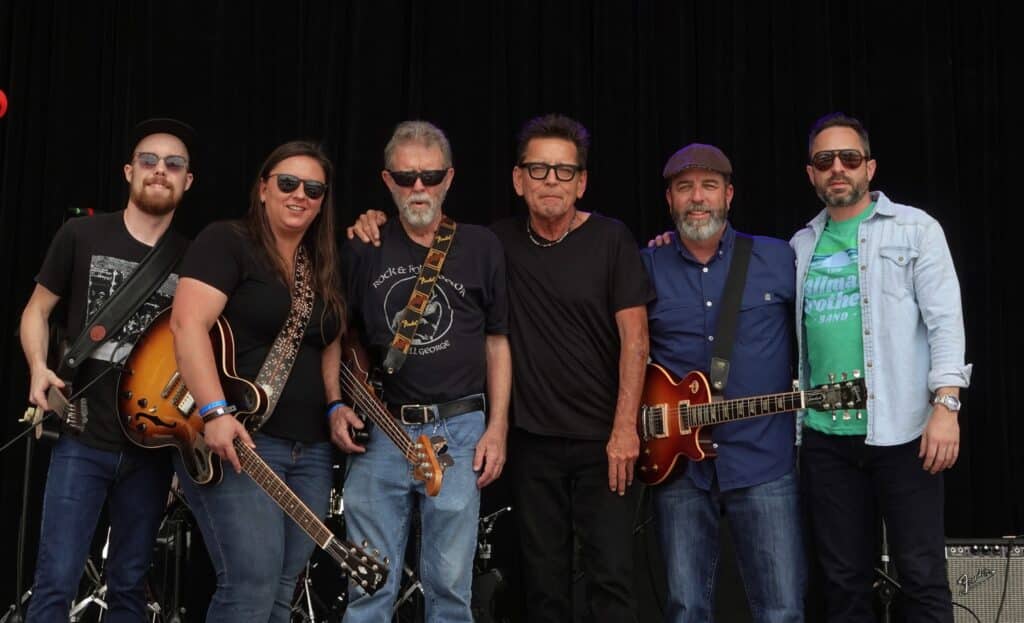 Who is your favorite musician or what musician influenced you the most?
Impossible to choose one, so I'll give you a bunch of em: Favorite musician(s) ever would be Ray Charles, Bill Withers, Gregg and Duane Allman, Stevie Wonder, King Curtis, Merle Haggard, Levon Helm, Waylon Jennings, Johnny Cash.  My favorite living musicians would be D'Angelo, Derek Trucks, Warren Haynes, Neal Evans, Cory Henry, Sturgill Simpson. The voice of Kaleigh Baker.
The musician who has influenced me the most is my big brother Kevin. He's a singer/songwriter/guitarist and taught me my first few chords. In fact, every time he'd get a new guitar, he'd give me an old one he didn't use anymore. I initially got into playing guitar just to be able to play with him at some point. I thought it would be the coolest thing ever, and it is. He even took his baby bro on the road with him.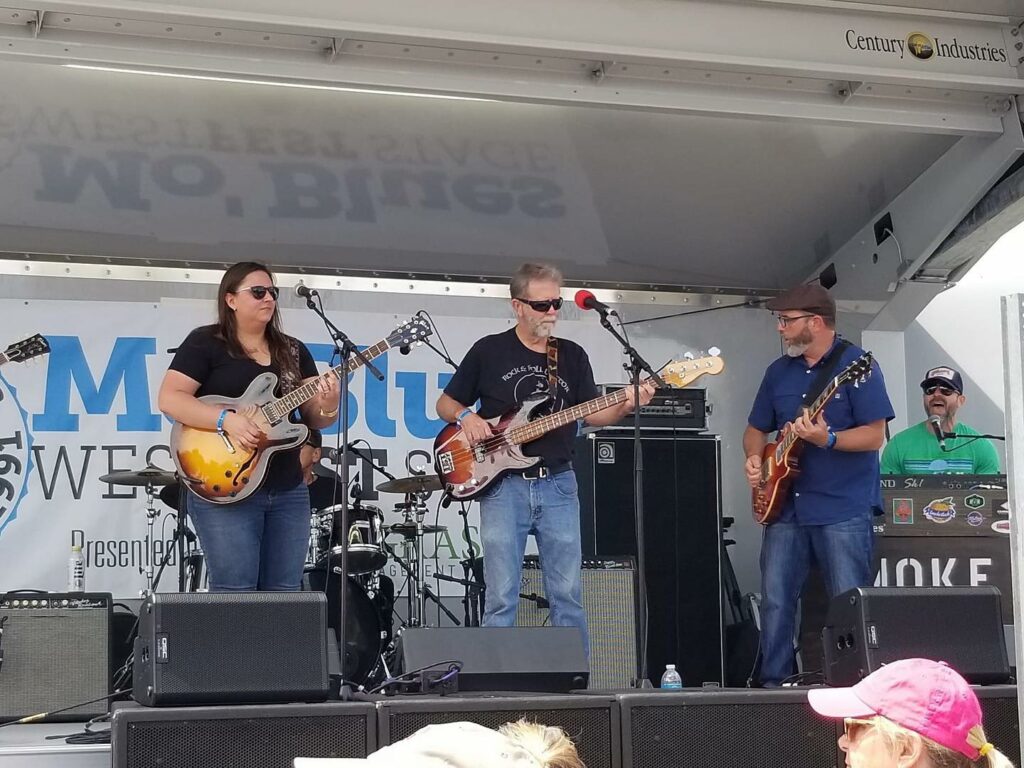 Are there any specific memories or highlights of your career that you would like to tell us about?
Well, I first sang in the choir at church and then in the school choir. When I auditioned, I was so nervous I think I cried, but my mom made me stick it out. The first time I played an instrument and sang a tune for anyone was for her so that'll always be memorable. She didn't disown me when I finished so that was encouraging.
I'll always remember my first open mic in Tallahassee and the first paying gig I landed was at an oyster bar in Tallahassee. They put my name on their little marquee so I got a kick out of that.  Playing on stage with my brother for the first time was kind of a big deal for me. I toured the South for a couple years with his band, The Volts, which was a whole lot of fun and got to play in some really cool venues and festivals.
Every time playing with Smokestack is memorable to be honest, but Springing the Blues festival this year was special and we packed the place out. If I wasn't in this band I'd probably be out watching them somewhere so I was stoked when they asked me to join up with them a couple years ago. It's been a lot of fun and I've been able to grow quite a bit as a musician, but I think the best is yet to come for us as we endeavor into some songwriting and try to branch out into new areas.
We actually just got invited to play at the Allman Brothers Big House Museum in Macon, GA in June, so that will be a memorable trip for sure. As previously stated, I started playing music specifically because of the impact that band had on me, so it will be surreal playing in the same space a lot of that music was created in.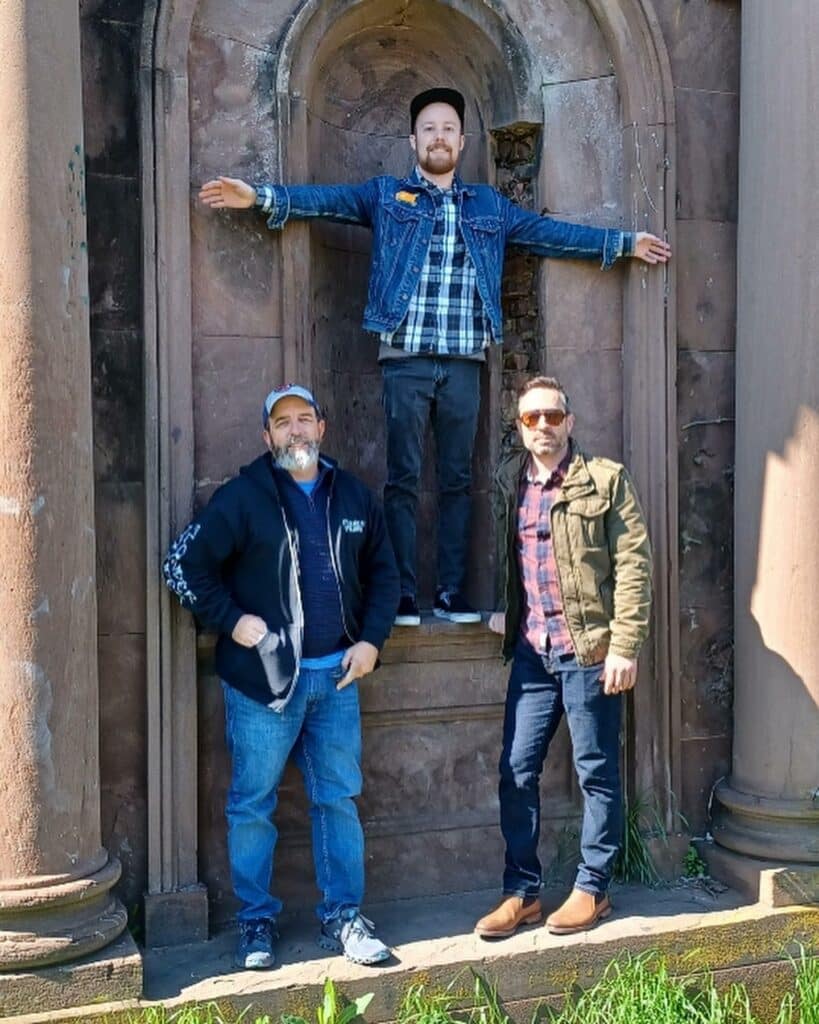 What area bands or musicians are at the top of your list to go out to hear?
Man, there's a whole lot of talent here locally and I think I've seen about all of them, but I do intend on catching a Fortune Child show soon. A couple of the guys from Cluster will sit in with us on occasion (Shane and Shaun) and it's always a good hang so I'd like to see them as well if I can find a night they're playing when we're not. 
Do you have a favorite venue that you enjoy playing locally?
The Green Turtle in Fernandina Beach is always a blast and can accommodate my leslie speaker so we'll go with that. The Colonial Oak music park in St. Augustine is up there too. 
Do you have any gigs coming up to tell our readers about?
Bunch of 'em. The last couple of months were super busy with springing the blues and we played at the St. Augustine Amphitheatre in support of JJ Grey, along with 2 or 3 gigs each week. Things slow down a bit the next month or so, but we're still playing most every weekend in Jacksonville, St. Augustine, Ormond Beach, Fernandina and South Georgia. Easier to check out our schedule on social media.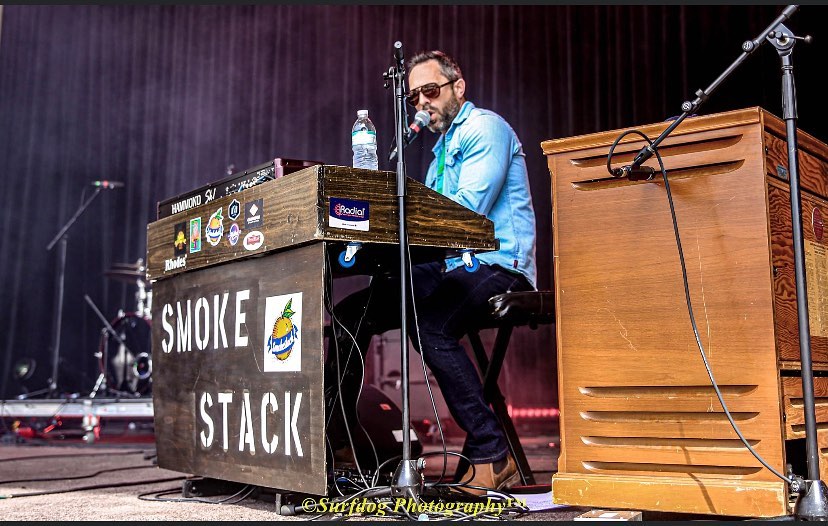 What is the best way for musicians to network?
Get out and see a show, talk about musical influences and gear. Those conversations never get old and typically lead to late-night jam sessions. 
Are there any local venue owners/managers that you would like to rave about?
Cara English at Blue Jay listening room has put together a really special venue and experience that everyone should definitely check out. Doug over at Dog Rose Brewery in St. Augustine always treats us incredibly well, Kevin at Colonial Oak in St. Aug is fantastic, the folks at The Muse bourbon bar, Jason Truman at Southern Grill, and Mark Gearis at the Green Turtle. On the other hand there's a couple places we've  played recently I could bash, but I won't.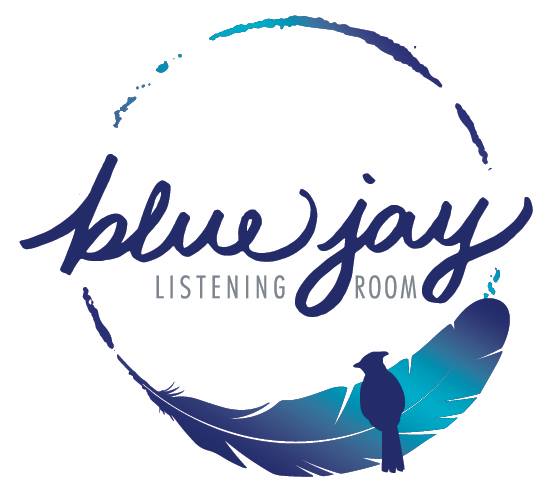 If you had a question you would like to ask another musician what would it be?
First and best concert you've ever been to? How do you go about your songwriting process?
Personal hobbies or interests? Family?
Hunting and fishing top the list. I also enjoy cooking, reading, woodworking, weightlifting, bourbon, suits, boots and scavenging the thrift and antique shops around town for treasures. I have an interest in law and pretend to be a lawyer from time to time so I suppose I should mention that as well. My immediate family is pretty tight and we spend a good bit of time together. I grew up in Ocala, FL. My brother and sister live in Jacksonville now as well and my parents are moving up here soon too. For now in my home it's just me and my best friend, Huckleberry.
Huck is a 4 year old hound mix that fetches me beers out of my refrigerator on command and he's the very best dog in the whole world. Huck is very fond of the ladies, or anyone that will scratch his butt for that matter. He also has great taste in music.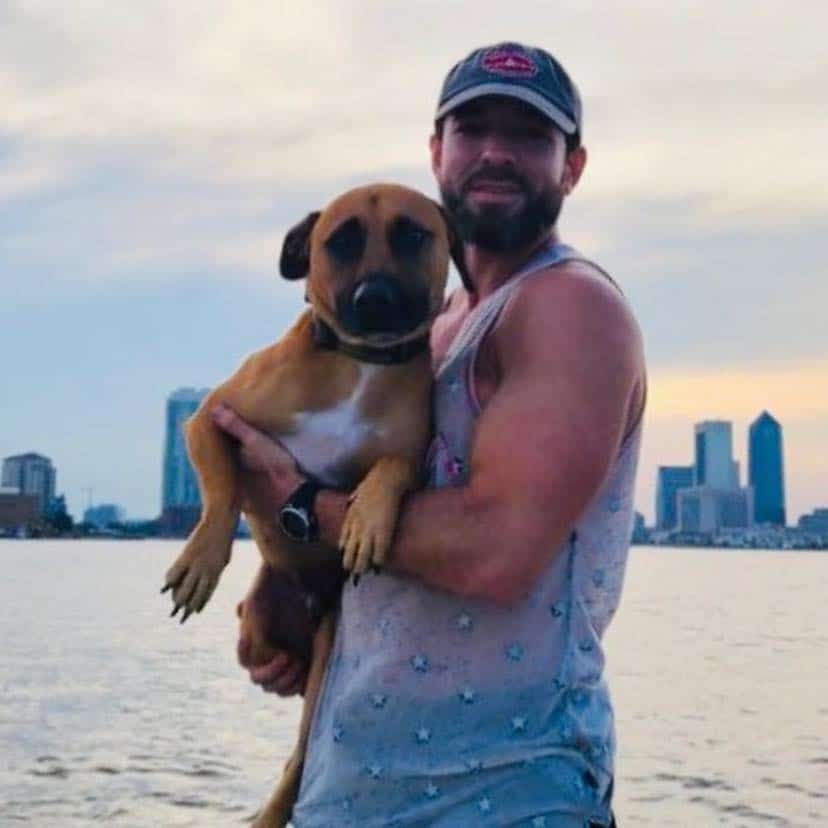 What's the best thing for you about living on the First Coast?
I can go from hunting in the woods to fishing the river with my dog to tearing up the stage with Smokestack all in the same day and night. And I'm loving every second of it.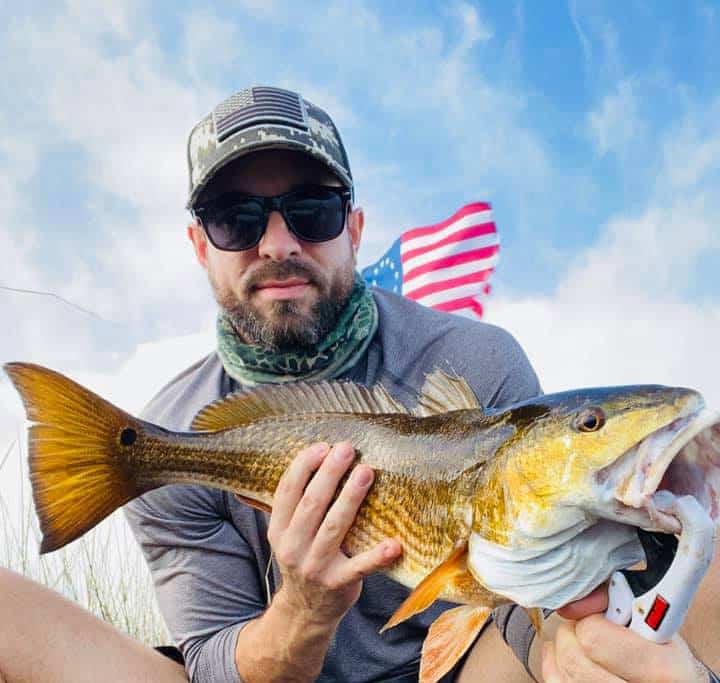 Where and how can folks learn more about you and/or your band? Links to your website?
My personal Instagram account is @d_maines where I post band videos and solo videos of me playing at home. Also, just search my name on YouTube.  Smokestack group page on Facebook, Instagram account is @smokestack_jax904 and we've got some content on YouTube as well.
One of our two phenomenal guitarists, Dylan Adams, has been getting a lot of well-deserved notoriety and acclaim in the guitar world as of late so you can search him out too for guitar and band-related content @dylanadamsguitar on Instagram and on YouTube.