Coastal K9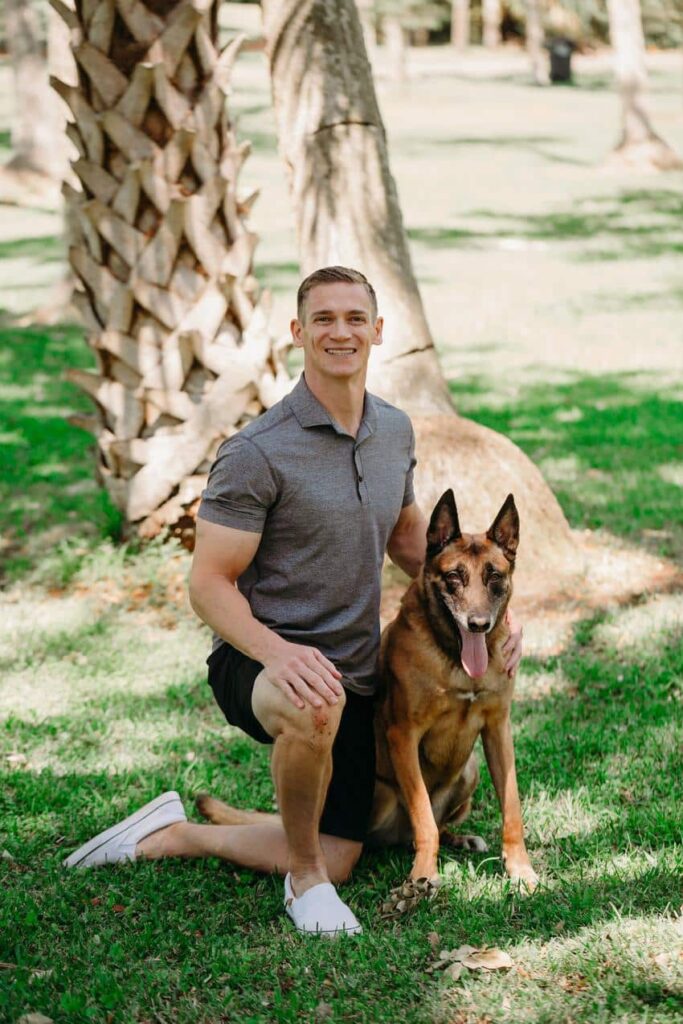 Thanks for your time Dan. So tell us in what part of the First Coast do you reside now and how long have you lived there?
I moved from Denver, CO to Jax Beach in April 2014
Why and how did you get started?
My first dog, Cali, was an extremely high-drive and athletic Dutch Shepherd. Her needs, both physically and mentally, were far above your average pet dog. Knowing this, I dove down the rabbit hole of dog training, learning every method I could, because she deserved it. The more I learned, the more I saw a need to help others struggling with their dogs. From my career in finance, I understood the importance of building rapport with clients, listening to needs, tailoring solutions, and clear communication. This made the transition to starting a business almost seamless.
What aspect of your business are you passionate about?
The easy answer is that I'm passionate about helping dogs, but it's truly just as rewarding to see owners succeed! Watching both dogs and owners transition from frantic, chaotic and sometimes combative relationships into a balanced, relaxed dynamic always puts a smile on my face.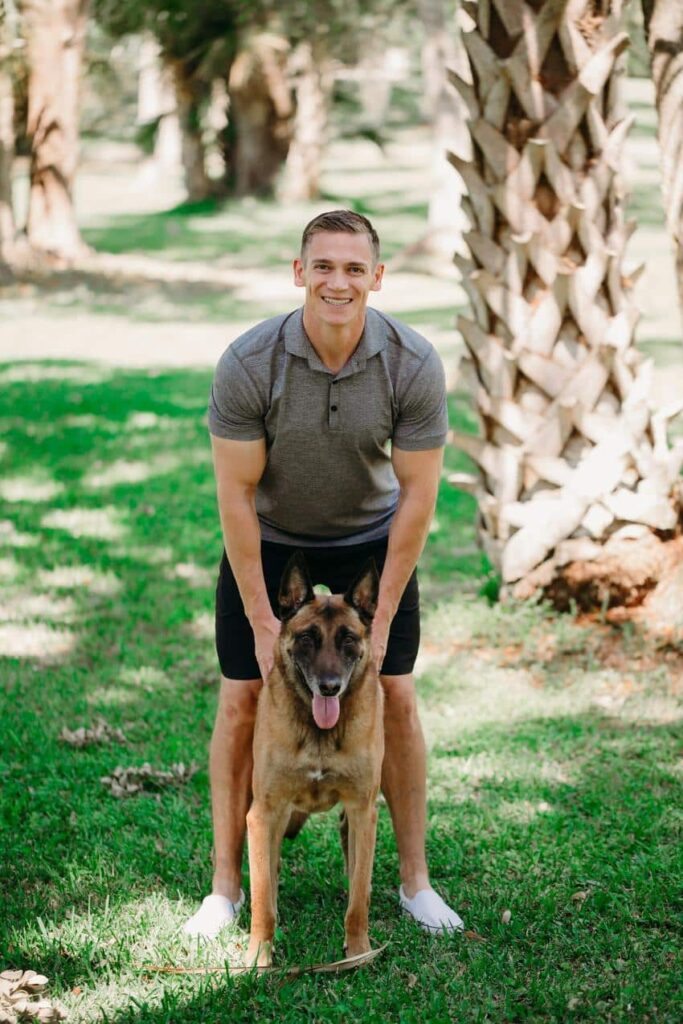 From the outset, what would you say was your mission?
Teaching Dogs. Teaching Owners. My job is to ensure that owners feel like they are just as confident in leading as I am. The reason I do in-person lessons is that to ensure long-term success, the owners need to be 100% confident in their ability to continue training without me.
When did you start your business?
2016
What made you choose to operate your business in its current location?
Lessons are typically done at clients' homes, then as the dog progresses we change the environment to incorporate higher-level distractions. This allows the training process to easily apply in real life, rather than a dog who only complies when at a training facility.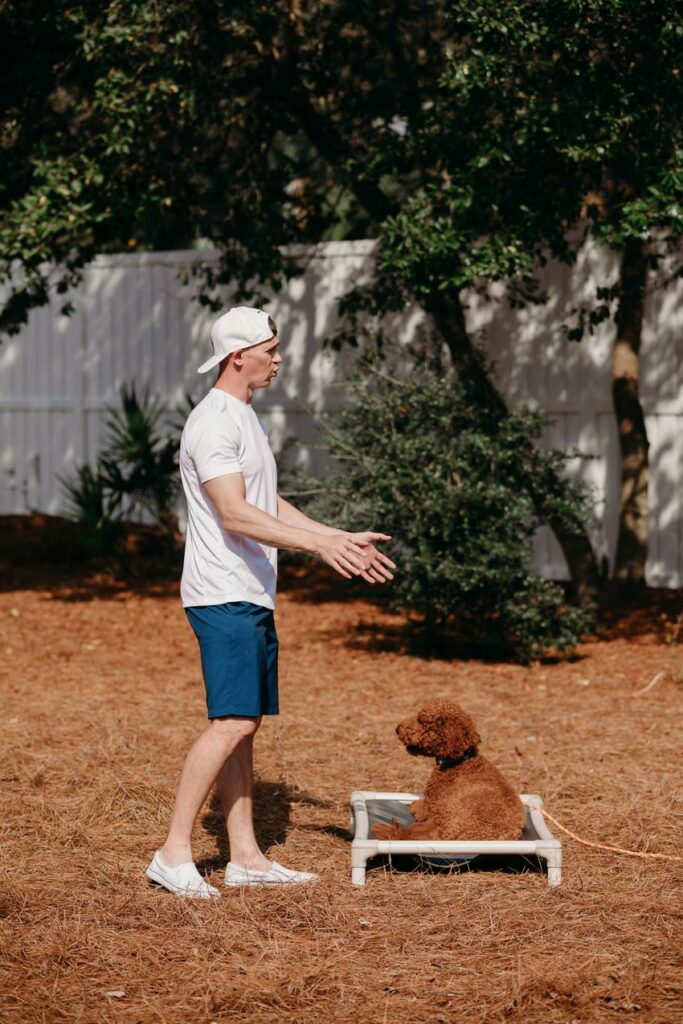 Can you give us a brief background on the service(s) you offer and the people you serve?
I provide obedience training for dogs of all ages and all breeds. Programs vary from a four-lesson package all the way to an unlimited lesson package. Clientele also vastly varies … anyone who is determined to provide an amazing life for his/her dog!
What is a unique attribute/aspect/quality/feature about your business?
It can be easy for business owners to focus too much on profit. In the dog training world, this generally equates to trainers using a cookie-cutter, one-size-fits-all structure, to maximize the number of dogs trained. My approach focuses much more on understanding both the individual dog and the owner in front of me. While there are many consistencies to my methods, I tailor the drills we practice to the needs presented. This yields the highest quality product. I also love to utilize technology and encourage my clients to film each session, so they always have "game film" on hand. On top of that, I like to incorporate more than just owners in the training process. Family members, regular dog sitters/walkers, and neighbors frequently join in lessons, that way anyone handling the dog is comfortable!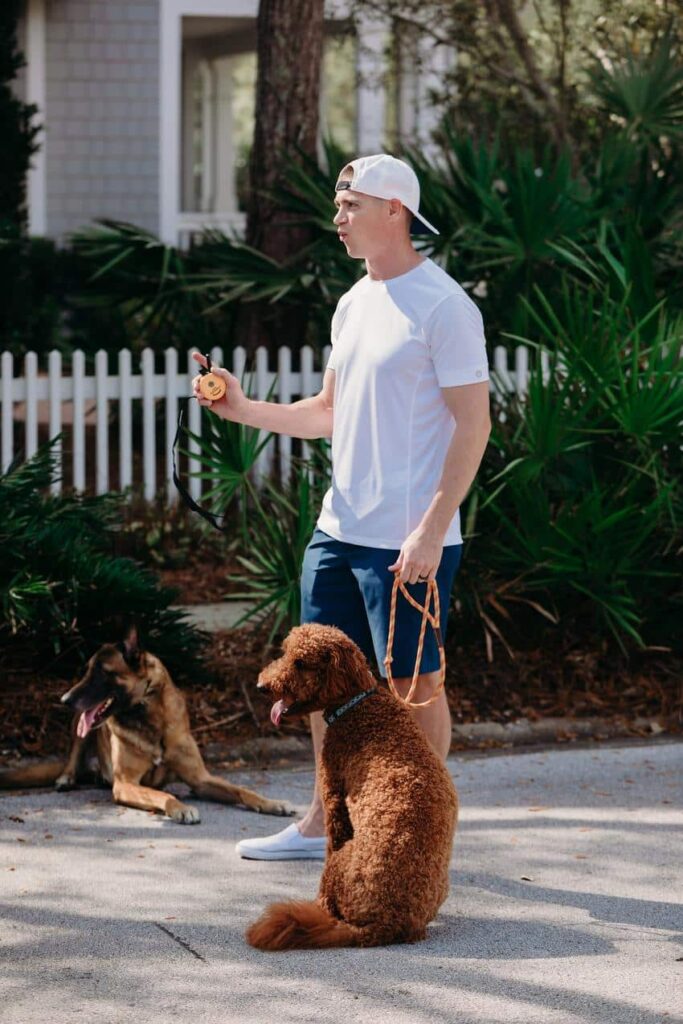 How many employees make it happen at Coastal K9?
Just me (and my dogs assist too)!
How do you advertise your business?
I'm very fortunate to have the majority of my acquisition from client referrals, but I also gain clients from training in the public and simply engaging with onlookers. Lessons are frequently done at the beach, Southern Grounds or Home Depot. The rest comes from internet searches and social media, although my wife usually has to remind me to create content!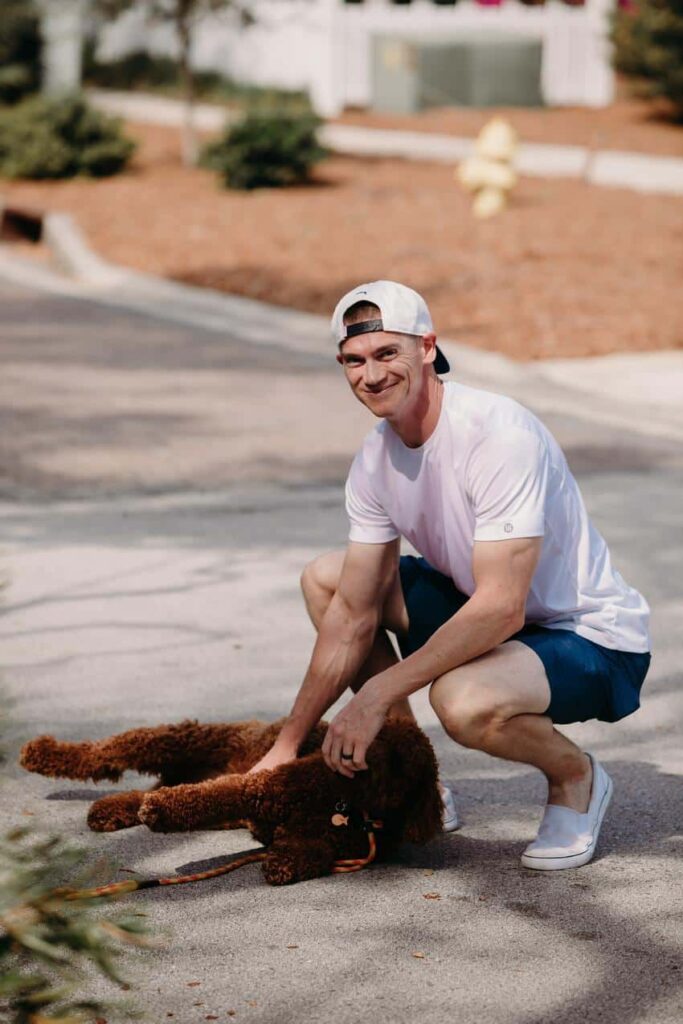 To what do you attribute your success?
I deeply care about the education of my clients, and I believe that shows during lessons. They see consistent progress with their dogs, not just from my doing, but through their own growth. Their success is my success!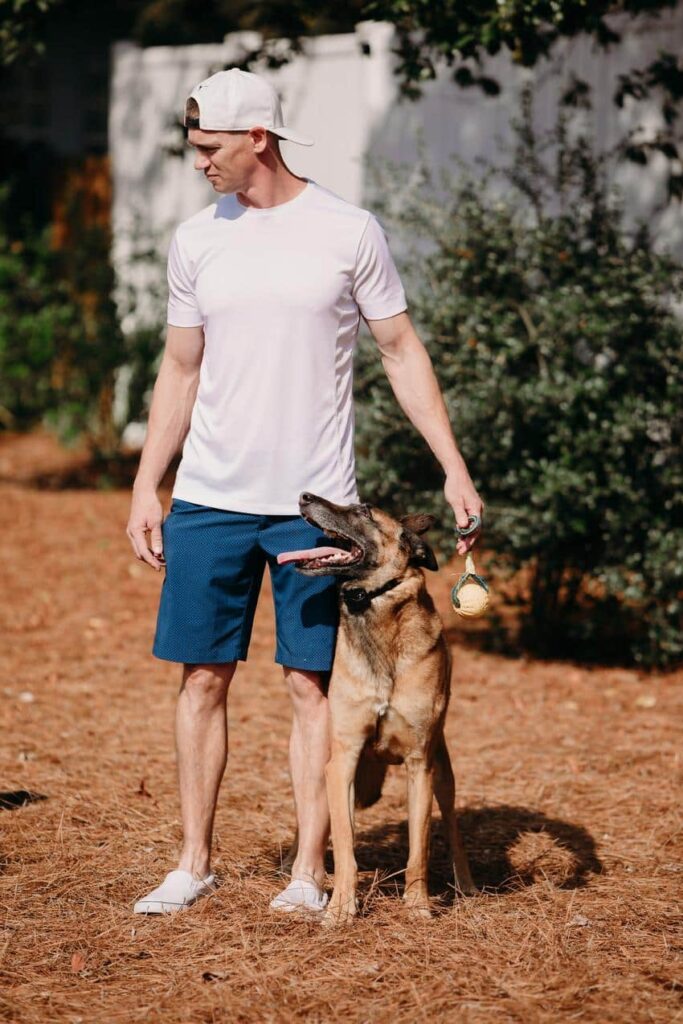 If you could offer one piece of advice for someone who's just starting a business, what would it be?
Be steadfast in your goals, but flexible in your approach.
Personal hobbies or interests? Family?
I have an incredible wife, Brittany – who is a National Director in Commercial Banking. A 4-year-old son named Connor (also called "Connor Chaos"), and two dogs (Kovi and Aska). When not training dogs or at the beach hunting for shark teeth, I love to golf and take family trips up to north GA to enjoy the mountains!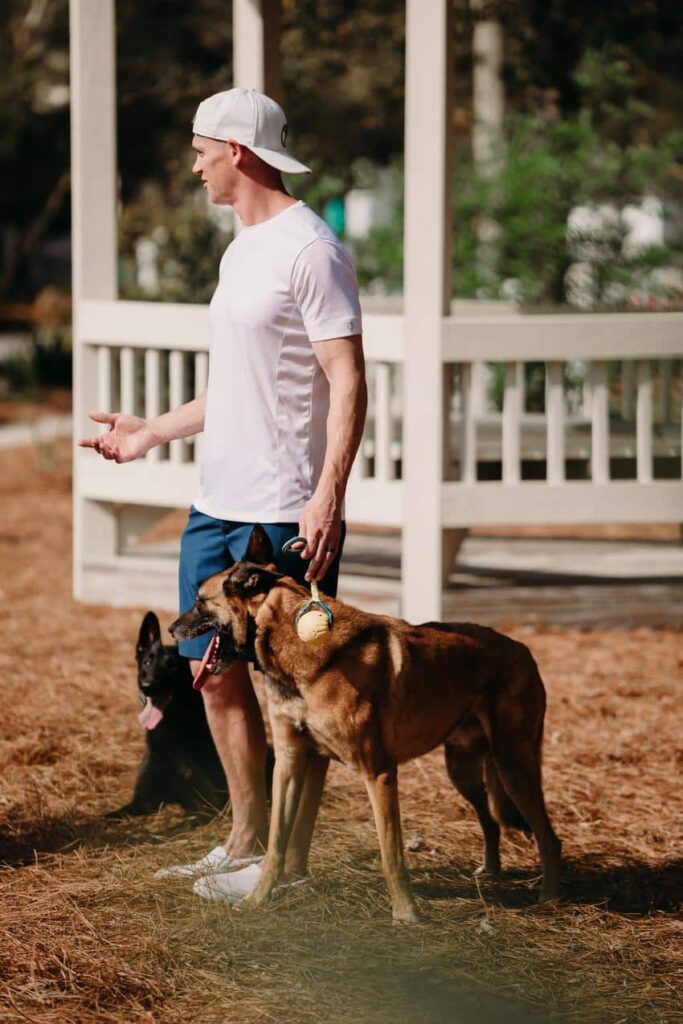 What's the best thing for you about living on the First Coast?
The community at the beaches. We really do live in a little slice of heaven!
Where and how can folks learn more about your business? Links to your website?
www.coastalk9fl.com
social media: @coastalk9fl
Is there anything else that you want to tell everyone reading this?
Training isn't just for dogs who have issues. Dogs love to learn, and the mental exercise that comes with training is incredibly valuable in providing your dog with a meaningful life!
Do you provide any special promotions for the active or retired military?
Absolutely! 10% percent off any program.
About the Author
Latest Posts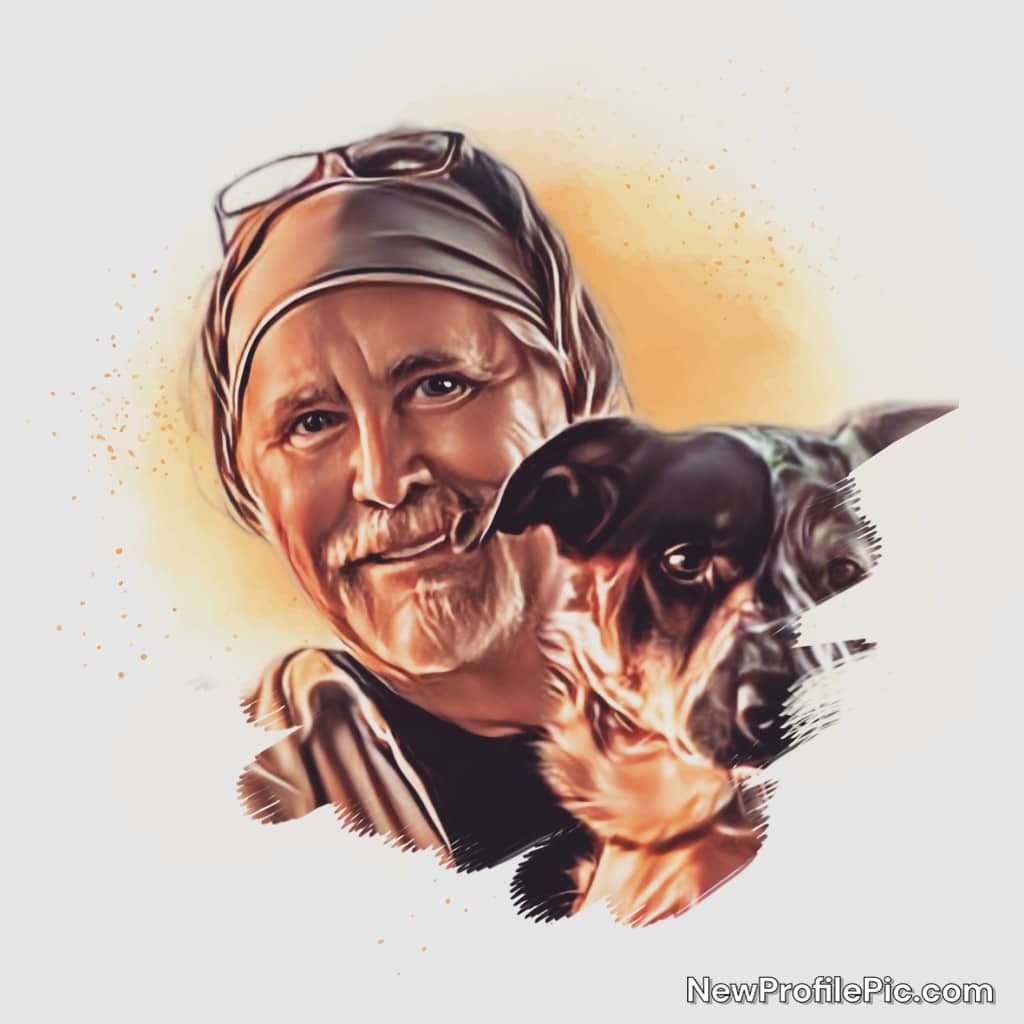 Glenn is the founder and publisher of First Coast Life. He is also a wonderful storyteller. Born on the 4th of July, he spends his spare time taking his camera and exploring everything beautiful this region offers with his rescue dog Callie by his side. He loves meeting new people and capturing the many beautiful moments and amazing local stories that showcase the true spirit of the area.