Reading Time:
4
minutes
Feature article in First Coast Life by Lucy Giardino Cortese
ADEEB LAUNCHES BEACH MOUNTAIN DINER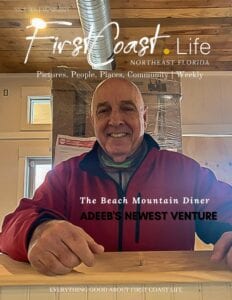 First Coast restaurateur Barry Adeeb is serving up a novel eating venue. His recipe for dining success: Take building blocks of an iconic enterprise. Add a twist. Develop a full-service restaurant. Introduce a unique diner concept–Beach Mountain Diner.
CHALLENGES INTO OPPORTUNITIES
Adeeb owns five award-winning Beach Diners in Northeast Florida: Atlantic Beach, Ponte Vedra, San Marco, Mandarin and Fernandina. When COVID-19 hit in 2020, it was the biggest challenge faced in his career. "How do I spend this time?" he wondered, and invested money in tech systems upgrades and innovation. Instead of furloughing his staff, they worked together to renovate kitchens and dining areas. Adeeb says, "I have faith in the American economy and we're here to stay."
The beautiful Blue Ridge Mountains in the Smokies have been a special vacation spot for the Adeeb family for more than 60 years. During lock-down Adeeb visited his second home in Waynesville, North Carolina. A For Rent sign on a building that once housed a pharmacy caught his attention. He leased the site to develop a new concept restaurant combining two favorite spots, the beach and the mountain. Beach Mountain Diner was born.
BEACH TO THE MOUNTAINS
Adeeb admits it has been a tough year due to the pandemic, but he is "ready to build for the future." He transformed the old building by painting it white with yellow hips, creating an inviting beach atmosphere. The additions of wood planks and a fireplace provide a warm and friendly mountain ambiance.
Beach Mountain Diner is located in Waynesville, North Carolina, 26 miles east of Asheville. The quaint town of 10,000 residents is the perfect spot for a diner. The new restaurant seats 90 inside and 14 outside with 3400 square feet of space. The official grand opening is planned for April. Adeeb's goal is to "bring the beach diner concept to the mountains."
OLD TRADITIONS, NEW IDEAS
Adeeb contrasts the new establishment with his legendary local restaurants. All five Beach Diners open every day for breakfast and lunch except Christmas day and Thanksgiving. Beach Mountain Diner will close on Tuesdays and offer early dining until 7:00pm. Some of his loyal employees will go to the new place including two managers and an experienced wait staff. The talented boss brings 30 years of experience to the new venture.
Beach Mountain Diner offers classic comfort food with home-cooked flavor. The new menu adds small plate appetizers, "hip dinner items," from Beach Diner's well-known catering. The sumptuous breakfasts and delectable lunches known and loved by loyal customers remain. Adeeb predicts that NC folks will be the "bread and butter of business" in addition to seasonal tourists. "Feel good, feel happy," the same vibe as his celebrated diners is his objective.
FAMILY RESTAURANTS…IN THE GENES
The Adeeb family is synonymous with the restaurant business. Helen Adeeb is the 93 year old matriarch of the family and former owner of the famous Green Turtle and Sea Turtle restaurants. The "Coconut Cake Lady" is well-known for her sumptuous baked goods Beach Diner folks crave. When son Barry graduated from FSU's hotel and restaurant program, it was her proudest moment.
The Adeebs love every minute of cooking and serving others."Our wonderful customers and employees are like our own family…salt of the earth folks." When Adeeb was 8 years old, he started "hanging out and grew up" at his grandfather's famous restaurant, starting work at the young age of 13. Brothers Joe and Scott and twin sister Toni continue the tradition with their own dining establishments. With his kids Cason and Courtney on the team, he says "I couldn't make it without them."
SHARING ADVICE AND PASSION
"Customers honor us when they walk through my restaurant and feel good when they eat here." Adeeb is proud that some folks come to his diners every day, "the last place to eat before a trip and the first place to come when they return."
His advice to potential restaurant owners. "Start small and see if you can make a go of it. Prove your concept….less capital, less risk." Adeeb warns that a restaurant owner wears about 30 hats. "Be ready for anything, You can't sit on a decision too long. Most of all, you have to be nimble."
Diners are uniquely American, a gathering place to eat and enjoy company. Adeeb achieved incredible success in the genre and brings that know-how to Beach Mountain Diner. While other Baby Boomers are thinking about retirement and kicking back, this entrepreneur is embarking on an exciting new adventure.
Always energetic and forward-looking, Barry Adeeb's tagline remains the same, "If you come once, you'll come again!"