Judge John
Bikes are part of the Sand Life at the Jacksonville Beaches.
Bicycling at the beaches is a way of life. Many beaches residents prefer to take their beach cruiser up the road than to bring their car out of the garage. This is especially true on weekends when beach roads are packed and slow moving.
In Florida, the bicycle is legally defined as a vehicle, and the bicyclist as a driver. Bicyclists have the same rights to the roadways and must obey the same traffic laws as the drivers of other vehicles. These laws include stopping for stop signs and red lights, riding with the flow of traffic, and using lights at night. Among our Beaches cities, Atlantic Beach has an excellent webpage on bicycle safety. Motorists and bike riders alike should review it.
Cyclists under the age of 16 are required by law to wear helmets. Many would argue that all people riding a bicycle on the road should be required by law to wear a helmet.
Florida Cycling Attorney Chris Burns of Jacksonville recently said "Bicycling is very important in the lives of Duval County citizens. It's available to almost anyone for travel to work and school and errands. Bicycling is a beloved form of recreation and exercise. It reduces gas emission, traffic congestion, and improves our overall public health. Duval County, including the Beaches, has faced a crisis of injuries and even deaths being sustained by bicyclists in our community. We must take necessary steps to improve safety and accessibility. We must support programs to educate motorists and cyclists on how to interact safely. We must improve our bicycling and pedestrian infrastructure and facilities." Burns also points out that police enforcement of traffic rules will make the roads safer for cyclists. Sadly, it has only been a few months since a cyclist was killed at the beach.
Judge John would be remiss if he failed to note that one problem with bike ownership is the propensity of theft. A bicycle is stolen every seven seconds. In order to combat this, the city of Jacksonville Beach has created a Bicycle Registration Program. Please check it out at their web site and be sure to lock your bike.
Share the Road is more than just a slogan. Vehicle drivers must give bicyclists a minimum of 3 feet of clearance when driving alongside or passing them; it's the law. Cyclists can help by "riding big" or taking up a sufficient amount of the lane so that they are visible to the operator of a car or truck, who must take precaution to pass with care.
Beach residents love the feeling of sun on our skin, wind in our hair, and salt on both. Judge John implores all readers to exercise care to keep our beaches roads safe for everyone.
Many thanks to alert reader Sam Veal for suggesting this article. We would love to hear from our fellow beach residents any ideas for future articles concerning our Sand Life.
John Miller is the Special Magistrate for the City of Neptune Beach. His law firm, Rock Solid Law, provides expert guidance in all areas of Estate Planning, Trust & Wills, Real Estate, Closings, Title & Escrow and Small Business Representation. 904-241-1113
About the Author
Latest Posts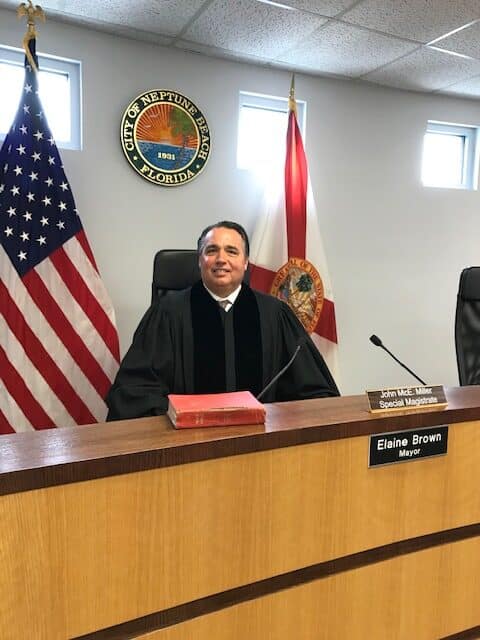 John Miller is the Special Magistrate for the City of Neptune Beach. His law firm, Rock Solid Law, focuses on Estate Planning, Real Estate Closings and Title, and representing entrepreneurial small Business Owners. (904) 241-1113.
Do you have any questions of law or custom that are of particular interest to those living the Sand Life on our beautiful island? Please submit them to Judge John for consideration for a future article. john@rocksolidlaw.com