Regularly, Judge John encounters trash destroying the beauty of our North East Florida Beaches. In fact, Judge John has often commented that July 5 is his least favorite day of the year. Why our fellow American citizens would visit one of our most beautiful natural resources, our beaches, on Independence Day or any other day, and desecrate it by leaving waste is beyond Judge John's comprehension. We have observed whole families leaving behind trash on the beach near the sight of a trash receptacle.
Not only is leaving trash on our shoreline morally and ethically reprehensible, but it is also absolutely illegal. The best example of the view of our local governments on littering is the Duval County "Zero Tolerance For Littering" Law,  Jacksonville Florida Code of Ordinances, Chapter 742.  This law states our public consensus that litter is wrong and that those who cannot pick up after themselves should be punished. This law includes a fine of $150 for the first offense, $300 for the second offense, and $500 for the third and subsequent offenses.
Judge John would propose an expansion of the Citizens On Patrol program to allow certain officers to assess littering fines for anyone placing trash on our beaches. It is Judge John's hypothesis that the amount of litter left on our beaches in popular areas on weekends and holidays indicates that there will be sufficient funds collected from this program to pay for it. Judge John suggests that officers only be appointed to patrol the beaches in this regard during high volume beachgoer time.
Litter is a big problem environmentally the world over. On the shoreline, litter has a special negative effect. The litter which is carried out to sea with the tide has a significant negative impact on marine life. Sea turtles are regularly choked to death on plastic bags, confusing them for jellyfish. There have been reported dissections of large marine animals with huge amounts of human garbage clogging up their digestive systems. It is simply inconceivable that the mammalian species which claims to have the highest level of evolution cares so little about others in the circle of life.
Judge John is old enough to remember the Crying Native American ad, Keep America Beautiful, and environmental movements of the 1960s and 1970s. These were watershed moments in changing the psychology of littering in America. Prior to that time, it essentially had been socially acceptable to throw waste on the ground. Psychological studies show that most litterbugs actually realize that what they're doing is wrong, but that it is just too much of a hassle for them to properly dispose of their waste.
Studies have shown that placing additional trash receptacles cuts down on litter. Judge John has observed that the Jacksonville Beaches have placed additional trash receptacles on the beaches in recent years. It will be interesting to learn whether this has a positive effect. Judge John would further suggest that it is up to all of his fellow citizens to (A) encourage/shame others not to desecrate our beautiful beaches, and (B) to simply pick up a little extra trash each time you visit our fabulous beaches. Judge John carries trash bags with him when he visits the beach and offers them free of charge to beachgoers who appear likely to leave their trash behind.
Judge John wishes to acknowledge the Beaches Sea Turtle Patrol for their annual July 5th beach cleanup, and for all of their efforts in keeping our beaches clean, as well as all other organizations who sponsor beach cleanups.
.Judge John has a hypothesis that if we painted our trash receptacles with bright, attractive beach art, people might be more inclined to pitch in and put their litter in the trashcan. Could we devise a plan to allow students to submit proposals to paint these cans in bright colors? A second thought is to more regularly place signs, such as the "keep off the dunes" signs, in the highly touristed areas, encouraging people not to litter, perhaps in a humorous and good-natured way. Judge John challenges his fellow beach citizens to contact their local government officials with other good anti-litter ideas.
Conclusion: Do not litter anywhere, but especially in the Jacksonville area Beaches. Why? 1. Litter left on beaches significantly negatively impacts sea turtles, dolphins, whales, and all manner of marine life. 2. It's the Law and you could be fined from $150-$500. 3. Beach people need to lead by example.
About the Author
Latest Posts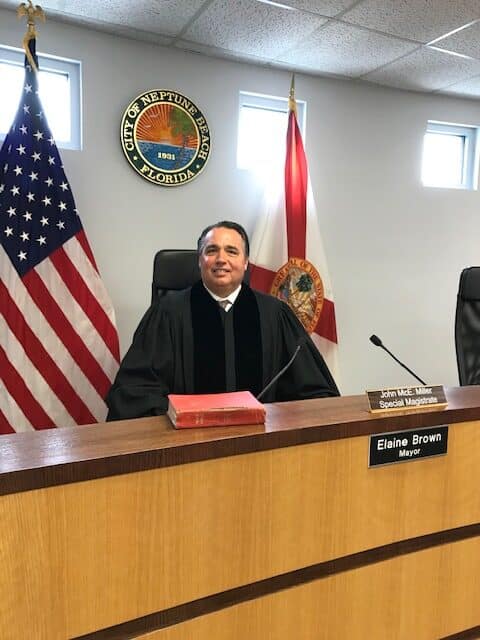 John Miller is the Special Magistrate for the City of Neptune Beach. His law firm, Rock Solid Law, focuses on Estate Planning, Real Estate Closings and Title, and representing entrepreneurial small Business Owners. (904) 241-1113.
Do you have any questions of law or custom that are of particular interest to those living the Sand Life on our beautiful island? Please submit them to Judge John for consideration for a future article. john@rocksolidlaw.com