Reading Time:
7
minutes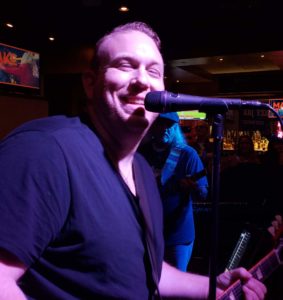 It's often said that music can change the world. Denton Elkins was the kind of musician who could do just that. Elkins had a presence about him that just brought people together. It didn't matter what race, nationality, political affiliation or any other differences people had, Denton had a way about him that just made people smile. And although a powerful presence on stage, he didn't have to be playing to have that influence on those around him. When he walked into a room, broadcasting that sly smile, people just smiled along.
An accomplished artist in several different genres of music, Denton could be performing in a Blues jam and have the band play a country song or a rock n roll number and the music fans in the room went right with the flow every time. And different genres were not Elkins only forte, he played almost every instrument with the same skill as a journeyman. Denton Elkins was, in the truest sense, a musicians's musician.
Having traveled to Nashville to give a go at a country music career, Denton missed the camaraderie of the music scene in his hometown on the First Coast and returned to make his mark locally with many of his fellow artists at local gigs. A huge supporter of the First Coast music scene, Elkins was likely to walk into any venue and be asked to get up with the band whether he was booked or not.
It wasn't always about the money for Elkins, it was about creating something special for the fans in the room and all the people who played any small part in the night's activities. And on many nights, he made it a point to support multiple events by spending just enough time at one to be able to make it to another, and sometimes even another! 
Elkins had music in his blood from birth. By the time he was one he would sit on father Artie's lap at the drum kit and help dad keep the beat in the home studio. His dad recalls, "When he was two he had a little plastic microphone he would walk around the house singing and with that microphone Denton started his career!" Artie came from a long line of Bluegrass musicians so music was a major part of Denton's life right from the start.
With Artie having a home studio and holding band rehearsals right there in the house, Denton would sit and listen and feel the beat on a regular basis. At four years old he got a pink plastic guitar and he would join the band at actual gigs and stand on stage pretending to play along. Denton's mom Julee said, "Seeing Denton up there was the cutest thing! His first actual stage performance was at four years old!" 
Being proficient on many different instruments was another gift Denton picked up from being a member of a musical family. Denton's sister, Adreann Fitzwater pointed out, "It was a gift Denton had, not something that could be learned. You could give him any instrument and he would disappear for an hour or two and come back knowing two or three songs!" In fact, Denton was so talented that he was scouted by Disney officials early in his life to be a Mouseketeer alongside Brittany Spears, Justin Timberlake, Christina Aguillera and the rest of the gang. Julee added, "It was decided to pass on the opportunity in the hopes to keep him more grounded to develop his talents with his musical family." Elkins did however do quite a bit of work with the Disney organization, including writing original music for Disney television projects that ultimately never made it to the airwaves.
A standout at Douglas Anderson School For The Arts in Jacksonville, Denton received a full music scholarship to LSU as a jazz drummer. After getting settled in and starting school, a death in the family brought him home for a week and while here Hurricane Katrina made landfall and kept Elkins from returning to Baton Rouge. Needing to choose from returning to school or getting a job, Elkins found himself working on a cruise ship in the featured band and from there his playing days just continued to go in a positive direction, including playing drums for the Glenn Miller Orchestra.
While in Nashville, Denton worked on recording his own music, and at some point he got news of a Nashville version of American Idol type production to which he applied or auditioned for a place on the show. Making it almost all of the way through to the finale, like so many television projects, the show never made it to the air, but Denton gained a world of experience being a part of the process.
Back in Jacksonville for good, Elkins continued supporting local events, jamming frequently with various bands, and most notably, often with Smokestack, which was fronted by good friend Jack Corcoran. Corcoran, who had played in Grinderswitch and Dr. Hector and the Groove Injectors, had made Smokestack the most followed Blues band on the First Coast. "Denton was not only one of the best guitarists in town," Corcoran recalled, "he was also one of my best friends. I was thrilled to have him join Smokestack and he brought an element to the act that set us apart from every other band in town. The time he sang Tennessee Whiskey in the voice of Karl Childers from Sling Blade, he had the entire place rolling on the floor laughing and ended in a standing ovation that went on for minutes!"
Denton's aunt, Robin Barbaree, owner of Lakeshore Bar on Jacksonville's Westside said, "I always thought of Denton as a drummer.  He was truly one of the best. So Cecil and I were surprised the first time Smokestack was at Lake Shore Bar – Denton was singing and playing guitar. It was then I realized that Denton wasn't an exceptional drummer – he was an exceptional musician. We are so grateful for the time we had with him. I have always been so proud to be his Aunt Robin. We will never forget his smile, kindness, generosity, talent, humor, and everything else that made Denton the special man that he was."
Months after Elkins' death the idea of creating a foundation started forming. Art Meusel, one of the First Coast's most ardent Blues fans was approached about forming a 501(c) 3 in Elkin's name and The Denton Elkins Foundation For Music Enrichment was started. Meusel told First Coast Life, "It was actually Denton's peers who wanted to create the foundation. While we still are developing the basis for the foundation we do know that we want to assist kids who have talent but otherwise might not be able to pursue their dreams due to financial reasons. Whether it's through music lessons or getting them instruments, we are not limiting ourselves to anything specific at this time." One thing for sure though, is that nonprofits rely on donations to survive and the foundation has a tough job ahead competing for what monies are available in a competitive arena.
The First Coast music community is very closely knit and a series of events will certainly generate some of the funds needed, but to thrive the foundation needs to reach a broader audience. On September 5, 2021 there is a fundraiser at Whiskey Jax – Beaches featuring Smokestack with a list of amazing musicians scheduled to jam with the band. A Facebook event has been created to help spread the word and everyone is encouraged to click "Going" on the event page and share the word through their social media accounts. 
Elkins' sister, Adreann added, "Denton had so much music in him. So much music that will now never be heard, but we hope that through the foundation we can help guide some new musicians down a path that will allow us to hear music that we otherwise may have never known. In that respect Denton's name will live on and music will be created that may fill a void we would not have known without it." Donations can be made to the foundation through a variety of methods including PayPal and other digital applications. One thing for certain though is Denton touched a lot of lives in his short time on Earth. With the foundation he can continue to change lives and allow music to be created for a very long time.
A fund raiser for the foundation has been put together at Whiskey Jax on Sunday September 5, 2021. Please feel free to let everyone know about it and come join Smokestack for a fun night of music!
https://www.facebook.com/events/624696055114590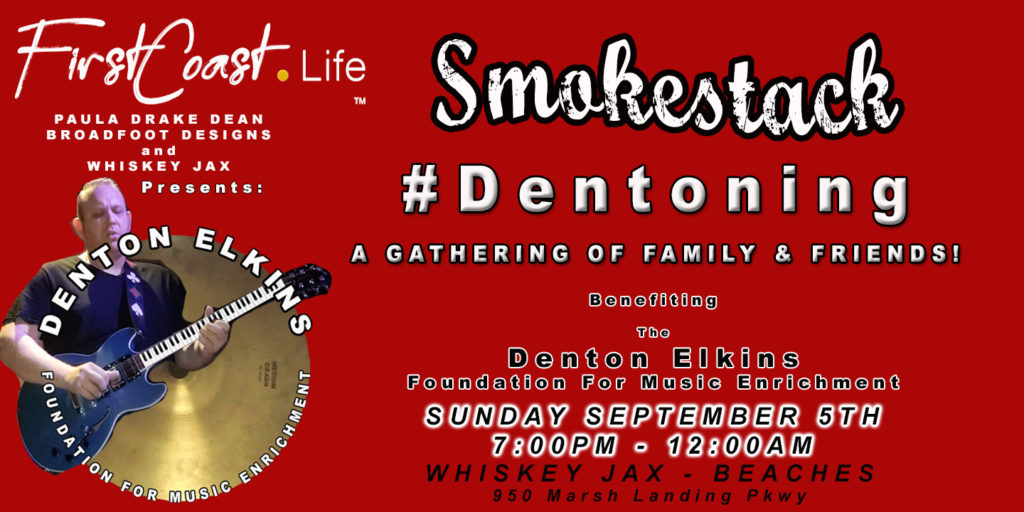 Mike has lived on the First Coast his entire life and was a leading figure in surfing and skateboarding for most of his life. After promoting music for many years on the local music scene, Mike now brings a unique perspective to FirstCoast.Life as the music editor. mike@mikekaufmann.com 904.428.7525