Reading Time:
3
minutes
Flipping! Flying! Filleting? by Lucy Giardino Cortese
"I'll be 60 this year—that's so old!" I mused to myself. It was just past midnight January 1, 2006. Preoccupied with thoughts of becoming a certified senior citizen, I sped down the new 9A highway ignoring two warning signs: Merge. Merge.
If you drive a car, you are bound to be involved in an occasional fender bender. Living in Florida, a state that brags more registered vehicles than people, it is inevitable. 400,000 annual crashes. Count me statistic 400,000 + one.
It is true. Your life does flash before when you think you are dying. My brush with the Grim Reaper prompted a personal flashback. This surreal video, better than any reality TV show, was in brilliant Technicolor. Six decades flashed through my mind as my RAV4 flipped over, over, and over: Visions of childhood antics. Teenage angst. College capers. Honeymoon passion. Workplace stress. Family adventures.
On the third flip Little Red landed upside down in the grassy median with all her windows busted. When the Jaws-of-Life pulled me from the flattened vehicle, I was dazed, shaky, a miracle to be alive.
EMTs gently placed me on a stretcher. A Florida Highway Patrol officer interrupted, "I need to do a breath-alizer test." My groggy head faded in and out as a bitter argument escalated. "She ain't been drinking, no smell of alcohol," a young female countered as she snapped my neck restraint and security belts. An angry FHP yelled, "But it's New Years Eve, they're all drunk tonight!" The last thing I heard, "Then go arrest some bad guys and…"
Fade to black. I awoke to an exciting ride in the ambulance nearly as death-defying as my flipping. An overnight stay at St. Luke's Hospital and I was released with minor cuts and bruises. Thankfully, I was not the latest rocket propelled from the Space Coast. Seatbelts and airbags rule!
Next day trip…to Bud's Auto Graveyard to bid my beloved companion Adieu.
"Call me Buddy," an old man uttered through a semi-toothless grin. The emblem on his faded pair of overalls read B.A.G. Your Junk-Our Hunk. He led me through an unfortunate sea of crushed, mangled and twisted vehicles. Buddy commented about the condition of the driver of each wreck: "Dead. Head trauma. Dead. Coma…" I halted his gruesome Collisions of Horror. "Where's my RAV4?"
Buddy escorted me to the rear of the junkyard. I averted my eyes from fragments of metal, plastic and glass that were once shiny Hondas, Chevys and BMWs. In the distance I saw my scarlet baby. Little Red was flat, an SUV pancake. Just above the driver's side roof was a rounded arc, exactly where my head had been. "That's your halo, Little Lady," Buddy said, "It saved y'all life!"
A prophetic epiphany: last year's lover's quarrel at Arlington Toyota dealership. "Let's get the sun roof!" I cajoled. "Forget that idea," Hubby said, "We're buying the one with the roll bar–just in case!"
Buddy spat out a wad of chewing tobacco, dribbling a line of brown juice onto his scraggly beard. Thrusting a plastic bag at me, he shouted, "What the Hell were y'all doing with all them knives?" In the bag were cutting implements of all sorts…a set of steak knives; knives for boning, carving, paring; saw-edged and fine-points; sharp cutters all. Then I remembered a butcher's block of cutlery, in a box, in a bag behind my car seat before the crash.
Feeling a little lightheaded, I steadied myself against the mangled fender of a used-to-be Jeep Cherokee and grabbed the bag. Tears filled my eyes, but no crying. A baffled Buddy stared as great guffaws of snorts and giggles burst out of me. I laughed in near-convulsive hysteria at the weird headline floating through my mind's eye: "NEWS FLASH-Elderly woman survives car crash after flipping car three times. Fatality results when a meat cleaver and various sharp instruments…"
A tearful farewell to Little Red. A sincere thanks to Buddy for his help. The kindly codger gave me a high-five and smiled, "Don't y'all come back now, ya hear!" I fingered my temporary neck brace and walked gingerly through the junkyard egress.
I asked myself, "Guess what worse than turning 60?" I muttered a prayer of thanks with the blessed insight, "Not turning 60!"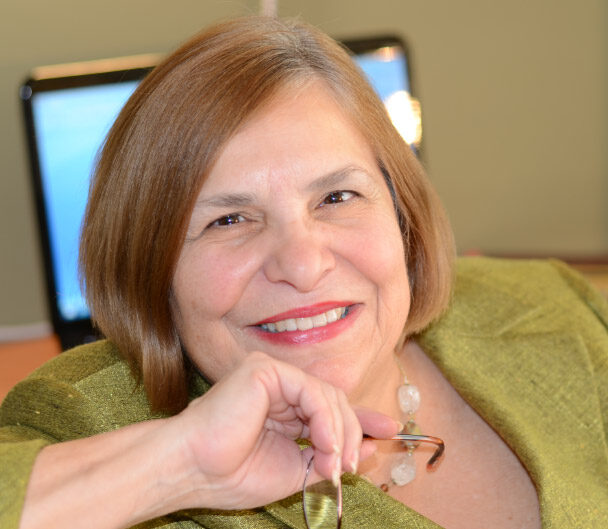 Living my personal mission statement, "Each One, Teach One," my greatest blessing is being the mother of two, grandmother of three and a lifelong educator. A graduate of UF and UNF, I am the former principal of St. Paul's Catholic School in Jacksonville Beach, Florida and executive director of Tree Hill Nature Center in Jacksonville.
Since retirement my avocation is now my vocation – freelance writing. The technical writing of past professional life evolved into more creative genres of poetry, short fiction and memoir. My goal is to invoke the entire spectrum of human emotions in my reader: longing to laughter, pain to promise, despair to discernment.