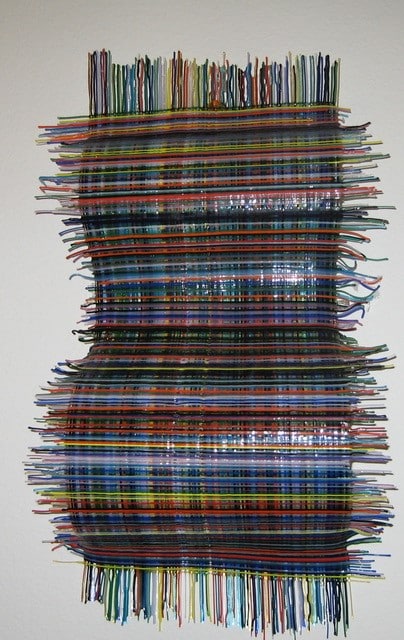 What part of First Coast do you reside now and how long have you lived there?
I live in the Inter-coastal area of Jacksonville..moved here four years ago from Treasure Island, FL

How long have you been doing your craft or trade?
24years

What brings out your creativity?
Beaches, oceans, Gulf of Mexico, travel

What does your work aim to say? Are you trying to bring a smile to someone's face or add to someone's home decor?
I love the reaction and smiles when people see fused glass for the first time! I enjoy educating people about the process.

Are there any spaces or designers that have influenced you?
Newey Fagen glass artist, Dale Chihuly

What is your favorite artistic accomplishment?
Taking my fused glass from small pieces to larger wall art and decor. (With the help of my husband)

Do you have a specific piece you would love to talk about or promote?
One of my favorites is an installation I made using nine separate "wall waves" sunset over the Gulf of Mexico. Although I am somewhat limited in size by the size of my kilns, I can create multiple pieces for larger installations.

What is the best way for artists to network?
Artists evening or hour out…wine and food! very casual Your Artist directory is a great tool as well!

If you had a question you would like to ask another artist what would it be?
Are you having fun with your art?

How can we see your work?
Atlantic Beach Arts Market … Atlantic Beach, FL or email me for information and photos

Is there anything else that you want to tell everyone?
Kiln-formed glass art is really so amazing! There are so many different techniques and styles of glass art….there is always something new to learn and experiment with…It is really an exciting medium

When did Glass fusing begin?
There is evidence that the ancient Egyptians knew how to fuse glass..however, the modern Kiln formed glass movement began in the 1960s with the American Studio Glass movement.

Can you fuse any type of glass together? ie. window glass to glass bottles?
No, different types of glass expand and contract at different rates when they are in a kiln. If the glasses are very different from each other, they will crack and blow apart when you attempt to fuse them together. The Glass that I use is a highly specialized type of glass that is made for kiln glass work.

Can you create your own original glass?
Yes!! It is really fun to start with a clear piece of glass and add glass powders, and different size pieces of other colored glass to create your own original sheet of glass…which you can use in part or combined with other glass to create a finished piece.