Debbie (Debra) Rider
Debra (Debbie) Rider was born in St. Augustine, Florida. Her passion for music and versatility as a vocalist began as she grew up listening to gospel radio on her Aunt's farm in Kentucky, then singing along to Diana Ross & The Supremes, living in the Washington, D.C. area. High school introduced her to classical music and choir where she won top honors as an operatic soloist. A 2010 graduate of University of North Florida's prestigious jazz studies program, Debra's career then took her to become an award-winning jingles singer, character voice actor, a backing vocalist for Lynyrd Skynyrd (1989-1992), a merit-award winning songwriter for Unisong International for her song "Charlotte", and to become a Savannah's International Vocal Competition quarterfinalist. Debra sang Janis Joplin tunes with Sam Andrew of Big Brother and the Holding Company, opened for Boots Randolph and Marcia Ball, and was a featured vocalist with The Chris Riddle Orchestra, the New Smyrna Beach Jazz Festival, and the Amelia Island jazz Festival. She has performed at Alhambra Theatre & Dining with several nationally renowned tribute artists, as well as organizations like the Jacksonville Symphony chartered non-profit Body and Soul-The Art of Healing. Her talent and versatility has kept her in demand as a vocalist throughout the southeastern USA music scene. In 2018, she has put together some of the best area musicians to produce her own tribute, selling out every show, with her 7-piece band, Get Closer! A Tribute to Linda Ronstadt.
What part of First Coast do you reside now and how long have you lived there?
South Jacksonville Beach, very near the ocean. I have lived here and in the beaches area for most of my life, but also with family in southeastern Kentucky. For a few years I lived in the Washington, D.C. area in Maryland and Virginia, then San Antonio, Texas for a few months, then Colorado Springs, Colorado for a few years, but always come back to "The First Coast"!
When did you know you had an interest in music?
I have a great photo I will attach that will show you it was from when I was just a few months old. I have always loved the piano, though I am not proficient, I do most of my writing on piano. Singing is something I have also done since early childhood.
Did you start with any specific instrument and migrate to other instruments?
Voice has been my main instrument and I sang wherever and whenever I could at school and church. At nineteen, I was given a guitar and began to play it. I have always loved the violin and took a few lessons. I took a few piano lessons early on and of course in college, class piano was a requirement. When other musicians insisted I sing, I focused on singing and didn't pursue any instrument(s), sadly. Now I play a little guitar, a little piano, a little mandolin and lots of percussion. For example, recently I played a washboard on a John Denver Tribute. When the songs on the tribute shows I do at Alhambra call for percussion other than drums, I oblige. I have acquired a pink, alligator, rolling satchel full of all sorts of goodies: claves, triangle, vibraslap, guiro, and more. I also played glockenspiel also on a show for Elvis tribute. It's a lot of fun and adds a bit of special touch to the music.. My voice is truly my main instrument, though. I have enjoyed singing in many area bands over the years and also with UNF choir under the direction of Dr. Merrill Palmer and Bethlehem Lutheran Church choir under the late Kathleen Olive. For the last 8 years, I have been using my voice for high voice to belting, singing supporting/duet vocals for Elvis, John Denver, Donna Summer, Barry White, Reba McIntyre, Johnny Cash, and other tributes. Mostly, I am working on lead vocals for my Linda Ronstadt tribute now, and recording my original songs.
Are you currently in a band (or bands)?
Yes, I am doing a Linda Ronstadt Tribute. I call my band, Get Closer! My original music band is called "Debra Rider Jazzy Blues".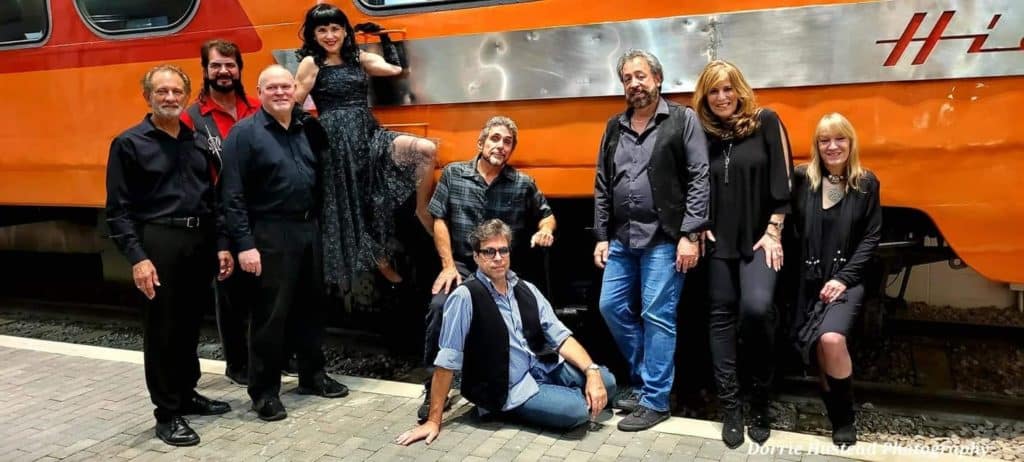 Who is your favorite musician or what musician influenced you the most?
This is a tough one. All music is amazing to me; all genres, maybe why I like doing a Linda Ronstadt tribute. Linda is known for her versatility. I studied jazz at UNF for 10 years and have gone nuts over so many wonderful musicians. Trumpet of Chet Baker and Miles Davis mostly and cello of Pablo Casals were very inspiring to me. I wrote a paper on Joni Mitchell and Charles Mingus and fell in love with them. Some of my favorite singers are Anita O'Day, Dinah Washington, Carmen McRae, Betty Carter, Etta James, Aretha Franklin, and Nancy Wilson. Later, I discovered more contemporary singers Susannah McCorkle and Eva Cassidy, both of whom are sadly no longer with us, gone too soon, but their voices are haunting. I love Sade and Sting but also George Michael and Prince. My influences though, started early in childhood from my family in Kentucky, gospel radio, Hank Williams, Loretta Lynn, true bluegrass is in my soul! My first records were 45s on a little kid's record player and I and Elvis and Brenda Lee records, "Blue Christmas" and "Rockin' Around the Christmas Tree" were the songs I learned at age 4 and played over and over. Then when we lived in Washington DC area for a while it was all Motown, Diana Ross and the Supremes and old school R&B. I also loved Dolly Parton and Glen Campbell. Linda Ronstadt was somewhat of an influence, but I liked Heart more. Then I gravitated to Bonnie Raitt, Al Green, Marvin Gaye, and The Eagles. I am a big fan of the late Amy Winehouse. There are so many bands and singers I could not begin to name, but these are the ones who come to mind. So I am truly, a little bit country a little bit rock and roll. My original music is what I call "jazzy blues" because it has all these elements from these influences.
Are there any specific memories or highlights of your career that you would like to tell us about?!
Many wonderful experiences through the years have happened through music. I have had the honor of performing with so many wonderful musicians and for so many wonderful folks and events, I am sure I am leaving some out. Here are a few that come to mind: Opening for Marcia Ball at Freebird's was great! Also opened for Boots Randolph, what a nice man! Of course my years with Lynyrd Skynyrd , world tour under the management of the late great Bill Graham 1989-1992, were life changing. Singing with the UNF jazz Bands, onstage side-by-side singing "Oye Como Va" with the late Tito Puente, shaking the huge hand of the late Dave Brubeck visiting at UNF! Wow! I also had the opportunity to sing Janis Joplin songs with the late Sam Andrew of Big Brother and the Holding Company. It was surreal. He asked me to come to San Francisco to audition for Big Brother who were still touring, but I had just enrolled at UNF and had a 2 year old, so I was not about to go on tour. On the mini tour we did here in Jacksonville, an audience member convinced me I was channeling Janis and called me "kitten " insisting I sign his vintage Janis Joplin album. Then there have been all the shows at Alhambra performing alongside some of the best tribute artists in the business. And last but not least, singing bedside in area hospitals for Body and Soul-The Art of Healing for a double lung transplanted gentleman who was thrilled with our music and sang along; singing "How Great Thou Art" in ICU with a family of beautiful women as their mother lay dying, and then a woman healing after surgery who cried and cried because a song I sang reminded her of her home back in Louisiana.
What area bands or musicians are at the top of your list to go out to hear?
Ron Perry, Larry Mangum, and Bob Fraioli are some of my favorite music artists in the area; I also really like to see and hear Amelia Crescendo Band as well as The Chris Thomas Band and Bill Prince and the musicians with Mark Dickman's Group.
Do you have a favorite venue that you enjoy playing locally?
Do you have any gigs coming up to tell our readers about?
What is the best way for musicians to network?
There's a lot going on via social media for music and musicians these days. In the old days, it was always about live performance and jam nights and songwriter's get-togethers. Some of my first networking with musicians were at parties where folks invited all their musician friends. In my experience, it happens on the bandstand, before and after the gig.
Are there any local venue owners/managers that you would like to rave about?!
Ray Lewis, Mudville Music Room, has had a vision for local music and musicians for the last 40 years, and he's keepin' on keepin' on!
If you had a question you would like to ask another musician what would it be?
Where do you see yourself in 5 years? LOL!
Is there anything else that you want to tell everyone?
The ability to perform music is a God given gift and an honor that blesses both the performer and those who appreciate it. Music's essence is like a conduit tapping into all human emotions, be they joyful or sorrowful, and whatever is released, heals and lifts up the soul. This seems to be universal and that is a powerful thing!
Debbie can be reached via email at sangin4mysupper@gmail.com