Reading Time:
3
minutes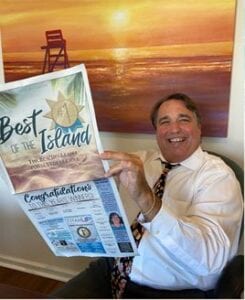 Full Name
John Miller
How long have you lived at the First Coast?
34 years, which coincidentally is JM (my initials) sideways! I have lived in Atlantic Beach and Jacksonville Beach, and worked in both of those as well as Ponte Vedra and Neptune Beach
Where do you live now?
Jacksonville Beach – 30 years
What was your first job?
delivering newspapers (remember them?) on a Schwinn bike!
Have you ever met anyone famous?
as a musician, I've been lucky to meet a lot of rock stars. Having dinner with bassist Darryl Jones the night before the Rolling Stones concert here was a thrill.
What are you reading right now?
Professionally: The Perfect Day Formula and High Performance Habits; and for fun re-reading Tom Robins' Another Roadside Attraction.
If you could pick up a new skill in an instant what would it be?
toss up: lead guitar or flying
Who's someone you really admire?
MARTIN LUTHER KING, JR. (Living: Henry Aaron)
Seen any good movies lately you'd recommend?
Watching all of Star Wars movies and shows chronologically.
Got any favorite quotes?
Happiness is a choice. We always control our attitude.
It's never too late to have a great childhood.
Been pleasantly surprised by anything lately?
Ponte Vedra and Beaches Leader readers naming me Best Attorney at the Beaches was a pretty amazing surprise.
What was your favorite band growing up?
Three Dog Night, then the Rolling Stones (honorable mention: Beatles, Van Morrison, REM, U2, Mother's Finest and Tom Tom Club.) And then there's Buddy Guy!
What's your earliest memory?
Being in a giant ladybug toy on a brick patio with my parents, probably in Virginia.
Been anywhere recently for the first time?
Oh that's funny! Love to travel, but 2020! Lots of camping with our family, including Crooked River State Park. Zip Lining in Lake Lure NC. Discovering downtown in Brunswick, GA and Hendersonville, NC
What's your favorite family tradition?
Summer Vacation in Nags Head on the Outer Banks.
Who had the most influence on you growing up?
Robert and Nancy Miller, my parents and heroes
What was the first thing you bought with your own money?
a drum kit. After my first real job, a Ford Mustang
What's something you want to do in the next year that you've never done before?
Rock Solid Law, my firm, is very close to achieving a major long term goal.
Seen anything lately that made you smile?
Sunrise over the Atlantic every day! My wife, Krista, and my children Ian and Avalon regularly make me smile!
What's your favorite place you've ever visited?
Toss up: Greek Islands and Bali.
Have you had your 15 minutes of fame yet?
I hope not! But, BB King calling me out on stage to take a bow in front of a sold out Florida Theatre was not a bad moment!
What's the best advice you've ever heard?
Integrity is more important than intelligence or wealth.
How do you like your eggs?
fertilized!! LOL Over medium
Do you have a favorite charity you wish more people knew about?
Dougbe River Presbyterian School of Liberia. Rev. Francis Miller, my brother, helped found it. I also have long supported BEAM.
Got any phobias you'd like to break?
heights. Doubt it's happening for me, but that's the one!
Have you returned anything you've purchased recently? Why?
sent back some furry pants, part of a Halloween costume (Ewok) – didn't fit.
Do you collect anything?
music (albums and CDs), guitars and autographed Atlanta Braves baseballs
What's your favorite breakfast cereal?
granola
Why did you become a lawyer?
To give people a choice to have a different experience with a caring professional. I think our beach casual professional office does that.
What's your retirement plan?
We've got 12 years before Ian goes to college. After that, touring Europe with a Blues and Soul band, traveling, and spending time in Belize.
Why do you love the Beaches?
This has been my longest home. I love the people, the salt and sand life, our community, and the way we are hospitable but forward thinking.
Locals Sharing Uplifting and Inspirational Stories & Images
FirstCoast.Life is a regionally-focused digital magazine for locals and newcomers alike. We are super passionate about bringing arts to our region, buying local, and spreading community love.
We want to see your photos and stories too. Click to Submit