Reading Time:
2
minutes
ORANGE PICKER BLUES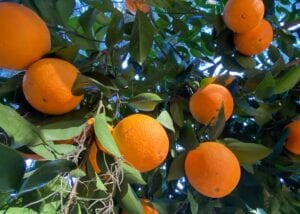 Think Florida; think oranges. This showy citrus shouts from tourist ads, travel brochures and license plates. I longed to grow the juicy fruit so plentiful to my state. Year after year, I planted orange trees. One by one, they lost their leaves, withered and died a pitiful death.
With the certainty that I am smarter than an orange, I made one last attempt. Armed with the latest horticulture tips, I picked four varieties that grow best in the Sunshine State. Into the ground they went supported by the Rolls Royce of topsoils and fertilizers. I christened them with Perrier water and called them each by name: Dear Hamlin, Sweet Navel, Adorable Homassasa, Darling Sunstar.
My heart soared as tiny leaves burst from their fragile branches. White blooms sparkled from my leafy quartet. An aroma sweeter than any perfume flooded the backyard. Orange blossoms. Under muddy gardening gloves, this transplanted Jersey Girl did have a green thumb.
My joy was short lived. Was that snow on the ground?
A blanket of white lay at the bottom of my precious trees. The tiny fragrant flowers sang out their funeral dirge. I cursed the Orange Fairy. Goodbye Hamlin. Fare thee well Navel. Adios Homosassa. Before I bid Sunstar adieu, I noticed a few white dots of hope. Would she survive?
First, cherry-sized jades. Then, adult emeralds. At last, dozens of bright ginger-colored globes hung like Christmas ornaments. My mouth tingled with the savory taste of fresh orange slices, OJ, marmalade, fruit salad and homemade Sangria. I shamelessly bragged to family and friends about my anticipated citrus harvest.
Pleased with my new prowess as Giardino Staordinario, I resumed my well-known passion of Italian cooking.  My grandson's shouts interrupted the layering of my famous Eggplant Parmesan. A handful of fresh  mozzarella dropped to the floor. Slipping on shredded cheese litter, I sprinted to the back yard.
The demonic words spilled from his cherubic mouth, "Me have fun throwing all them big orange balls!"
Like a dandelion drenched in Round-up, my citrus growing days were over.