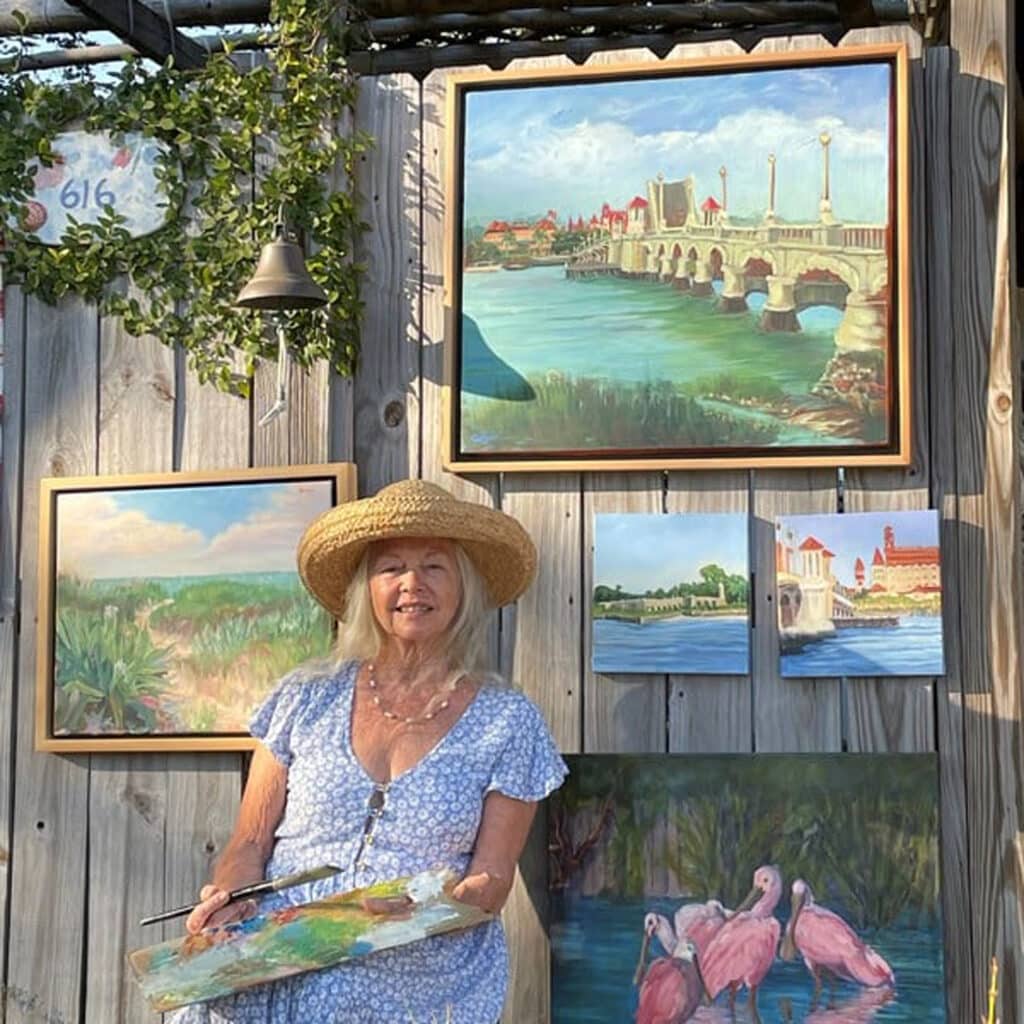 The Professional Artists of St. Augustine (PAStA) Fine Art Gallery, of 214 Charlotte Street, St. Augustine, is proud to announce that member, Pamela Geiger, is the April Feature Artist. Pam's Plein Air oil paintings of local architecture, and the surrounding coastal areas will be on display in the front room of the gallery starting First Friday Art Walk, April 7th, 5 pm – 9 pm.
Born in Ohio, Pam's fascination with art and sailing came into her life early. As a child, she sailed with her family on the Great Lakes during the summer months. Drawing also becomes a consistent presence in her life, starting with the familiar and eventually moving into drawing boats and harbors.
After an attempt at college, Pam worked in Cleveland while caring for her small family. After an especially brutal winter, she decided to pack it up and head west for California. After a stint in LA, Pam was on the move again, this time heading north to Mendocino County. During the turbulent and often creative 70s, Pam worked the land, worked in a print shop, raised animals, and lived in a Native American teepee. Combining her interests in animal husbandry, textiles, and herbology, she started a home business of offering naturally dyed wool and batiks.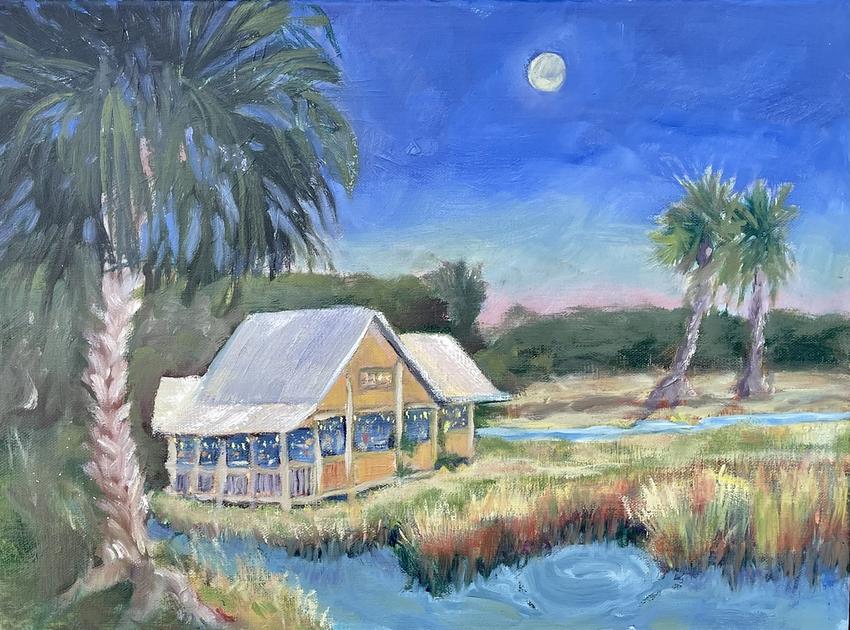 It wasn't until she was back East, working as an x-ray tech in a hospital on Nantucket, that her interest in pursuing art as a potential profession struck hard. She worked during the day, and read art books, practiced with materials at night, and visited many museums during her time off. She continued her self-education when a move to Cambridge, Maryland brought her into contact with the artist and owner of Troika Gallery in Easton, Maryland.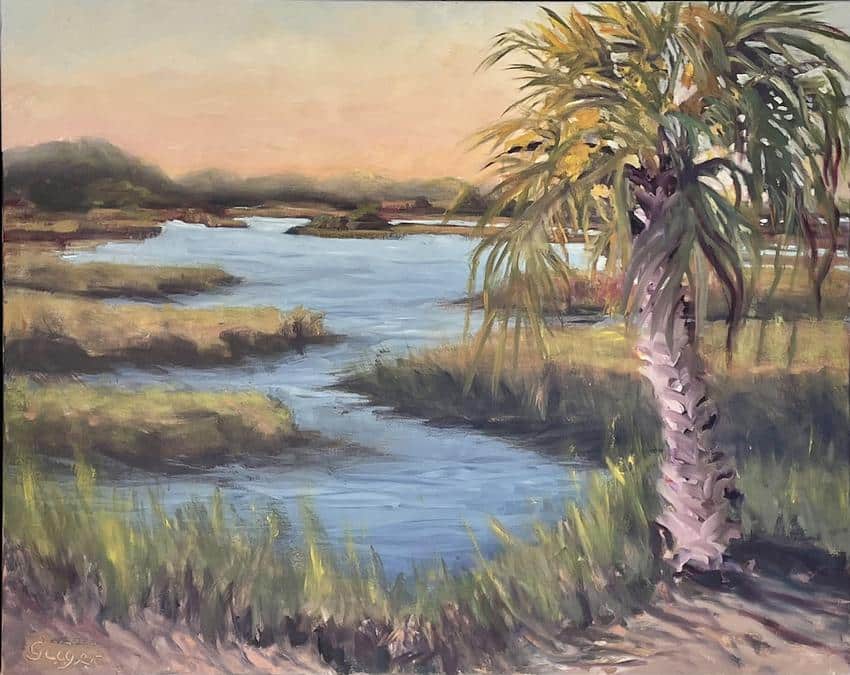 Finally settling in St. Augustine in the '80s, Pam's artistic journey blossomed. The Ancient City, during that time, had seen better days, but its charm captivated Pam. She set up a studio in an old dilapidated Victorian (now known as the Collector Bed & Breakfast). She placed her art in a gallery on Anastasia Island, and in an effort to get her work seen downtown, she applied to, and was accepted by PAStA Fine Art Gallery. When an opportunity opened on Aviles Street, Pam and several other artists opened the Aviles Street Art Gallery.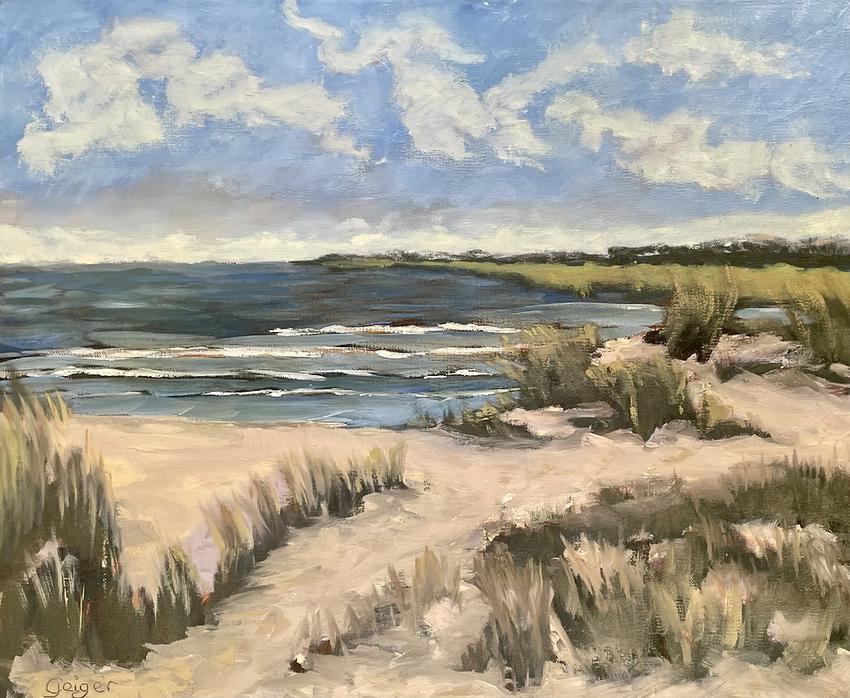 The wanderlust bug bit Pam again, and she and her husband, Andy, took to the sea in their 28-foot sailboat, "Grace," and sailed around the Caribbean for nine years before settling back on land. She has since returned to PAStA, where she draws from her inspiring life to fill canvases with the beauty of Northeast Florida's unique architecture, and breathtaking land and seascapes.
For more on Pam Geiger, Plein Air artist, visit www.pastagalleryart.com or on our https://www.facebook.com/pastaartgallery Facebook page. You can also see more of Pam's work on her website.
About PAStA:
The Professional Artists of St. Augustine Fine Art Gallery (PAStA) on Charlotte Street, in downtown historic St. Augustine, Florida, was founded in 1982 by Jean Wagner Troemel, a champion of the arts, founder of the Winter Haven Ridge Art Association, served on the Florida Arts Group Board (FLAG), and spearheaded St. Augustine's First Friday Art Walks. The gallery has served an international clientele a wealth of local talent and award-winning artists. The gallery's mission is to showcase local and regional art and to educate and encourage area artists.
About the Author
Latest Posts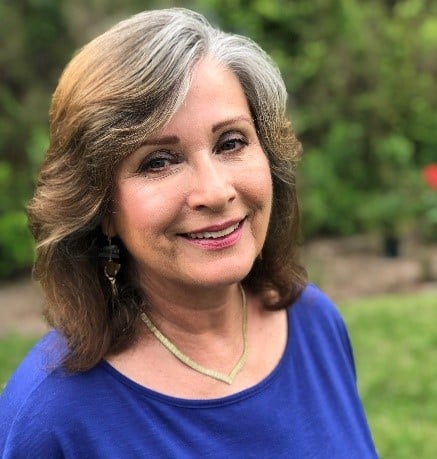 I did not connect with clay as an artistic outlet until mid-life. During a hectic and demanding career, while juggling family, job and my MBA, I needed a healthy outlet to release my frustrations while appealing to my sorely under-utilized creative needs.
One summer class gave me the impetus to redirect what little down-time I had into punching, pulling, coiling, pinching, slapping, and throwing this amazing and malleable material into anything my imagination desired. I found therapy through clay.
In the years since, I have received an Associate's Degree from the New Hampshire Institute of Art in Manchester, New Hampshire, and set up my first studio in a basement of our house. Currently, my studio has moved above ground – to my garage, but includes a wheel, large Skutt kiln, slab roller and an array of clay and glazes that would make a chameleon dizzy. I am a proud member of the Professional Artists of St. Augustine Fine Art Gallery since October of 2021.
I work with a variety of clays and glazes – from mid-temp stoneware and shiny glazes to low-fire and matte underglazes. I find inspiration in nature, children's stories and fables, and my own untamed imagination!