What do you do why?
I have always loved Mother Ocean and I have collected shells since I was a child here in Jacksonville Beach. I am intrigued by how different shells are created. I enjoy collecting and displaying the beautiful kinds of shells that are found right here along our local shores.
Where is your workspace and what brings out your creativity?
My workspace occurs in various places in and around my home. After I collect shells from my beach walks, they are rinsed and placed on a table in the sunshine in my backyard. The shells are then placed in bins reflecting their unique characteristics. After that, usually, in my kitchen/great room, I select the shells that are needed to create driftwood windchimes, frames, crosses, olive necklaces, coquina creations, etc.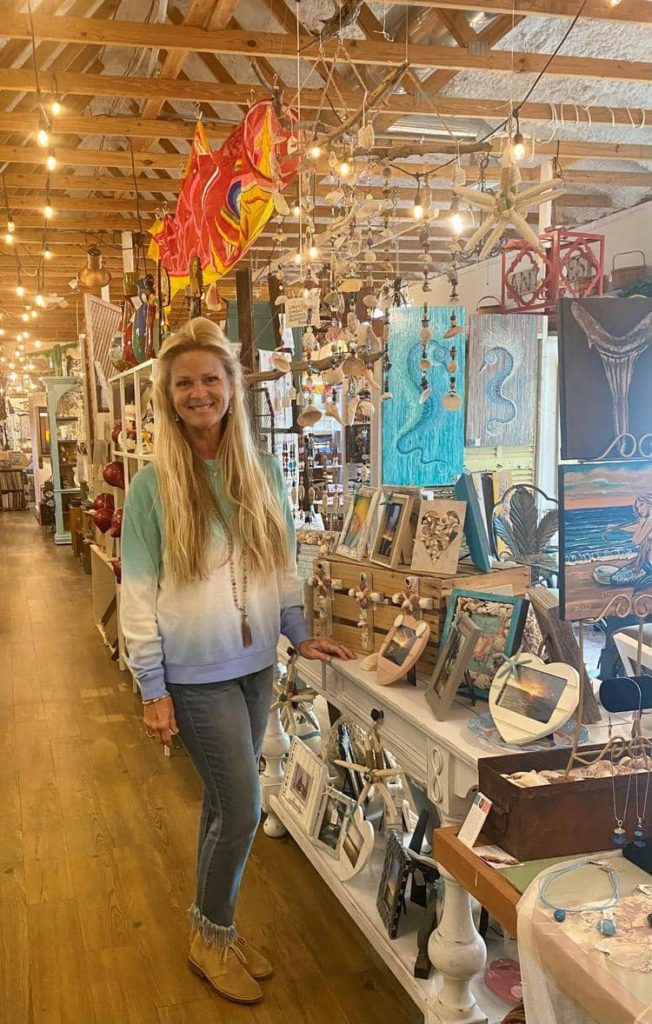 Do you have a favorite piece you'd like to talk about?
Every shell craft I create is unique and special because it came from Mother Ocean. My favorite piece is a large wind chime hanging on a wall at home. All my wind chimes are hung from pieces of driftwood found on our local beaches.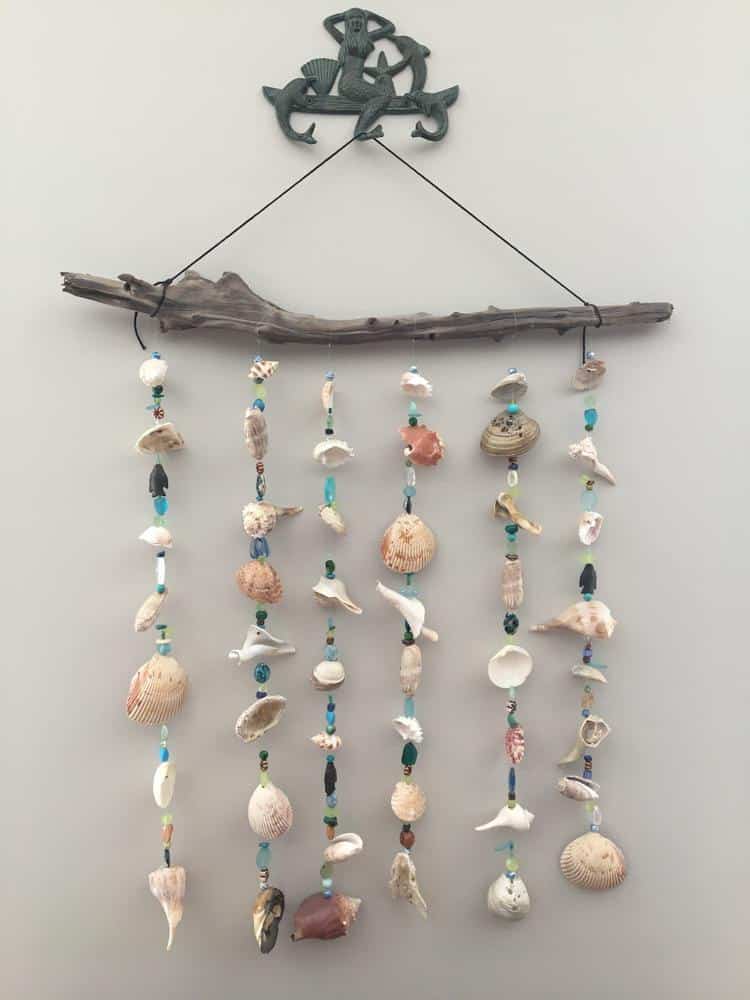 How is your personality reflected in your work?
Everything I create has a little bit of me in it, and each piece is unique. I like to include colorful beads in my windchimes, mainly blues and greens because of Mother Ocean's colors. My picture frames include photos of beach scenes in Jacksonville Beach or Marathon where my family vacations in the Keys. I also collect my "itty bitty" shells from Coco Plum Beach in Marathon. I am in awe of the power of the ocean and the beauty, peace, tranquility, and inspiration it provides. One of my favorite joys of weekly beach walks with dear friends is collecting interesting shells together.
How do you overcome creative blocks?
Mother Nature and Mother Ocean provide all the creativity one could ask for. Moods of creativity for me ebb and flow, much like the tides of the ocean. I create when my heart tells me. I feel blessed to have a craft that I enjoy and that brings joy to others. I am retired after 32 years of teaching at my childhood school, San Pablo Elementary. I feel lucky to create when the feeling inspires me, with no firm schedule required.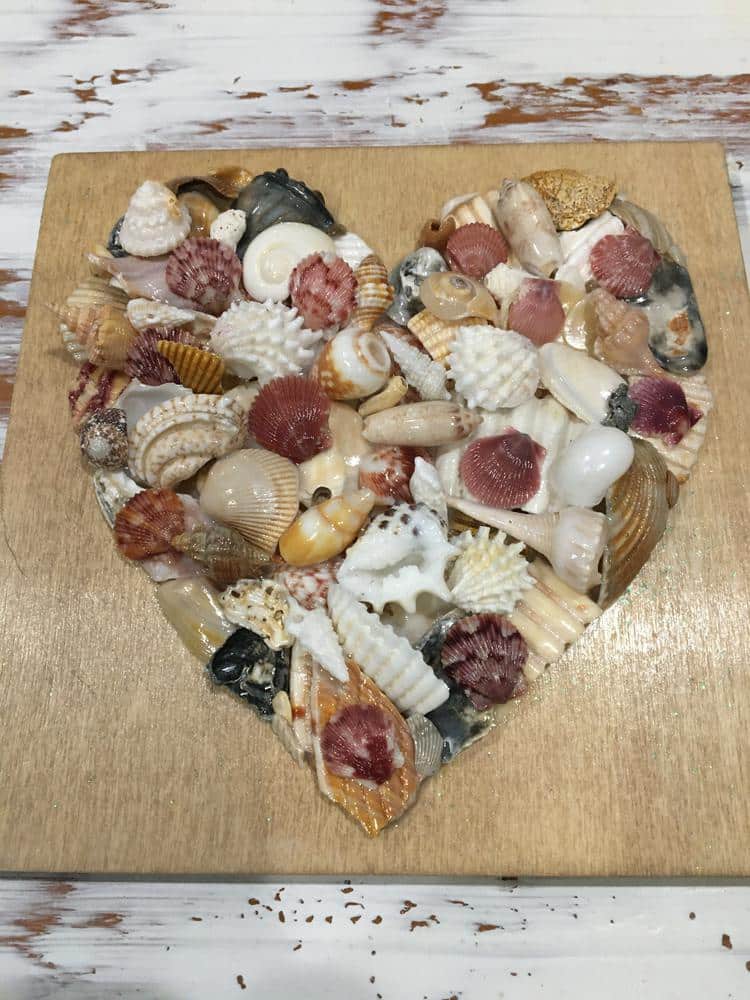 Are there any spaces or designers that have inspired or influenced you?
I love art in all of its unique forms. I actually feel like I am more of a crafter than an artist. The ABAM is full of such talented artists, and I feel honored to be a part of this awesome community where art is celebrated in all of its vast forms.
My inspiration comes from my mom and my dad. My mom started doing crafts with me from as far back as I can remember. She was very creative and dabbled in all sorts of arts and crafts. It was my mom who inspired me to explore creative paths. Creating art was something I really enjoyed doing with my elementary students as well.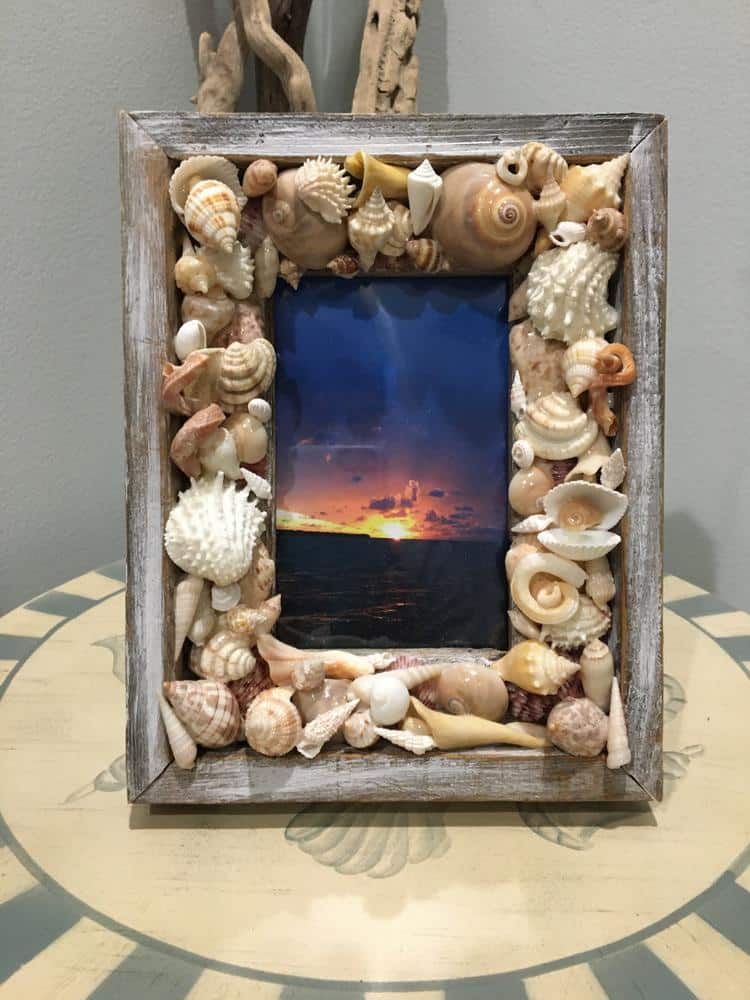 My dad was a self-taught woodworker. He created many magnificent pieces of furniture that fill my home. He turned wood into beautiful goblets and created dining room tables, beds, dressers, and armoires out of Philippine mahogany from Yamaha motorcycle crates. One of my greatest joys is having his wood masterpieces surrounding me in my home.
Please come see our Featured Artist and 90+ other vendors at The Atlantic Beach Arts Market located at 1805 Mayport Rd. Open everyday 10:00 a.m. – 5:00 p.m.
Much Love,
Ame Cowan