"Dog Trainer" Teaches People, Not Dogs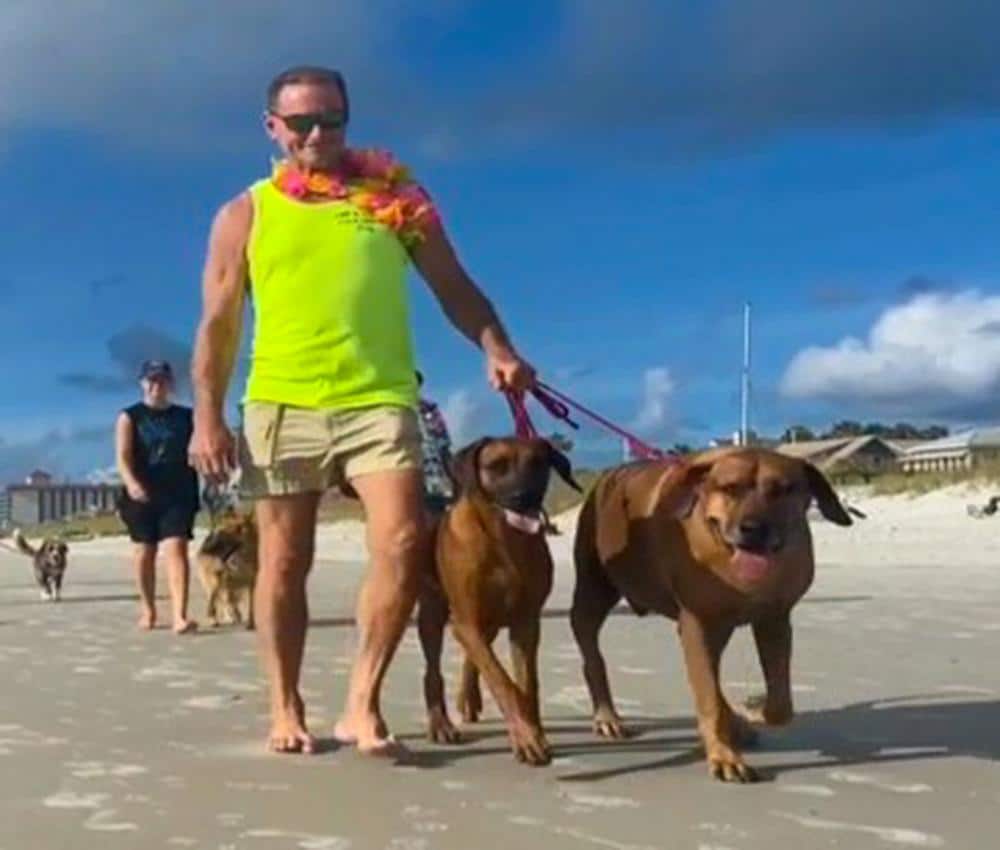 Hello Greg and we've heard many stories about your success locally. Nice to meet you. So tell us in what part of the First Coast do you reside now and how long have you lived there?
We live in Jacksonville (West Beaches) and I was born and raised in Jacksonville Beach
Why and how did you get started?
After I retired from the Jacksonville Sheriff's Office, I had a very successful advanced police training business (WinFirst International, Inc.) that had a global market with hands-on advanced tactical training. But when ISIS became more dangerous, my overseas clients needed to shift their funding to defense. Instead of traveling so much I had extra time and started keeping/boarding dogs whose owners were on vacation but wanted them in a family-friendly environment. And along the way, I would show them that the behavioral issues that they had as owners weren't insurmountable. Word got out, and Kamp K-9 Jax Bch was born!
What aspect of your business are you passionate about?
I'm passionate about helping people be better leaders so their dogs can be fulfilled; 95% of the time, humans do not communicate well (usually by talking/commanding too much or feeding treats as a motivator for behavior) and they expect their pups to know how to communicate like a human. So, clear communication without talking, and understanding Dog Psychology.
How did you get the idea or concept for your business?
Our original Rhodesian Ridgeback (Koa) was my teacher. Observing and understanding animal behavior is not something you learn from a class or on YouTube. I also followed the principles of Dog Psychology taught by Cesar Millan and throughout that time EVERY dog I came into contact with understood energy & body language, where emotion and commands are confusing. This form of communication makes things less stressful and frustrating for the human and then the dog can also be happier. Since then, we have had Malu and now Pono in our pack.
From the outset, what would you say was your mission?
My mission has always been creating better humans as leaders so that the dogs don't suffer. Too often, people think of the dog as the problem. But when we ignore the root of the problem (bad behavior is the symptom; state of mind is the problem) it never has a positive effect on the pack dynamic.
What are your goals for the company?
Every client is the new goal for the company. Providing the best training and relationship for the lifetime of the family pack each time is, and should always be, the goal for a successful service-oriented business.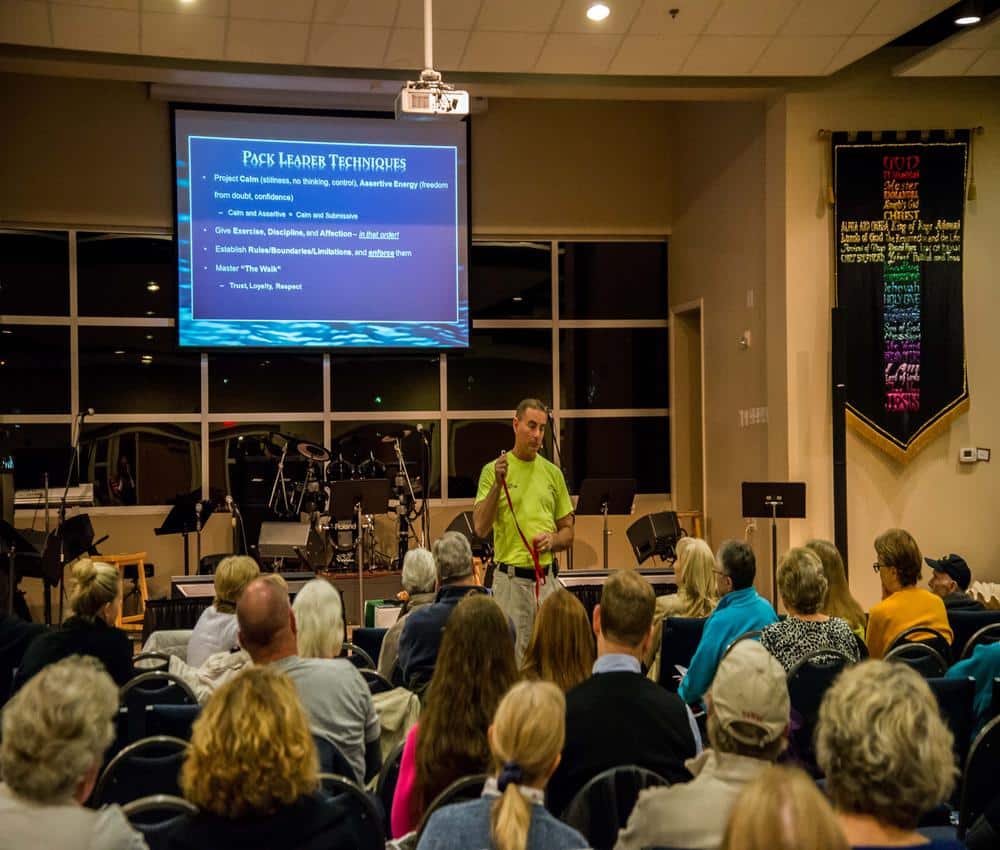 When did you start your business?
Kamp K-9 Jax Bch was started in 2013
What made you choose to operate your business in its current location?
My clients live and work at their locations so that is my focus. Whether it is a puppy, older dogs, friendly, shy, or aggressive, at their homes or at their workplace, I deal with all dogs and all issues from an instinctual perspective.
Can you give us a brief background on the service you offer and the people you serve?
Two main services: Personal one-on-one sessions for all dogs/all issues at the clients' location for 2-2.5 hours to coach them through becoming a pack leader (instead of a food ATM). Follow-ups are always on an as-needed basis and I travel nationwide but especially the southeastern and central eastern US.

The second service is a Canine Leadership Class I do in the parking lot of Fluffy Cuts Dog Grooming in Jacksonville Beach. This is a 6-week class that sells out all eight classes per year and takes the student from beginning to advanced handling of not just their dogs but other dogs in the class. It essentially teaches everything you need to know or do when you take your dog into public so scenarios are created to replicate that environment and practice in coached sessions.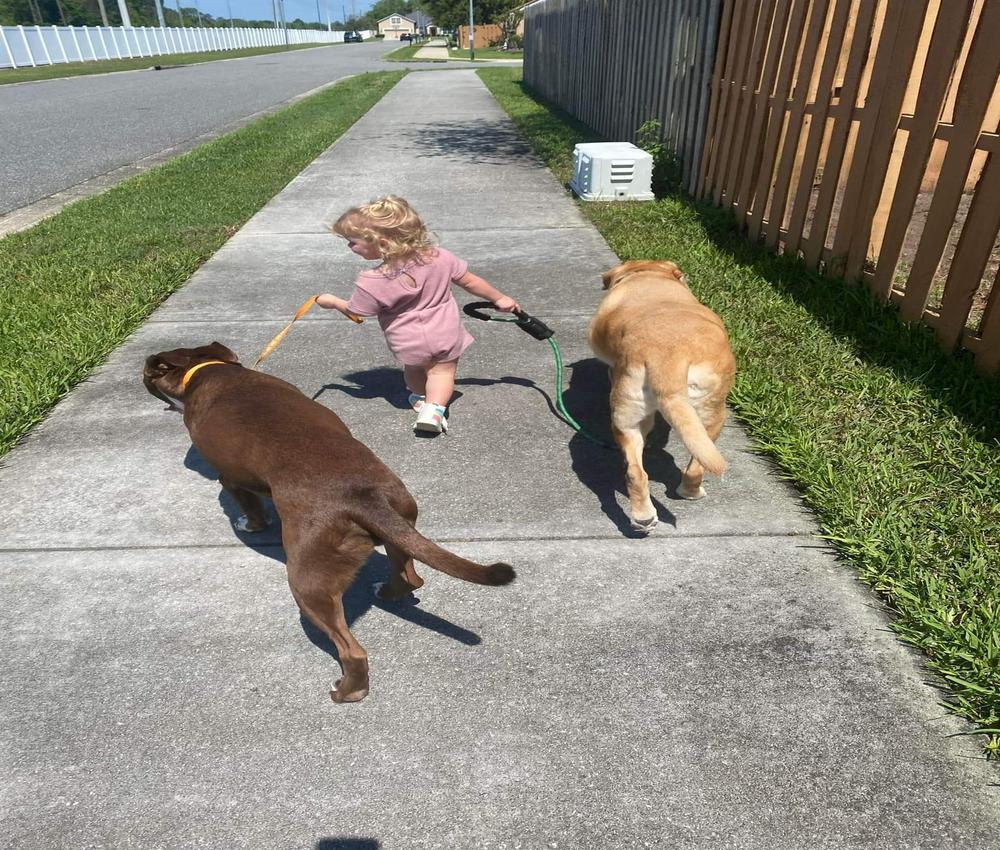 What is a unique attribute/aspect/quality/feature about your business?
I do instinctual training so I concentrate on teaching people how to clearly communicate and have a calmer actual relationship with their dogs, rather than being a prison warden always ordering their inmate around to make things happen (the difference between Obedience and Behavior).

Another aspect is wishing to include the community as a whole in the process of understanding our dogs. So, for the past 7 years, I have sponsored a free and no sign-up, dog walk at the beach called the Aloha 'Aina Beach Walk. During summer months we start at the end of Atlantic Boulevard and walk north for about 30 minutes, stop and get a big group picture, and wander back. The walks usually average 35-50 dogs and there is no limitation on who should come — even if you don't have a dog, come out and see the dogs, get social, and be part of a like-minded group!
How many employees make it happen at [we'll insert your business name}
Although I am in the process of teaching an intern, there is just me right now and has been from the beginning.
What qualities do you look for in an employee?
What I do is very unique, and for a couple of reasons. An employee would need to understand and demonstrate their understanding of dog psychology across all behaviors, and they'll need to know how to deal with and teach people. And they will have to do that without me looking over their shoulder (I know I set a high bar of performance but I am very protective of the reputation my company has created, for the dogs' sake).
As a business owner, tell us what some of your responsibilities are.
As the only employee, I do everything! From returning client calls, talking them down of the ledges they think they are on, scheduling (7 days a week, morning/day/early evenings regardless of their locations), traveling to and helping clients, creating and maintaining the written information given (foundational bullet points), creating class rosters, teaching the classes, creating and printing graduation certificates, partnering with and following up on business relationships where Kamp K-9 Jax Bch has partnered (vet offices, doggy daycares and boarding facilities, pet food stores, shelters, rescue groups, etc.) and keeping current with social media posts so everyone can be included!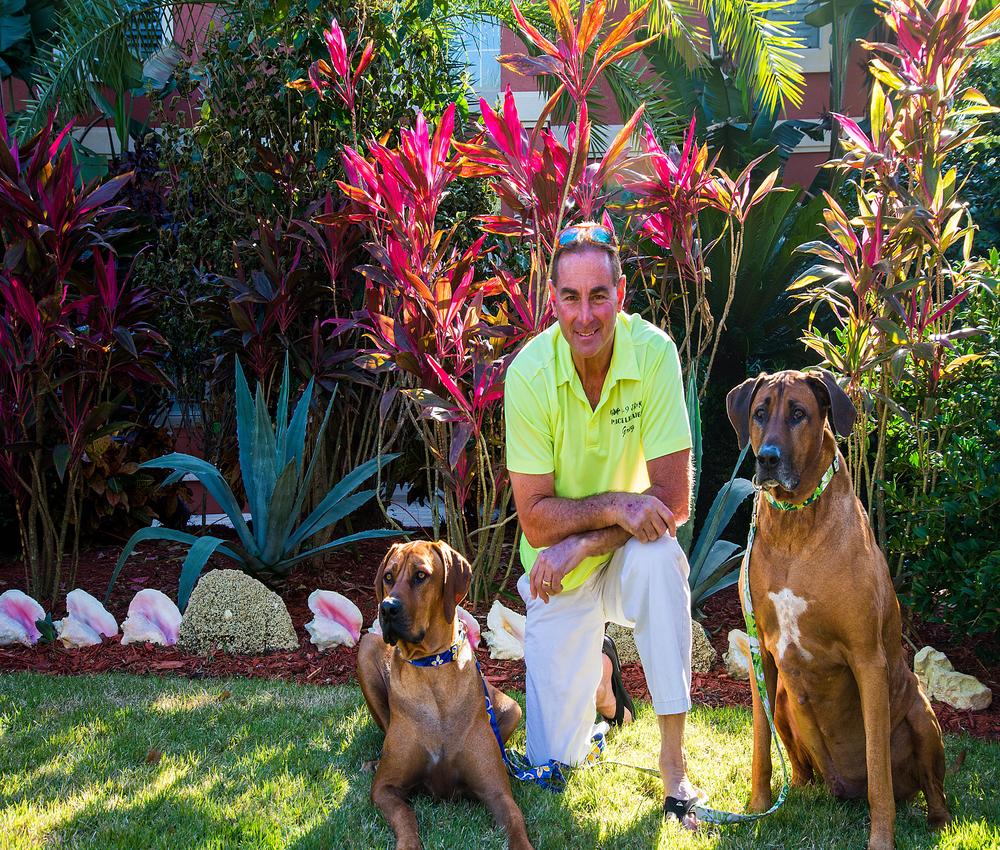 How has Covid affected your business?
Animal services were deemed to be essential under state law, so I actually got busier; once people had to stay home with their dogs, they realized they had a problem. AFTER COVID-19, when they went back to work, they realized they may have created another problem. So, funny to say, but Covid was great for Kamp K-9 Jax Bch!
How do you advertise your business?
Every client I have I video/photograph and post what the problem was and how it is going during or after the session. I cross-post to Instagram (@kampk9jaxbch) and both Facebook accounts (Facebook.com/gregdifranza and Facebook.com/kampk9jaxbch). This includes beach walks, Canine Leadership Classes, and then other learning opportunities for those connected with me through my pack and what we do during events. So my clients are my best and most prolific advertisers by telling others and commenting on the posts (and also referring me on other posts for others that they are connected with)!
To what do you attribute your success?
The ability to tell people how it really is in a way that they can understand, show them that things are possible with their dog, and then have them do those things and be doing them before I leave. Their happiness and comfort with the process causes them to talk to others, tell them about me, and keep me in mind even years down the road when someone needs help with their dog, when they get another dog, or when they hear that someone needs help with their dog and/or other "training" was not helpful.
Does your company help with or get involved in any community projects?
Aside from the Aloha 'Aina Beach Walks, I also have been a sponsor for the Make-A-Wish Foundation where my newer dog, Pono, was a helper, I am a regular vendor at the Jax Chamber of Commerce Trade Show where all three of my dogs have been helpers at the booth, and I also pay the salary of a worker for one of my friends in Bali, Indonesia where she has 82 dogs at her house and sterilizes and vaccinates them and adopts them to loving families (Bali has a rather large dog meat trade and will steal them out of yards to sell. The worker, Kablat, cares for and feeds the dogs, protects them, and is their guardian making sure no one tries to steal them — he is an ex-Bali mafia with a huge reputation!).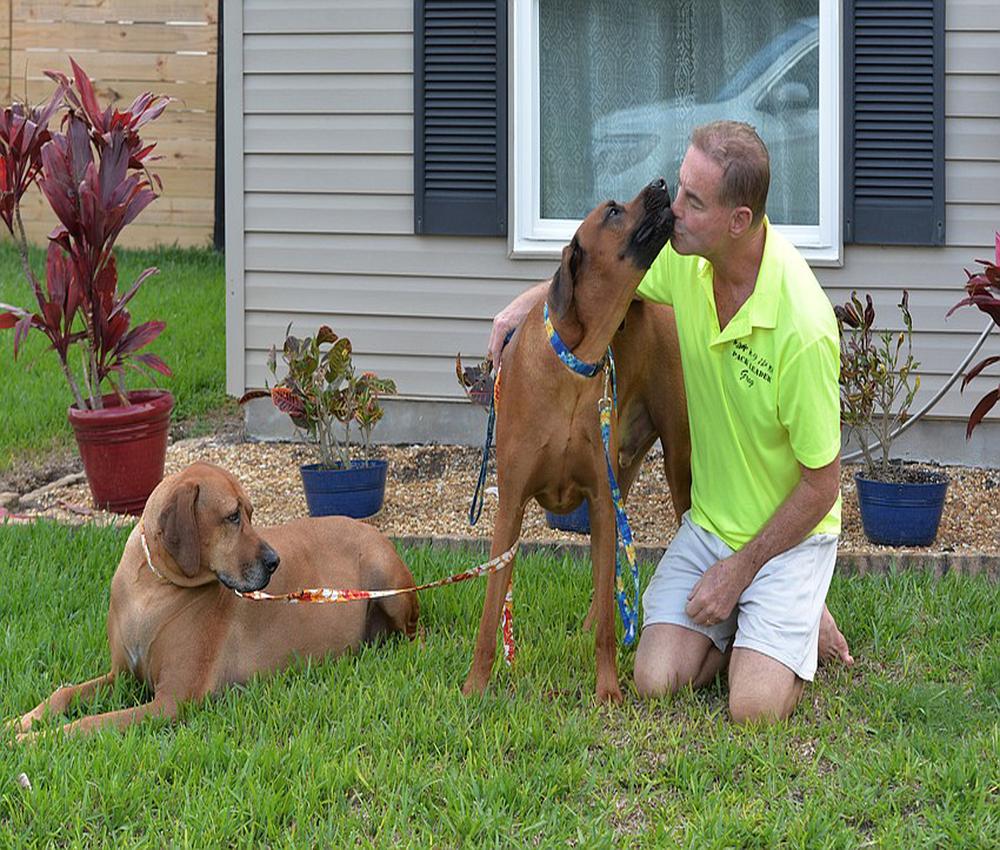 If you could offer one piece of advice for someone who's just starting a business, what would it be?
All three of my businesses (the Police training, semi-professional photographer, and now dogs) have been fun and make you want to continue on when it gets tough. Pick what you are good at, what you enjoy and have fun at, and then learn and get to be not just excellent but outstanding in what you do!
What are the biggest misunderstandings dog owners have?
The first is a lack of understanding that their dog's energy is mental, not physical. A mentally tired dog is happier and healthier and ABLE to focus and concentrate.
The second is that if you use the wrong tool, or even use the right tool in the wrong way, your dog will do what you are telling them to do. For instance, when people have a pulling dog, they pull back on the leash to hold or restrain. However, you are actually communicating to them to travel in the opposite direction from that pressure. Therefore, the more you pull, the more they pull. If the dog is in front of you, you will always be pulling because the angle is wrong. A tug up, or to the side, tells them to slow down especially when the tug is not followed by continued pressure. Therefore, the dog needs to be more beside you than in front if they are not direct-able.
Personal hobbies or interests? Family?
I also own and operate an Olympic Judo club (First Coast Kodokan Judo) on Mayport Road, and I am a 7-time World Heavyweight Champion, 11-time National Champion, and my club has developed international champions and am a 4th-degree Black Belt.

My wife, Lisa, is also a great pack leader, and our interests are having fun and going on trips with our dogs, and all of the food the First Coast has to offer.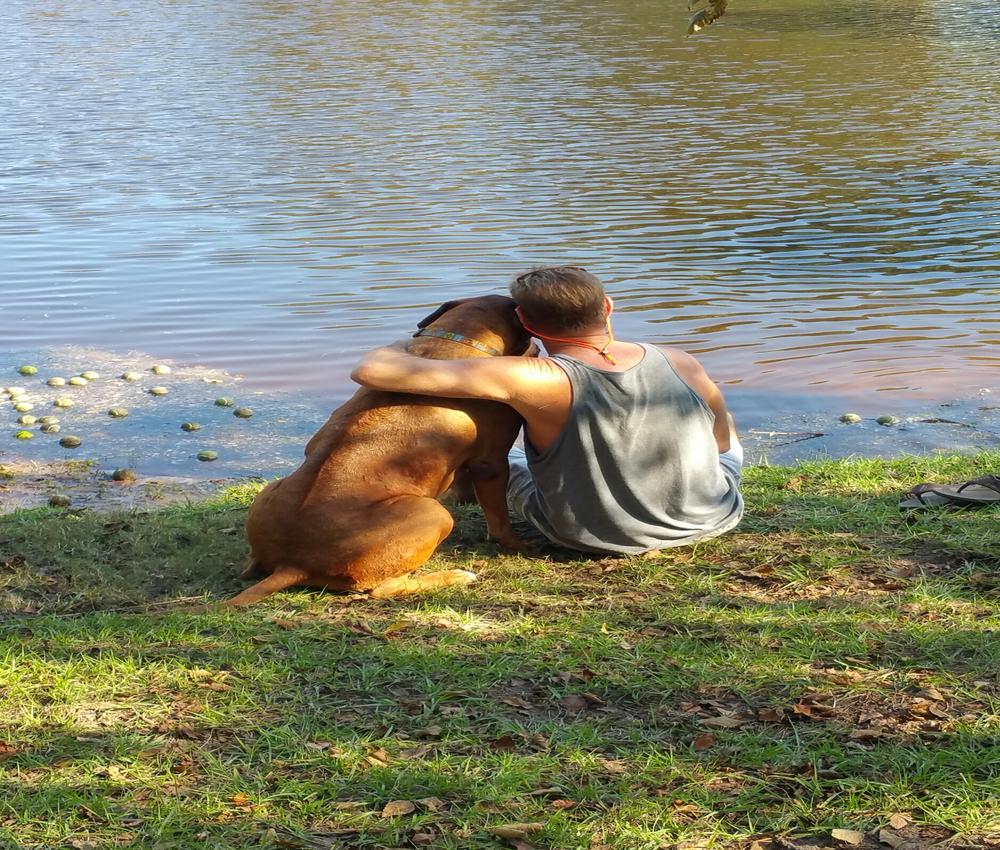 What's the best thing for you about living on the First Coast?
I traveled extensively for WinFirst International, Inc. (my police training company) and the First Coast has everything you would like to see/do in a tropical location. And if you want to do other things we don't have (rock climbing, mountain hiking, skiing, etc.) they really are not that far away… and then you get to come back here!
Where and how can folks learn more about your business? Links to your website?
www.kampk-9jaxbch (behavioral blog)
Facebook.com/kampk9jaxbch
Instagram @kampk9jaxbch

My Beach Walk is always the last Sunday of every month, always at 8:30 a.m., April through September at the end of Atlantic Boulevard in front of One Ocean, and from October through March it begins on the beach at the Jax Beach Pier (north side start)
Is there anything else that you want to tell everyone reading this?
Instinctual Training involves replicating the pack dynamic where there is great communication. There are no treats in the wild to bribe dogs into doing what you think you want. Obedience is telling them what you want done. Behavior is knowing what to do in a given situation without being told. If we create trust/respect/ and THEN love, our dogs understand that as leadership. Create rules and enforce those rules
About the Author
Latest Posts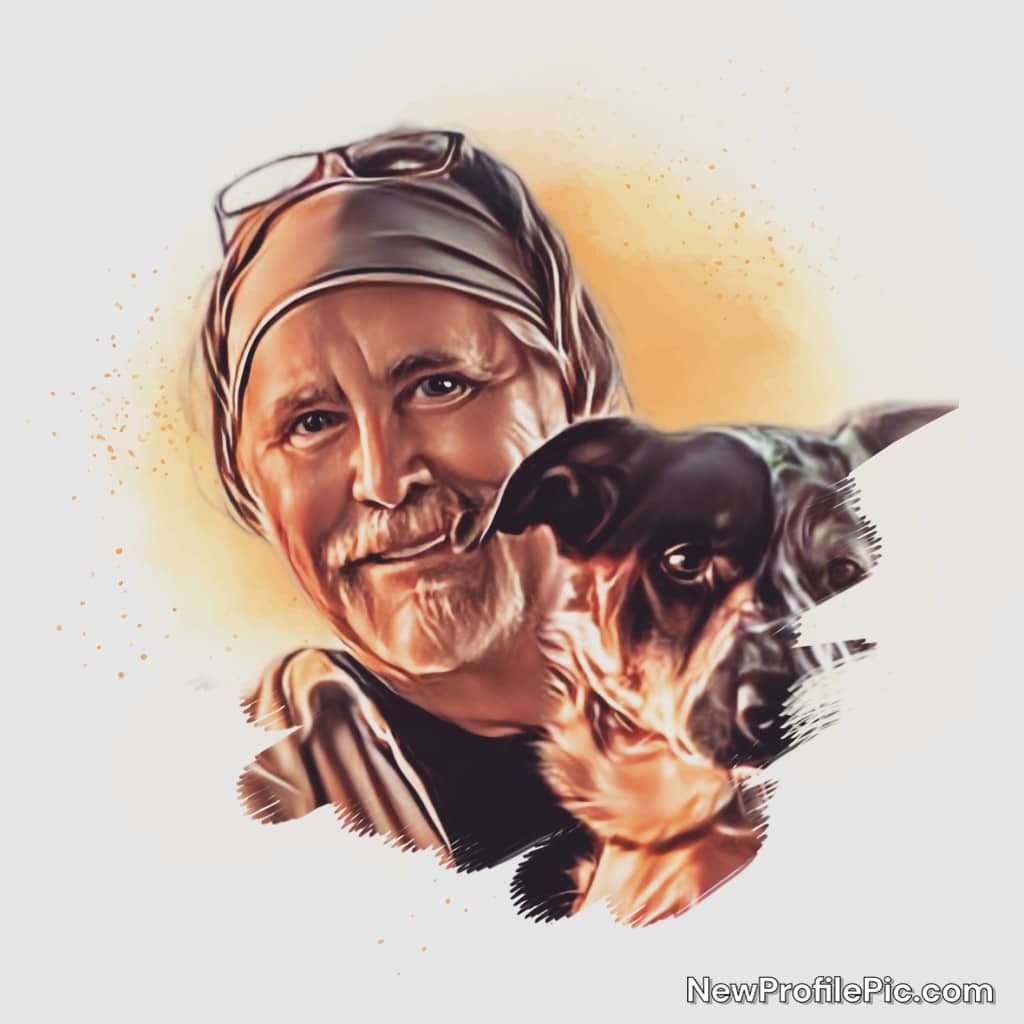 Glenn is the founder and publisher of First Coast Life. He is also a wonderful storyteller. Born on the 4th of July, he spends his spare time taking his camera and exploring everything beautiful this region offers with his rescue dog Callie by his side. He loves meeting new people and capturing the many beautiful moments and amazing local stories that showcase the true spirit of the area.