JUDGE JOHN: Observations on laws that affect living at the Beaches
"The Importance of Sea Oats"
"Daddy, there's a lady on the dunes waving Sea Oats she picked around her head kind of crazy!" In rushed our 12-year-old daughter on a recent Saturday morning with this news. Near our home, we have made it our business to try to educate our fellow citizens about coastal issues.
Our gently rolling sand dunes featuring fields of Sea Oats waving in the wind are picturesque, but they are much more than ornamental. Some of our visitors, and even some residents, do not understand the fragile nature of our dune system and its importance in protecting our beaches from destruction. Importantly, the dune system provides vital protection to our beach ecosystem and the wildlife that inhabit it.
Sea Oats are native grasses that grow naturally on beach dunes. Their extensive root system holds beach dunes together and prevents the sand and soil from blowing away during storms. These dunes, in turn, protect the coastline from storm surge and erosion. They "are vegetation that holds the sediment in place, lowers accretion (builds the dunes), and protects coastal properties. They also provide essential habitat to a variety of wildlife, including nesting seabirds and sea turtles." Kevin Brown, Stakeholder.
Regularly, Judge John encounters fellow beach goers tromping on or pulling up/breaking off the beautiful Sea Oats. Some folks want to incorporate them into sand sculptures. It is agreed that they are beautiful, but a big part of the beauty of Sea Oats lies in their function in preserving our beach towns. Sea Oats are both fragile (especially when young) and expensive to replace. It costs over $40,000 to replace one mile of Sea Oats – and a lot of time and labor (usually volunteer). It takes about 64 seedlings to plant an area of dune that is 10' x 10' in area. Once established, Sea Oats plants will spread vegetatively as well as by producing seed. We have seen this effort locally with the rebuilding of our dunes after Hurricanes Matthew and Irma.
Sea Oats are so important that, along with sea grapes, they are protected by a specific law; Florida Statute, Chapter 161.242. The purpose of that section is to protect the beaches and shores of Florida from erosion by preserving natural vegetative cover to bind the sand.
"It is unlawful for any purpose to cut, harvest, remove, or eradicate any of the grass commonly known as sea oats." To violate this statute is a misdemeanor and is punishable by a sentence of up to a year in jail and a fine up to $1,000. The Department of Environmental Protection is tasked with enforcement and has the power to levy fines.
Sea Oats (Uniola paniculata) play a key role in sand stability, and their removal is a "serious problem," said Debbie Miller, professor of wildlife ecology and conservation at the University of Florida.
Conclusion: 1. Do not pick Sea Oats, not even the seeds. 2. Do not walk or drive a vehicle of any sort over dunes or Sea Oats. Sea Oats are easily destroyed, and sand dunes are damaged by any kind of traffic, even foot traffic. 3. If you walk your dog on our beaches, observe leash laws and never let your dog run loose—especially over sand dunes. Dogs can destroy Sea Oats and sand dunes as well as disturb nesting shorebirds. 4. Picking sea oats is illegal in Florida and violators can be fined (and technically even jailed). 5. Beach people need to lead by example.
John Miller is the Special Magistrate for the City of Neptune Beach. His law firm, Rock Solid Law, provides expert guidance in all areas of Estate Planning, Trust & Wills, Real Estate, Closings, Title & Escrow and Small Business Representation. 904-241-1113
Do you have any questions of law or custom that are of particular interest to those living the Sand Life on our beautiful island? Please submit them to Judge John for consideration for a future article. john@rocksolidlaw.com
About the Author
Latest Posts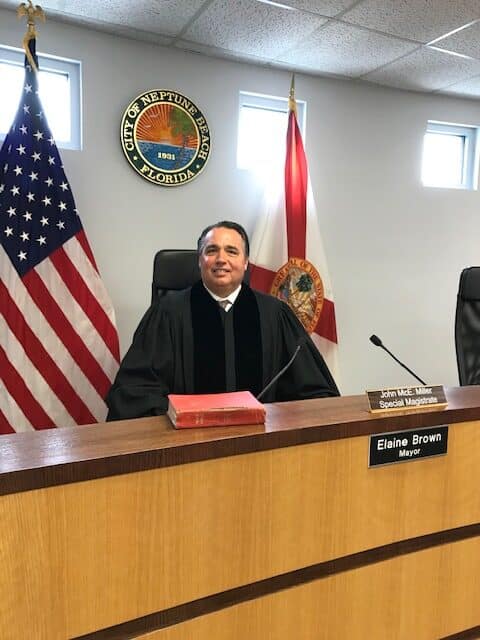 John Miller is the Special Magistrate for the City of Neptune Beach. His law firm, Rock Solid Law, focuses on Estate Planning, Real Estate Closings and Title, and representing entrepreneurial small Business Owners. (904) 241-1113.
Do you have any questions of law or custom that are of particular interest to those living the Sand Life on our beautiful island? Please submit them to Judge John for consideration for a future article. john@rocksolidlaw.com