Reading Time:
6
minutes

For the second week in a row, Jacksonville Beach is hosting a major professional surfing event, and this speaks volumes for this community. A week after Red Bull brought it's Night Riders event here for the 3rd time, ASA Entertainment an Indialantic, Florida based sports event company has chosen Jacksonville Beach as the location for their "Super Girl" Surf Pro Contest and Festival event beginning November 12 and going through November 14.
Rick Bratman, ASA event coordinator, was quick to applaud Jacksonville Beach as a great location for events like this. "Jacksonville has a thriving surf community and the quality of the female surfers coming out of the First Coast is setting the bar for other areas around the globe. But this isn't only about the surfing," Bratman added. "This event is about promoting and empowering girls across the board. We have national and regional musical acts scheduled to play at the Seawalk Pavilion throughout the weekend, as well as beach volleyball, beach soccer, fitness classes, a female DJ competition, skateboarding and more!"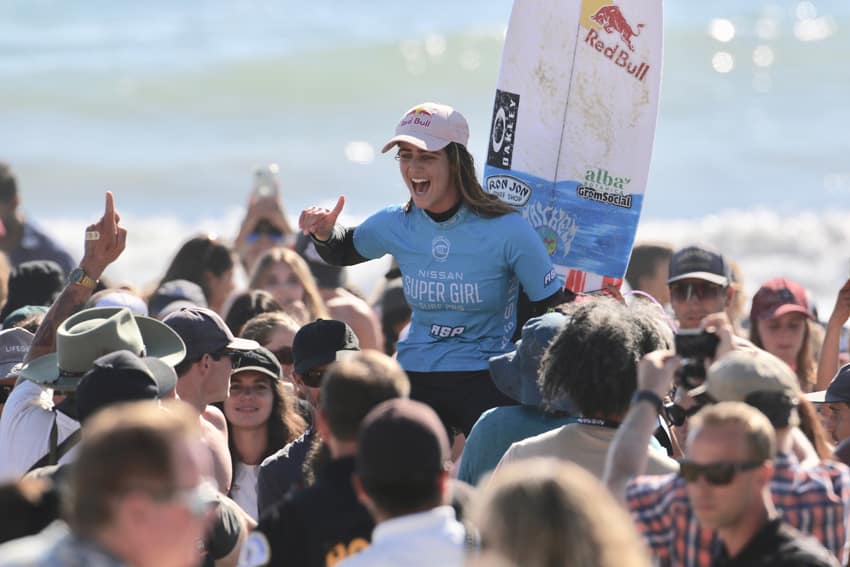 Since the 1960s the First Coast has played a major role in the international surf scene with people like Bruce Clelland, Dick Rosborough, Larry Miniard, Joe Roland and others all hailing from the Jacksonville Beaches. Throughout the 1970s surfing was well represented by a next class of local surfers and it has continued since then with surfers like Mitch Kaufmann, Sean Mattison, Cody, Evan and Tristan Thompson, Asher Nolan all competing and winning on a national and international level. But it wasn't until the last twenty or so years that the local females were known to be an international force to be dealt with. Beginning with Debbie Swaney, the female contingent included Karina Petroni, Molly Kirk, Kayla Durden, Piper Austin and others. And now with the Super Girl Pro Series coming to town people from all walks of life will be exposed to the excitement of female surfing and the stoke associated with the water sport. 
Jacksonville has had its own female surfing group called Sisters Of The Sea for over fifteen years, Sisters Of The Sea promotes an annual all female surfing contest and many of the most notable female surfers from the First Coast credit Sisters with their introduction, rise and love of the sport. Samantha Ryan heads up the organization and was super stoked to see this event finally land here, "It was scheduled to be here last year here but Covid put a halt to the event." To see it finally coming to fruition Ryan had a hard time describing how she felt about seeing such a huge event that focuses on empowering young women being held in her hometown. "I am absolutely thrilled, stoked to see an event of this level come here. The women's surfing here is off the charts and this validates the reality of our female surfing presence. I feel like this will create more excitement for women's surfing in Jacksonville." And more excitement centered around women's surfing is exactly what Sisters Of The Sea welcomes. Ryan added, "Sisters is all about empowering women of all walks, in and out of the water, and the Super Girl event will create more interest toward that end than probably any other event could."
This weekend's event isn't only about surfing though. Organizers make it a priority to present the event as a festival atmosphere that includes all kinds of activities along with major music concerts throughout the weekend. And best of all, it's all free to the public to attend. The Plain White T's, Hoobastank, John K and The Expendables headline the free concerts performing on Saturday and Sunday, November 13 and 14. Live music is featured throughout the event with concerts beginning on Saturday at noon with local artist HelloCeila and continuing through the festival's close at 10 p.m. The Expendables, fresh off a national tour, headline the Saturday evening show with pop-stars John K and Kira Kosarin playing in the headline-support slots. In addition, an incredible DJ competition with six top female DJ's from around the country will light up the SeaWalk Pavilion stage.
Jacksonville Beach Mayor, Christine Hoffman is another big advocate of this coming to Jacksonville Beach. "Well, the timing for an event like this couldn't be better," Hoffman said. "Especially with all three beach communities having female mayors I'm ecstatic that this is happening on my (our) watch!"  Bratman was quick to point out that the city was a dream to work with. "City officials responded immediately and positively," Bratman said. Mayor Hoffman pointed out that, "It was almost like a dream come true in that they wanted to partner up and make this a long term commitment. The people at ASA Entertainment made it easy to say yes to this and I'm looking forward to it coming back year after year.
Dan Brooks, owner and full time bookkeeper at Sunrise Surf Shop told First Coast Life that, "There are two major pluses to this weekend's event. First off, they saved a number of the slots for competitors in the surf event to include our local girls who absolutely deserve to be included. And secondly, this will create an enormous economic impact all over the First Coast. Restaurants, hotels, retailers, gas stations, businesses all over the area will enjoy sales that they wouldn't normally see and that (hopefully) includes Sunrise."
One of our local female competitors, Kayla Durden, who appeared on ABC's The Ultimate Surfer series will be competing this weekend. Kayla has also surfed the Super Girl in California and was thrilled that it is now in her hometown. "It's so awesome to have it here in my hometown where I can sleep in my own bed and not have to experience any jet lag from traveling across the country then have to get up and surf. It's unreal to have the peace of mind and comfort of surfing a break I am totally familiar with. This is just awesome." 
But hometown knowledge doesn't give her any guarantees. Professional surfers from around the globe will be in the water including United States Olympic Gold winner Clarissa Moore, Caroline Marks, Coco Ho and seven time National Champion Pua-Makamae DeSoto from Hawaii. DeSoto was in the middle of a practice session at the pier with Coach and head of the Motes Militia, Jason Motes. She said, "One of the best things about having an all girl event of this size is that we get to see the other girls from around the world and make friends and connections that will last our entire lives." Motes, who coaches the ESA (Eastern Surfing Association) All Stars team added, "I have several surfers of the All Star team in this event including Pua, Molly Kirk and a couple of girls coming in from down New Jersey. Molly Kirk, an Atlantic Beach native said that,"It's super fun to have this right here in my backyard! And it's awesome that the girls we compete against on the WQS will be here as well."
Surfing will begin on the south side of the Jacksonville Beach Pier on Friday at 8:00am and continue throughout Sunday. Once again, all of the activities and festivities are free to the public. A complete list of the weekend's events can be found at www.supergirljax.com/event-schedule. See you on the beach!
Mike has lived on the First Coast his entire life and was a leading figure in surfing and skateboarding for most of his life. After promoting music for many years on the local music scene, Mike now brings a unique perspective to FirstCoast.Life as the music editor. mike@mikekaufmann.com 904.428.7525