As a pet therapy team, my canine companion, Roxie, and I visit Baptist Medical Center Beaches, Community Hospice, and the Jacksonville International Airport. One of our many encounters inspired this piece. First, a little context.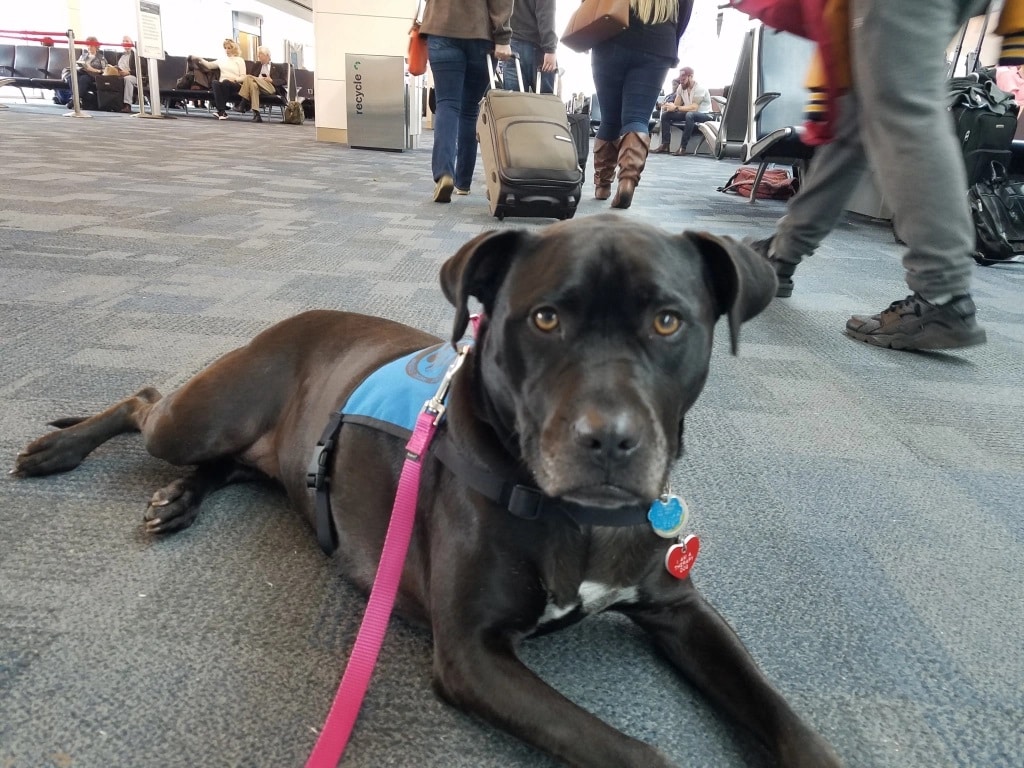 Think of times when you have been nervous or anxious. Maybe something happened at work, in the classroom, on the athletic field, in a community meeting, or in the confines of your home. Whatever and wherever it was, you found yourself on edge as you attempted to cope. Maybe you felt lost, misunderstood, or alone.
Who came to your side to help you through? What did that person do? How did it help you?
While there may be a variety of interventions in such situations, at times the best assistance may be to quietly stand by one's side. Peaceful and reassuring.
Like the time when an airport security officer enlisted Roxie and me to help a passenger who was anxious about an upcoming flight.
The following scene unfolded one day as we made our rounds in, as Roxie refers to it, the building where people come to go (the airport).
I will let Roxie explain the situation.
~~~
One day, when we were at the building where people come to go, one of the men in an official-looking outfit came up and spoke to Steve.
"Hey, would you mind taking the pup over to gate C4? We have a traveler who is having an anxiety attack."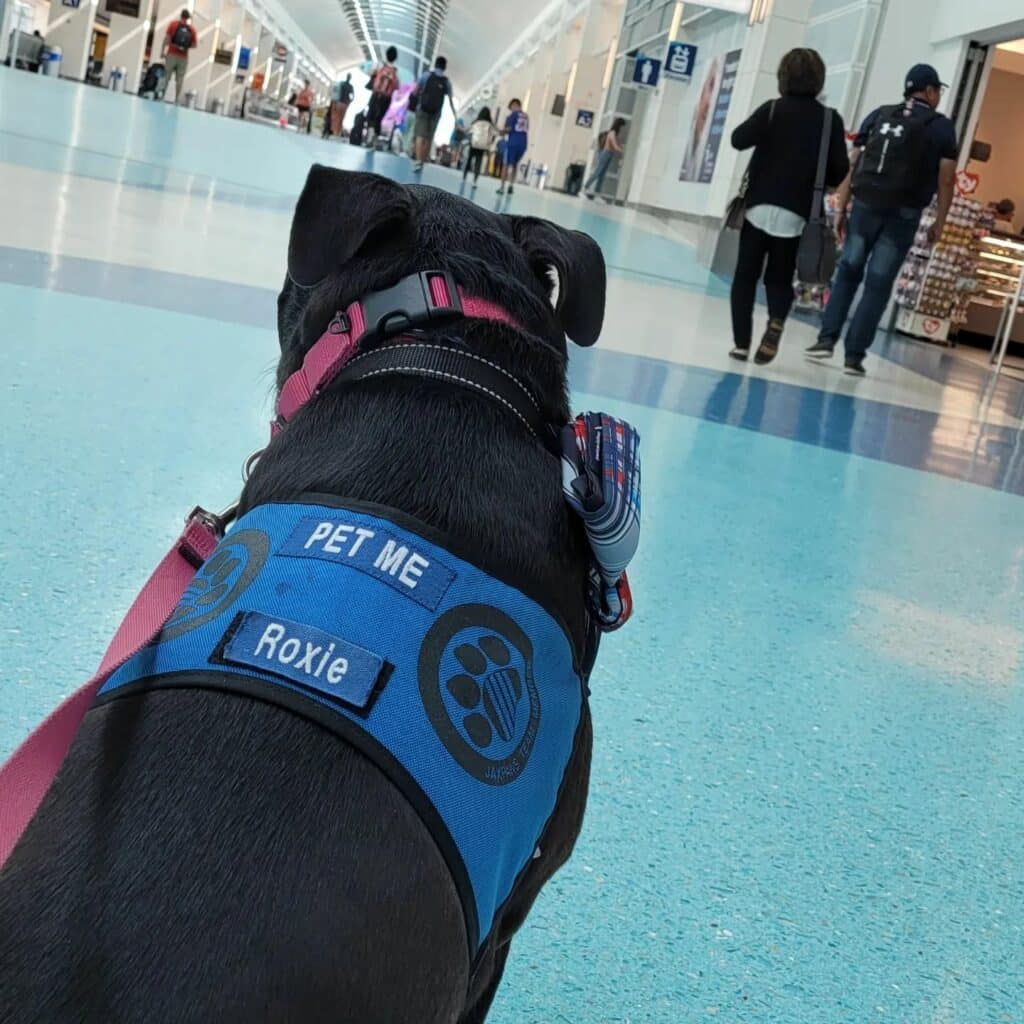 Although I tilted my head to look like I was following the conversation, the truth is the only thing I focused on was that he called me a pup. Wasn't sure if I should be offended or not. I choose to take it as a compliment. He thought of me as young at heart!
We made our way to C4. There we found two older people. The man stood, and the woman knelt on one knee. Both looked sad as they were talking to a younger woman sitting in a chair with wheels on it.
"We just got here for our flight, and she is a bit nervous," said the older woman as she gently touched the woman sitting in the chair with wheels.
I had never heard the word nervous before. And if this was nervous, well, wow! The younger woman had lots of water coming from her eyes. When Steve first tried to speak to her, all she did was look toward the floor. She looked so sad.
"Hi! This is Roxie. She wanted to say hello to you."
Hearing my name caught my attention. Then Steve gently moved me closer to the chair with wheels on it so that my head was close to the young woman.
"You can pet Roxie if you want to. She would like that."
I sat there and watched her. Steve engaged her in some conversation, and slowly she turned toward me. Our eyes met.
"Will Roxie go on the flight with me?" she asked.
I wiggled a bit when I heard my name.
"No, Roxie will stay with me. She would be happy if you would like to pet her. Would you like that?"
The younger woman in the chair with wheels on it glanced toward me and ever so slowly moved her hand to the top of my head and softly rubbed. It felt nice.
Steve spoke with the older man and woman. He spoke some more with the younger woman petting my head. I noticed the water had stopped falling from her eyes.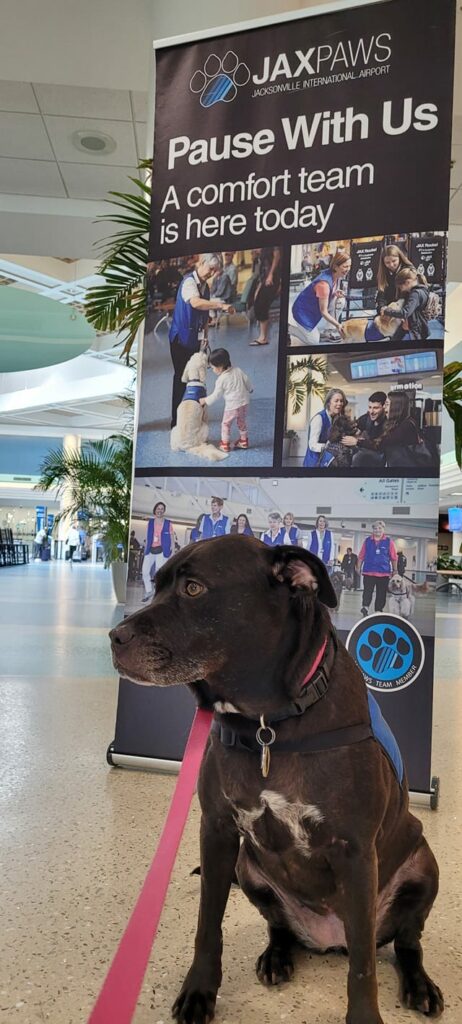 "Thank you for letting Roxie visit with you," Steve said. "I know you have to get ready for your flight. You made Roxie feel good today."
And she did.
And I did.
And she smiled.
And so did Steve.
I know I'm just a dog but sometimes we do our best work when show up, listen, and focus on the person in front of us. No woofing. Just being there. 
(Adapted from one of Roxie's fifty-two stories you can find in Roxie Looks for Purpose Beyond the Biscuit by Steve Piscitelli. The Growth and Resilience Network®. 2020.)
About the Author
Latest Posts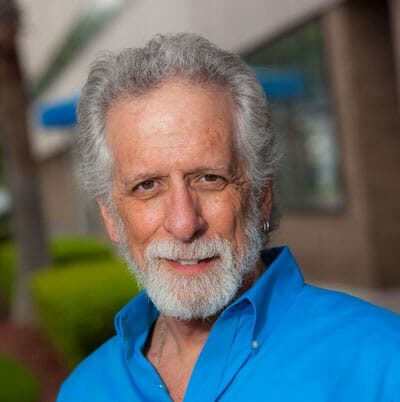 I invested 33-fulfilling years of my life as a classroom teacher. Starting with 7th-grade students and ending with college students. Along the way, I have written thirteen (published) books, written and recorded two music CDs, have written an upbeat blog since May of 2010, produced a monthly podcast channel (for five years), and created original videos for my YouTube channel (for more than a decade). I have had the pleasure and honor to deliver keynote talks and workshop facilitations in every region of the United States. I recently completed the manuscript for my first novel and am currently seeking representation for that work. I am working on a new book about wisdom.
My canine companion, Roxie, and I have become a certified pet therapy team and visit our community hospital, local schools, hospice, and the Jacksonville International Airport. Roxie, by the way, released her first book in 2020. I did the typing.
Why do I do what I do? Conversation (true dialogue) has become a lost art. Collective monologues have taken center stage. Authentic questions about the person in front of us have given way to either diatribes or inarticulate silence. I believe to build community we must have meaningful, at times difficult, and yet respectful conversations about people, places, and purpose. Before we can do that, we must see the person in front of us.